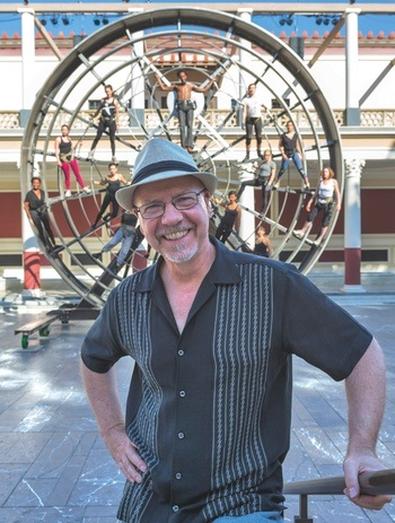 Travis Preston has directed classic theater and opera all over the world. He began his career with "Prometheus Bound" in 1980 in Poland; now he's bringing a contemporary version to the Getty Villa.
What do you love about directing that made you pursue it?
I was working at a Ph.D. in psychology when I decided to apply to the Yale School of Drama, and to study directing. Collaboration is what really brought me into the theater. I was captivated by the stage but also as important, captivated by the ability to work closely with a variety of other really gifted artists.
What have you learned through your directing career that you didn't know when you started?
The principal thing is that I don't have to have all the answers…that one can trust a process and trust the people that one is working with. The most important thing about directing for me is creating an environment in which other people can be creative. Directing really is about making an environment in which other people can do their best work, and then it's possible for you to be creative as well.
When you're working with actors, do you let them try things out, or do you give them a lot of direction?
I like to establish a context of what we're trying to achieve and a context for the aspiration we should be reaching for. And then I like to stimulate their contribution; that's my ideal way of working. I want them to take me places that I could not have imagined on my own. So I try to find ways to liberate them rather than to constrain them within my impulses.
This is a co-production of the Getty Villa and CalArts Center for New Performance; how did you select this project?
Specifically, they [Getty Villa] were interested in Aeschylus, and "Prometheus Bound" is a piece that puts us really at the beginning of Western drama. It has an extraordinary chorus comprised of the daughters of Ocean. This made the piece a likely candidate because it would allow us to use the actors that we are training at CalArts in the production because they would inevitably be in their 20s. And the story is simply very, very moving, and I would say Prometheus is really the first revolutionary.

Tell me a little bit about how this production is different; how did you decide to use the wheel to represent the mountain?
I believe very strongly that addressing these ancient works really invigorates a contemporary conversation. And it is the discovery here that the figure of Prometheus is really almost the first artist, as he's depicted in the piece. He is credited with having saved mankind from annihilation, and this he does through the gift of fire, which really is a metaphor for the gift of consciousness and culture to humanity—all of the things we identify as human. Coming to the wheel, I was looking for a strong image to ground the piece and to give it muscle, and obviously he is being subjugated by an extraordinarily powerful force in Zeus. And this image of this metal wheel came to me, and it's very powerful, it's this huge thing, it's 24 feet high. It weighs 4 tons, and he is strapped to it, and indeed the chorus scales the wheel and uses it as one of its acting areas. So it allowed me to change the perspective, and it gives us many things. It gives an image of the cosmos; it can remind one of the wheel of Dharma from Buddhism. It looks like, vaguely like a kind of massive mechanical wheel from the early '20s essentially. And this also allows me to resonate something in a more contemporary direction. I have to say that it is in opposition to the décor of the Getty, which is very Greco-Roman. So all of these things came together, and I was looking for a strong, sensual image.

What kind of challenges does it present for the actors and for directing to have them kind of tethered to that centerpiece?
There is an elevated level of physical training that the women in the chorus have in this piece. The Flying by Foy [came] from Las Vegas to construct the harnesses and to train the women on how they can safely ascend the wheel. So that in itself was exceedingly challenging. It was also a wonderful challenge to construct. And in constructing it, it's a massive piece, and so it took an enormous amount of planning to construct it and then to install it in the Getty. We had to engage a massive crane to bring it into the Getty's space. It's a pretty impressive object, but beyond the obvious physical challenges to the actor, we're working with it very easily, I would have to say.