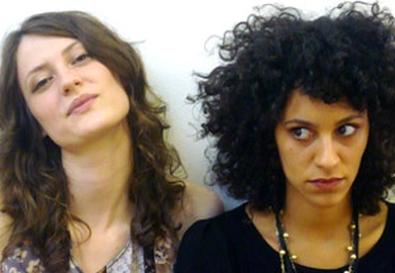 Authors of studies in development that notoriously state that women mature more quickly than men might be interested to learn of Julia May Jonas' new play "For Artists Only," a stylish, engrossing expedition into the sometimes-immature behavior, romance, and rhythmic back and forth that make up feminine camaraderie.
The narrative tracks two city-based artists, a violinist named Julia and her writer friend Jennie, to the former's family summer home, where an extended vacation quickly gives way to a sort of sisterly antagonism. Things get off to a rocky start when Jennie reveals she has no money and then progressively deteriorate as she begins dating, leaving the huffing, puffing woman-child Julia (played tempestuously by Laine Rettmer) to fret alone. All this happens under the watchful eye of Sarah, the suicidal, Emily Dickinson–reading ex-girlfriend of Julia's mother, who serves as caretaker for the property. A nervous sexual tension hangs between all three characters, whether they are having it out in wine-fueled discourse or simply folding laundry.
Playwright-director Jonas clearly does character and dialogue well, but it is the surreal, music-driven flourishes that give this piece its unique shape. Guitar player Jon Lundbom's underscoring becomes frenzied after Jennie drops a bottle of wine, and everything diverts into a fastidious cleaning ritual. If Julia begins casually tapping the breakfast table, Jennie follows suit, and their entire exchange takes on a peculiar but absorbing syncopation. A later scene superbly builds tension around the clicking of Julia's metronome.
As the bossy, moody Julia, Rettmer's passions turn on a dime as needed. As Jennie, Nina Kassa excels in delivering an overly vindictive breakup monologue. Meghan Ritchie quietly absorbs abuse as the stoic Sarah, a role that offers only a few choice, bright-eyed moments.
Presented by Nellie Tinder in association with the Ontological-Hysteric Incubator
at the Ontological-Hysteric Theater at St. Mark's Church, 131 E. 10th St., NYC.
Dec. 10–19. Thu.–Sun., 8 p.m.(212) 352-3101, (866) 811-4111, www.theatermania.com, or www.ontological.com.