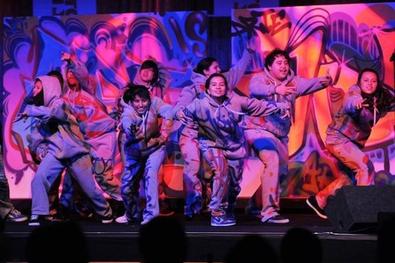 Most actors can remember the first time they saw a play or musical, and the moment they decided, "This is for me." The transformative nature of theater is undeniable, but for many marginalized populations, the chance to sit in an audience (much less perform for one) is often out of reach. These arts organizations offer classes, workshops, performances, and more for those who need it most—shifting perspectives and changing lives through the power of self-expression. Here are 10 arts organizations that change lives through the power of live theater.
Inner-City Arts (Los Angeles)
A major organization in the heart of downtown Los Angeles, Inner-City Arts partners with the Los Angeles Unified School District to bring arts education to underserved students. The award-winning campus offers a safe haven in L.A.'s Skid Row neighborhood, and gives students the rare chance to express themselves in a secure, state-of-the-art environment. Those with a flair for the dramatic find their way to The Rosenthal Theater for free public performances, improv and storytelling classes, and professional development for teachers. Other arts programming includes DreamWorks Animation Academy, professional comedy classes, and film production workshops. Check out Inner-City Arts online for copious volunteer opportunities.
The Global Theatre Project (Los Angeles & Florence, Italy)
The Global Theatre Project in association with Florence International Theatre Company works to integrate diverse communities and address contemporary issues through artistic collaboration. The large-scale organization sparks social change through a variety of performances, events, and discussions, and develops global citizens with its Creative Corps for kids and teens. Recent projects include a youth collaboration with Actors for Autism, the performance event "An Explorer's Desire: a Night of Multilingual Theatre, Discussion, and the Exploration of the Theme of Immigration on a Local and Global Level," and a celebrity-packed benefit performance for the exiled Belarus Free Theatre.
The Freedom Theatre (Jenin Refugee Camp, Jenin, Palestine)
A shining example of the profound cultural impact of performance, this community-based theater was established in 2006 to promote a free and healthy society within Jenin Refugee Camp in occupied Palestine. Though the theater takes a clear position on war, occupation and justice, it also serves as a cultural center and school, providing artistic programming and activities that increase resilience, empower the community, and create crucial outlets for expression. Interested in making a difference? Check out Freedom Theatre's numerous volunteer opportunities on its website.
Prison Performing Arts (St. Louis, Mo.)
Fans of This American Life might know Prison Performing Arts from "Act V," a popular 2002 episode chronicling its production of "Hamlet" in a high-security prison. For those who haven't heard the show, PPA works with incarcerated juveniles and adults all over St. Louis and the surrounding areas, teaching teamwork, discipline, and creativity to those who need it most. Included in their groundbreaking programming is the PPA Alumni Theatre Company, the only of its kind in the nation offering former inmates the chance to work together and perform as they rebuild their lives on the outside. The Alumni Theatre has found great success in St. Louis, performing at high profile events including the Greater St. Louis Humanities Festival and Shakespeare Festival St. Louis' Shake38. Check out PPA's website for more performances and events.
Creative Action (Austin, Texas)
Operating under the philosophy that effective learning is fun, engaging, and dynamic, Creative Action uses interactive classroom performances and community arts programming to inspire children all over Central Texas. The Changing Lives Youth Theatre Ensemble, created in partnership with Austin-based charity Safeplace, brings kids and teens together to create performance pieces that address issues such as homophobia, cyber-bullying, and domestic violence, turning at-risk youth into advocates for change.
ArtSpring, (Florida City)
Founded by choreographer Leslie Neal in 1992, ArtSpring is the longest running ongoing arts program for women in the Florida Department of Corrections, and boasts an astounding 0 percent recidivism rate for inmates who have enrolled for at least one year. In addition to working with incarcerated women, ArtSpring brings the power of creative expression to boys and girls at the Miami-Dade Juvenile Detention Center, and women and youths at residential facilities and in homeless shelters and foster care. Current programs include "Inside Out- Expressive Arts Workshops for Incarcerated Women" and "Breaking Free- Arts for Adolescent Girls."
Her Story Theater (Chicago)
This non-profit theater company uses real-world interviews with underrepresented populations to craft works that "reflect the human and inhumane conditions of women and children worldwide." The current season focuses on issues facing homeless women, sex trafficking, and violence against women, giving Chicago audiences the chance to view these human rights crises through the lens of their own neighbors' experiences and join in the conversation towards social change. In addition to giving voice to local and global issues, Her Story's proceeds benefit important causes throughout Chicago, including The Dreamcatcher Foundation and Salvation Army's PROMISE Program. "Shadow Town II: The Johns- A Play about Men Who Buy Girls for Sex and What it Costs" plays Oct. 16.–Nov. 23.
Creative Alternatives of New York (New York City)
Creative Alternatives of New York was founded in 1969 to bring therapeutic drama workshops to psychiatric patients at Mount Sinai Hospital. Through a unique fusion of theater training and group therapy, this charitable organization currently promotes health and healing at over a dozen mental health facilities. CANY empowers trauma survivors, psychiatric patients, and at-risk populations through three main tenants: Metaphor as a Therapeutic Tool, Group as a Therapeutic Agent, and Creativity as Health. Interested in a career in drama therapy? Check out CANY's fantastic professional training series.
Playback Theatre (New York City & Worldwide)
The Playback Theatre Company was founded in 1975 by New York area artists and has evolved into an interactive, improv-based storytelling form that is practiced in 50 countries with training centers and affiliates all over the world. Performances are based on audience members' own stories, and unfold spontaneously through music, movement, and audience participation. Incredible international programming includes "Playback on Death and Dying," a program for palliative care nurses in Brisbane, and "The Freedom Bus," a project with the Freedom Theatre of Jenin in which Palestinians in the West Bank share their experiences, and young people in conflicting regions meet and exchange stories via online video hook-up.
Drama Club NYC (New York City)
The brainchild of Founder Josie Whittlesey and Operations Manager Magan Wiles, Drama Club is the only organization in New York City to provide consistent, year-round theater programming to incarcerated youth. Fueled by the belief that self-expression, emotional honesty, and artistic support promote rehabilitation and reduce recidivism, Drama Club has made a huge impact since its first program in June 2013, and continues to expand into additional New York State juvenile facilities. Said one young participant of Drama Club's hip-hop "Romeo and Juliet": "We wrote how Romeo felt. We wrote how Juliet felt. I was really writing how I felt."
Inspired by this post? Check out "6 Inspiring Volunteer Opportunities for Actors."