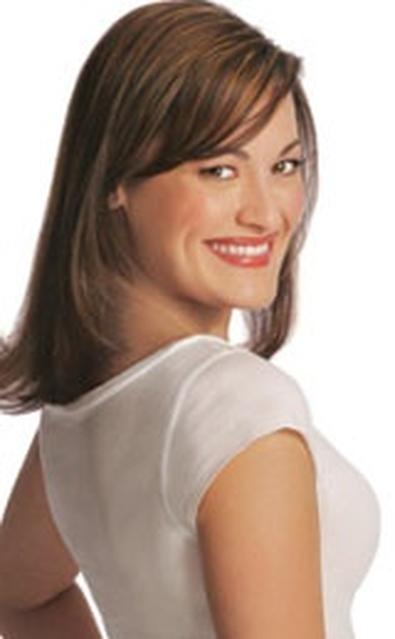 Tackling the title role in Disney's Mary Poppins was the opportunity of a lifetime and a mega-risk, says Ashley Brown, a 24-year-old Florida-born wunderkind. She has only a couple of credits, and none for originating a starring role in a Broadway musical. "There's a certain nervousness in putting yourself out there for all to see and judge," she admits in her dressing room at the New Amsterdam Theatre before a matinee performance. "But that's part of the game. The challenge is taking on an iconic role — one that Julie Andrews has nailed — and making it my own.
"I've been told that my voice is similar to Julie Andrews' in its clarity and scope," she continues. "But I didn't work at that. And it never occurred to me to try and alter my voice, either, in order not to sound like her." Brown, who is pleasant but hard-nosed, adds, "I've been successful because I have that type of voice. It's a young, soprano, princessy, storytelling sound. And that's what Disney executives are looking for."
Brown has already appeared in a Disney touring revue called On the Record and recently served as a replacement for Belle in Disney's Broadway production of Beauty and the Beast. Her success has come fast and with a modicum of struggle. "So much of what happens in the theatre is timing," she says. "Maybe it's destiny, I don't know." Making the right career move has never been part of her thinking, and neither has networking. "I'm weird about schmoozing," she says. "In fact, if I go to a party, I don't want to know who's in there. I get intimidated and then I'm not myself."
Whatever it is she has done — or not — it's worked. In her senior year at the University of Cincinnati's College-Conservatory of Music, where she was classically trained as a singer, Brown was tapped by New York casting director Tara Rubin to audition for On the Record. "Tara had seen me perform in the senior showcase," she recalls. "After graduation, I was in New York [for] one week when I got the part, and then out on the road with the show. There were two major steppingstones in my career that led to Mary Poppins, and that was the first. The second steppingstone was becoming a replacement for Belle in Broadway's Beauty and the Beast."
Still, landing the role of Mary Poppins was grueling. "I auditioned eight times over a four-month period," Brown says. "It was very strenuous. They wanted to make sure that I could tap, sing, and, most important, carry the show. If you want to work in a Disney production, you really have to be able to do everything. Some of the auditions ran from 11 a.m. to 6 p.m., and then I'd run over to the theatre and play Belle.
"I hate auditions; I'm very nervous," she adds. "But the team was welcoming and warm. Right from the beginning I was told, 'Just do what you want. If you mess up, the sun is going to rise tomorrow anyway.' "
Don't be fooled. There is nothing haphazard about Brown's performance as the demanding but compassionate nanny who magically appears in the home of a beleaguered Victorian family in need of guidance. When her job is done — the fractured family is reunited and order restored — she floats off to await her next assignment. Girdled in a harness, Brown is hoisted into the air and flies out above the audience, Mary's signature umbrella in hand.
"One of Mary's most famous lines is 'I never explain anything,' " Brown says. "Everyone wants to know where she came from, and it's never explained. I feel Mary has a higher calling whenever she disappears into the sky. I approached the role in a very real way. I don't view the situations as fantastical. I treat them truthfully.
"Just staying true to the character is the biggest acting challenge," she continues. "Everyone comes to the theatre with so many expectations about who Mary is. My hope was to make Mary my own by combining elements from the book with the movie. I wanted Mary to have the book's sternness and the movie's comedy. I have to trust that the audience will love her and want to take a journey with her. Her relationship with the audience is not unlike her relationship with the children."
Perhaps Brown's most notable hallmark as the indefatigable character is how she places her arms as she mounts the stairs to the children's room. It's a repeated comic gesture, with one arm extended stiffly in front, the other outstretched in back, with the thumb and forefinger of each hand forming precise circles. "That whole thing with the arms just morphed in my attempt to find the right walk," Brown explains. "She has to suggest perfection, directness, and moving with purpose."
Warming Up Wisely
There is no shortage of technical tasks for Brown throughout the evening, starting with her having to sing almost every song. In addition, "I'm singing in an accent — I did have a coach — and my voice is placed lower than it would ordinarily be," she says. "My preparation consists of a warm-up, but not too much of a warm-up. You don't want to peak before the second act. For about 10 minutes I do the scales."
Brown also needs to be in good physical shape. In addition to flying on and off the stage three times, she has 15 costume changes: "For one costume change I have only 20 seconds. But I have five people backstage helping me. I don't take a break or go back to my dressing room until the intermission. I work out for about 25 minutes before I go on. I do 80 to 100 jumping jacks and a series of Pilates stretching exercises."
Brown is frequently asked about the flying sequences, the most sensational being the final one, when she soars above the audience. "It took some time to get used to, but I now enjoy it," she says. "It's just part of what I do. The harness consists of two straps around my legs connected to a brace around my waist. The brace has two knobs that get hooked up to the wires overhead. I've never been in any danger of falling. The hooks are very secure. And if at any point I do feel uncomfortable, I can discreetly say something into my mike that only the tech people would hear." She gestures at her hairline where the tiny microphone is concealed when she's performing. "I would cover my mouth and the audience wouldn't see me say anything. But this has never been necessary, and I don't think it ever will be.
"I did have to learn how to relax my body as it's lifted," Brown adds. "In the beginning I held my body stiffly. Now I just keep my feet in first position. The only technical difficulty I've had took place onstage when an umbrella I was attempting to open refused to open." Her solution? "I just put it down."
So what's next for Brown? Hopefully, everything, she says. "I want to do films, TV, an animated feature, and commercials. I'm not one of these actors who says there are certain things I won't do."