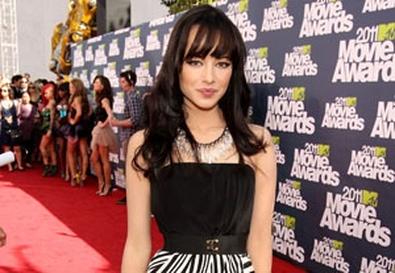 Ashley Rickards
turned 19 in May, and she has a lot to celebrate this year. In March, her film "
Fly Away
" premiered at the South by Southwest Film Festival, earning Rickards raves for her portrayal of Mandy, a 16-year-old autistic girl. Written and directed by Janet Grillo and co-starring Beth Broderick as Mandy's mother, the film is now available on
DVD
, with 10 percent of the profits going to Autism Speaks.
Currently, Rickards can be seen in a wildly different role on MTV's scripted series "
Awkward
." She stars as Jenna Hamilton, a teenage wallflower who finds herself becoming the talk of her high school after an accident is misconstrued as a suicide attempt. The irreverent series follows Jenna's journey as she finds her place in the high school hierarchy. "It's a very inspiring and empowering journey for anybody, not just young girls," Rickards notes. "The subjects we touch on in the show can transcend just the high school era."
Rickards, currently shooting "Struck by Lightning" with Chris Colfer and Christina Hendricks, spoke to Back Stage about her already prolific career.
Back Stage: How did the script for "Awkward" come to you and what attracted you to the role of Jenna?Ashley Rickards
: I got the script through my managers, and I just loved the writing. [Creator]
Lauren Iungerich
is phenomenal at what she does, and all the characters have so much dimension. Even the quote-unquote "mean girl" on the show can't be defined simply as the mean girl. There's a depth to her and there's a depth to our male leads that brings them much further beyond just the "hot guy" or the "mean girl."
Back Stage: What are you feelings on auditioning, which is really such a separate skill from acting? Rickards:
It is different; it's sort of like if you were interviewing surgeons and you want to see their skills. It's like being in a meeting with them and saying, "Okay, perform surgery without a patient or without any of your tools." But I've learned that if you just have a lot of imagination and run with it and commit to it fully, you'll be fine.
Back Stage: When did you realize you wanted to be an actor?Rickards:
I was about 13 and I was attending a Montessori school where there were so few students that, in order to have a production, they needed every single student from three grades to participate. It was mandatory. We were doing an opera and I did not want to do it. I told myself, "I'm way too cool to be in an opera!" And I ended up really, really enjoying it. I remember the exact moment I fell in love with it and realized I can't do anything else; it was backstage. It's not about being the center of attention for me. My most thrilling moment when we were doing that project was when I was prepping—getting my makeup on, thinking about what I was going to do out there. That's the moment I fell in love with it.
Back Stage: How did you go about getting an agent? Rickards:
That was an interesting process. Before [Backstreet Boys and *NSYNC founder]
Lou Perlman
was in jail, he was having these talent showcases. So I went to one of those, got called out to L.A., and met my attorney through a whole string of events. He hooked me up with agents and sent me on meetings with people and helped me set up a team.
Back Stage: What's been your biggest challenge on the business side of acting?Rickards:
It's difficult going into meetings and having a conversation with people as myself, as Ashley, and then having them believe that I can play the role we were just discussing. People want to hire the character, to a certain extent. So sometimes I have to just go in there as the character. That's how I got this part. But there are times to do it and times to not.
Back Stage: Has that ever backfired on you?Rickards:
Oh, for sure! [Laughs.] It happens.
Back Stage: And what's been your most challenging role so far?Rickards:
I think "Fly Away." It was such a wonderful, creative experience, and really a once-in-a-lifetime, dream role. It was such a collaborative work space, working with Janet and Beth Broderick. Getting into Mandy's head was very difficult because it's pretty much a different brain. It's not only a different person than you, but it's also a different structure, as well. So it was creatively fulfilling, but challenging.
Back Stage: Did you find people looked at you differently after you pulled off that role? Did it help change your career?Rickards:
Absolutely. I was doing press for "Awkward," and one of the people attending was a good friend of Beth Broderick's. He said, "I never would have guessed that that was you!" But I don't do work thinking, "What will this do for my career?" I do it thinking, "Is this going to be fun? Will it be fulfilling for me creatively?" And whatever happens, happens. Because you can't control that. And that's also a central theme of "Awkward" you can't control the things that happen to you, but you can control what you feel about them.