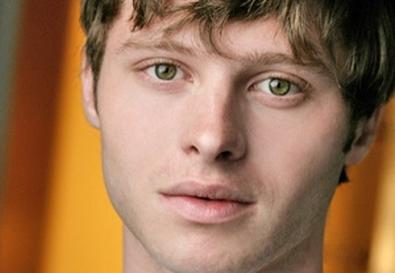 Bobby Steggert says playing narrator and lead in the new musical "Yank!" is no easy feat. Indeed, he says, "It's a delicate balance between the fun and the responsibility of hosting the night—there has to be levity and rapport with the audience—and then completely shifting into intimacy and seriousness and sadness. I constantly have to calibrate these two forces." He also sings, but he finds that no challenge. "I never approach musical theater as musical theater," says the soft-spoken 29-year-old Frederick, Md., native. "I find if I'm really connected to the material, the singing becomes just an extension of the character's expression."
"Yank!" details a homosexual love story between two soldiers serving in the military during World War II, decades before the concept of "Don't ask, don't tell" entered the national lexicon. First launched at the Gallery Players in Brooklyn, N.Y., "Yank!" is now a production of the York Theatre Company at the Theatre at Saint Peter's Church. Book and lyrics are by David Zellnik; music is by David's brother Joseph Zellnik.
Steggert comes to the role of Stu in the wake of a career leap with the Broadway revival of "Ragtime." He played Mother's Younger Brother, the reluctant WASP rebel, and changed the industry's view of him, he says. "I think people realized I'm an actor and not just a cute young man who happens to be castable. It showed that I could take on a character different from myself and be more than I've been in the past. I know how I look. I look innocent and all-American and that life hasn't been too hard on me. It's nice to look young, but people tend not to take you seriously. They assume you are less intelligent and less complex than you are.
"As a young performer, you are often asked to do roles that are two-dimensional: easy ingénue parts, young love, comic relief," he continues. "It's my goal to find gritty, interesting, and transformative roles—and I don't care if they're gay, straight, bisexual, green, blue, or pink. It doesn't matter. I never worry about this. Times are changing. Producers, writers, and casting directors are smarter than they used to be. They recognize skill and talent and commitment."
Relaxation and Connection
Steggert always knew he wanted to act. He performed in school plays and professional theater in the Washington, D.C., area. He admits his parents were a little wary about it but also appreciated his determination and did not stand in his way. Steggert earned his BFA from Tisch School of the Arts at New York University and then spent a year at the Royal Academy of Dramatic Art in London.
"At NYU it was a free form," he recalls. "You formed your own syllabus and were encouraged to be creative and self-motivated. At RADA, the training was more technical. It was about text and script analysis and voice. I can't say that one kind of training was better than the other. The combination was useful. I have structure and freedom."
Steggert says he has no particular method of getting into a character, short of trying to find something in his own life that mirrors the character's experiences and getting what he needs from the other actors. "As I've gotten older I've found that technique is nothing more than relaxation and connection," he says. "And I have to trust my ability to be present. That's what acting is. You can't plan a damn thing."
An artistic turning point was appearing in the musical "110 in the Shade." Steggert never planned to be in a musical—previously having no voice or dance training—but when director Lonny Price offered him the gig, Steggert decided to give it a shot. The experience was transforming on several fronts, not least playing a character that was so gregarious and removed from himself, he says. But he also had the chance to observe Audra McDonald, a performer he had adored for years, and in the course of working together, she became his role model. "Audra shows up and brings her entire body and soul to every single moment of rehearsal and performance, and that's non-negotiable," he says. "If you're not doing that, you're not doing your job."
A Series of Lateral Moves
Steggert has worked constantly as an actor, admitting he is relatively comfortable at auditions. "I do well because I don't get wrapped up in the success or failure of auditions," he says. "I never had the attitude that I need a job to validate my talent or my existence in any way. I walk in with the energy of wanting to play, and I'm never destroyed if I'm rejected. It is part of the whole choice I made as an actor. There will be ups and downs. I will be poor. I will not be given many jobs, but I don't let that discourage me."
That kind of attitude takes a degree of maturity, success, and "knowing more jobs will come," he says. "When you're 21 and your first job ends, you think, 'Oh my God, will that be the only job I have to prove myself?' But after four or five jobs you realize it's hopefully a pattern that will continue, and you're able to relax."
Steggert chooses a project if the role is challenging and the energy is collaborative and positive. He does not view a production as a steppingstone. Indeed, he sees his career trajectory as a series of lateral moves: "Profile, salary, and exposure are not important. I trust if my priorities are there, [those] other things will follow."
Steggert likes working with actors who are intense, committed, and present. "If you're present, you're also flexible and you can take anything you're given and respond to it." Directors he is drawn to need to demand respect for themselves but also have equal respect for the actors. If there is intimidation or a power imbalance or insecurity on anyone's part within that room, it won't work, he says. Steggert suspects he might find a niche in helming a production at some point, thanks to his understanding of actors as well as his design aesthetic and interest in how the technical elements come together.
The particular roles he'd like to try—and they're at opposite ends of the spectrum—are one of the brothers in "Long Day's Journey Into Night" and the lead in "How to Succeed in Business Without Really Trying." He says he is also interested in originating a role in a project he is part of from its development and workshops to final production.
He sums up his ambitions this way: "I want to be given the chance to do more roles that are challenging and varied within musical theater and straight plays. I want to be respected by my peers and known as someone who works hard and commits to every opportunity he's given."
"Yank!" runs through March 21 at the Theatre at Saint Peter's Church, 619 Lexington Ave., NYC. Tickets: (212)-934-5820, www.yorktheatre.org.
Outtakes
- Made his Broadway debut as an understudy in Athol Fugard's "'Master Harold'...and the Boys"
- Earned an Outer Critics Circle nomination for his performance in "110 in the Shade" and a Drama Desk nomination for his work in the Off-Broadway production of "The Slug Bearers of Kayrol Island (or the Friends of Dr. Rushower)"
- Had a recurring role on "All My Children" and appeared in the films "The Namesake," "Game 6," "Night Swimming," and "Kinsey"