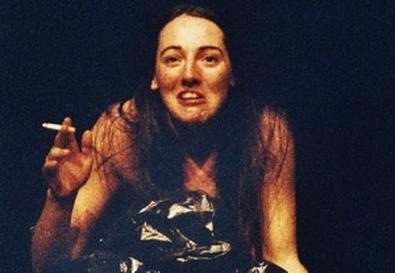 There's something inexplicably intriguing about loose adaptations, no matter how often the original work has been aped. "Impress us!" we cry, hoping that this new version will either inform the prototype or take us on a new, exciting journey. Though Undergroundzero Festival's "Aspettando Nil (Waiting for Nil)," a feminist play (invite the pun) on Beckett's "Waiting for Godot," is not a supplement to the original, it is amusing, often biting, and philosophical in its own way.
This version—by Italian experimental theater company Lafabbrica and performed by Elisa Bongiovanni and Giada Parlanti in Italian, with English subtitles—is about an aged mother in a wheelchair and her daughter, who's waiting for her groom to arrive. Already an absurdist piece thanks to the cast's arresting physical contortions and Fabiana Iacozzilli's taut, carefully manicured direction, the notion of these two women engaged in nil while waiting for Nil becomes even more preposterous because of Bongiovanni's "decrepit" condition and Parlanti's androgynous looks. Neither appears to want or need a man. Not as chock full of history, religion, or existentialism as "Godot," and thus less open to interpretation, "Nil" accentuates the futility of perceiving a man as the validator of woman's existence. The idea of being "ready" for a marital union comes under attack.
But that's not all that has the potential to be assaulted. If you're sensitive to partial nudity (the women are topless) or dense cigarette smoke, which is often too thick to see the subtitles, be warned: The 60-minute show relies heavily on both. But warning be damned. There's enough here to make you smile and maybe even pump your fist in the air in agreement. Men, who needs them?
Presented by East River Commedia in association with Lafabbrica as part of the Undergroundzero Festival at Performance Space 122, 150 First Ave., NYC. July 14–18. Remaining performances: Thu., July 15, 9 p.m.; Fri., July 16, 7 p.m.; Sat., July 17, 7 p.m.; Sun., July 18, 5 p.m. (212) 352-3101, (866) 811-4111, www.theatermania.com, or www.ps122.org.