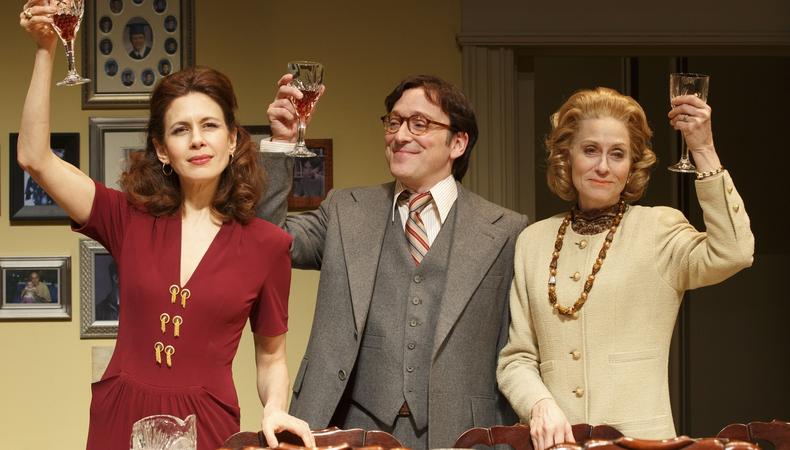 Richard Greenberg's touching comedy-drama "The Assembled Parties" isn't saying much of anything new: change is constant, the universe is random, time takes its toll on all of us. Fortunately, he says it through the interactions of interesting, well-written characters dramatized with wit, insight, and boundless affection.
The play, sensitively directed by Lynne Meadow for Manhattan Theatre Club, observes two Christmas Day celebrations in the 14-room Upper West Side apartment of agnostic Jews Julie, once a teenage film star, and Ben, the wealthy wheeler-dealer for whom she left the silver screen. In Act 1, set in 1980, the attendees consist of the feckless but charming Scotty, Julie and Ben's just-out-of-college son; eager-to-please Jeff, his school friend who's now studying law at Harvard; and the mismatched familial trio of ever-anxious, pill-popping Faye, Ben's sister; her crass husband, Mort; and their aimless daughter, Shelley. Stuck in bed is 4-year-old Timmy, Scott's younger brother, who is recovering from the flu. As the sunny, optimistic Julie cooks up a storm, Greenberg skillfully weaves a web of complicated relationships and clashing agendas.
Act 2 leaps to the year 2000. Ben, Mort, and Scotty are dead, while Shelley is bitterly estranged from her mother. Only Julie, dying of an unstated illness and impoverished by Ben's bad behavior; Faye, living alone in her big Long Island house and finally off her meds; and Jeff, still single and back in Manhattan after five years of making a pile at a Chicago law firm, are present. Popping in and out is super-smart Tim, a mathematics major who was thrown out of college for unspecified infractions just before graduating and now works in a restaurant while shacking up with his girlfriend. Tim, who loves his mother, keeps giving increasingly unbelievable reasons for why he can't stay to share her final Christmas dinner.
Julie is what used to be known as a free spirit, and Jessica Hecht's lovely performance roots her in the 1960s. Hecht's not quite flower child conveys a sense of willed happiness, a determination to enjoy life even though she is well aware of—and often quite articulate about—the shortcomings of both the people around her and the world they inhabit. Judith Light's terrific Faye is a potent cocktail of angst, intelligence, and practicality, amusing as she issues scathing assessments of American politics only to thank God that she's apolitical and moving in her continuing need for love from a mother who discarded her. Jeremy Shamos is a boyish Jeff, whether in his early 20s or 40s, though in the latter incarnation that quality is tempered with an unassuming maturity. Shamos excels at projecting Jeff's inner insecurity, hungering for acceptance from people he considers better than himself. As Scotty and Tim, Jake Silbermann nicely differentiates the brothers, his Scotty as skilled a practitioner of charm and misdirection as his Tim is awkward and discernible.
Jonathan Walker, as Ben, and Mark Blum, as Mort, make the most of their one scene together, circling warily and butting antlers like two stormy stags. As Shelley, Lauren Blumenfeld radiates unease and bewilderment at how she ended up in this family, and young Alex Dreier is a simple and true Timmy.
Santo Loquasto's inspired set fractures the apartment into rooms and hallways for Act 1 then unifies for Act 2, creating a feeling of haunted space. Jane Greenwood's designs for the period dresses worn by Julie that were created by her mother are striking and enhance character.
Greenberg's decision to leave important pieces of backstory unclear may be true to life—family history is usually notoriously unreliable—but does occasionally result in audience frustration. But don't let that keep you from this entertaining and humane show.
Presented by Manhattan Theatre Club at the Samuel J. Friedman Theatre, 261 W. 47th St., NYC. April 17–June 16. (212) 239-6200, (800) 447-7400, or www.telecharge.com. Casting by Nancy Piccione.
Critic's Score: A-