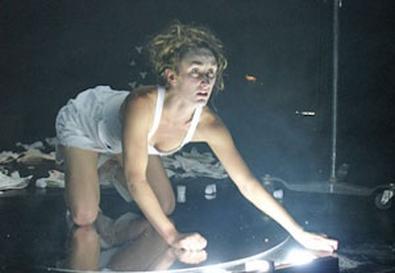 This is Back Stage's review of the show's original run at Performance Space 122 in October 2009.
It's easy to get wrapped up in the pulse and throb of 31 Down's audio/videologue "The Assember Dilator." It's not so much the story of the invention of X-ray eye drops as a taste of the sensory experience that might follow using them, as dreamed up by Shannon Sindelar and Ryan Holsopple and wrought for maximum stimulation. It's safe to assume that no one will be able to take their blinking, squinting eyes off it.
Holsopple and Caitlin McDonough-Thayer star as the creepy Doctor Assember and his soulful nurse, the developers of and guinea pigs for an experimental serum, the Assember dilator, which causes hallucinations that could be X-ray vision. To say they "star" is not quite accurate, however; they're more in the thrall of lush effects (mostly designed by Holsopple) that soon overtake any semblance of narrative. There isn't much spoken dialogue, but both actors excel in their detached synchronization with prerecorded voiceovers and their precise execution of stylized gestures. McDonough-Thayer demonstrates particularly keen comic timing.
Yet it's the constant jittering and pulsing of Sindelar and Holsopple's breathtaking, original atmospherics that burn "The Assember Dilator" into your memory—by way of spots on your retinas and ringing in your ears. Bombarded by naked light bulbs of varying intensities, the actors are often blown out (to use a photography term), leaving iridescent ghosts dancing behind them when the stage goes dark. One especially well-crafted sequence places McDonough-Thayer between two satellite dish–shaped light arrays, where she frantically identifies blinding slide projections as they click-clack through with jarring noise. But for all this sensory stimulation, the most disturbing component of "The Assember Dilator" is terrifyingly simple: a shiver-inducing "tck" sound made by each droplet of the serum landing in the eye.


Presented by 31 Down as part of Ontological-Hysteric Incubator's Other Forces at St. Mark's Church, 131 E. 10th St., NYC. Jan. 7–13. Schedule varies. (212) 352-3101, (866) 811-4111, or www.ontological.com.