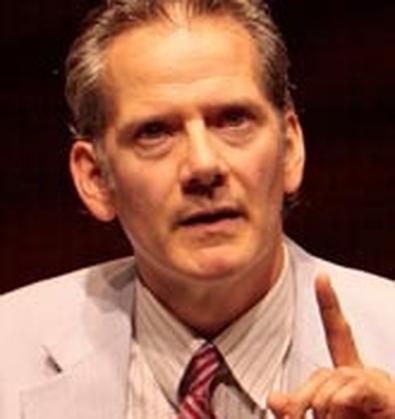 Early in Ronan Noone's solo play The Atheist, Campbell Scott in the title role advises, "Cast convention out!" It seems the playwright has followed his own advice in both form and content.
Written as a series of jazzy riffs and rants, the play darkly portrays a ruthless, self-obsessed go-getter, a new kind of anti-hero to suit these monstrous times. He's Augustine Early, a ravenously ambitious journalist who lays waste to all in his path. When he discovers a prominent politician's voyeuristic predilections, his rocket ride to fame begins. You've got to pay strict attention on this trip; Noone has laid out a circuitous route. There are hidden cameras, an equally raunchy and driven girlfriend, blackmail, a mother whose home Augustine has burned down, a vengeful newspaper boss, and a willing virgin widow.
Noone strives to make Augustine a villain so sexily hip he's endowed with everything that's wrong with the world today. As a result, the character lacks credibility. He often seems so bleakly and blatantly amoral, he's too bad to be true. It's probably this very darkness that drew Campbell Scott to the project. Apart from Shakespeare's Richard III, where are you going to find so base a character to sink your teeth into? Under Justin Waldman's astute direction, Scott does just that. With immediate authority, he delivers a detailed, concentrated performance almost poetic in its energy and anger, aided by Ben Stanton's imaginative lighting design.
But all of Scott's talent can't disguise the flaws in Noone's text. The worst of these is to allow the play to devolve into a moral fable. How much more intriguing it would have been to see Augustine succeed in his devilish deeds. The finale of this cautionary tale is the very kind of convention we thought the playwright was going to cast out.
Presented by Allan Buchman, Culture Project, and Theodore Mann and Paul Libin, Circle in the Square Theatre,
at the Barrow Street Theatre, 27 Barrow St., NYC.
Opened Oct. 12 for an open run in repertory with In Conflict. Tue.-Thu., 8 p.m.; Fri., 9 p.m.; Sat., 4 and 9 p.m.; Sun., 4 p.m.
(212) 352-3101 or www.cultureproject.org.