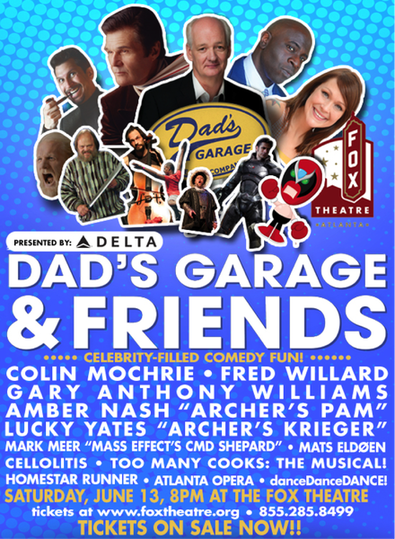 It's no surprise that Dad's Garage—Atlanta's premier improv (and scripted comedy) theater—has been beloved by locals for its irreverent shows, masterful improv talent, and puckish community spirit. But having weathered the loss of their time-honored venue, the folks at Dad's Garage have now bought their own theater—a church in the hip Old Fourth Ward that they plan to renovate and open in 2016. Toward that end they're mounting their first celebrity showcase-fundraiser, "Dad's Garage & Friends," at the Fox Theatre—starring Colin Mochrie from "Whose Line Is It Anyway?"; "Best In Show" star and Christopher Guest favorite Fred Willard; and Gary Anthony Williams from Adult Swim's "The Boondocks." Plus a whole heckuva lot of friends.
Dad's Artistic Director Kevin Gillese chats about what promises to be a night to remember, and why it's their "go big or go home" moment.
How did this happen and what can we expect?
Well we did our first "Dad's Garage & Friends" last season at The Goat Farm and it was a big hit, completely sold out and had such incredible energy. This year we wanted to try to take a big step up because we're trying to raise money to renovate our new home, a church in the Old Fourth Ward that we officially bought in January.
In the first half of the show you'll see a series of short games, songs, and bits. The great part about this section of the show is that if you don't like a particular thing, it'll be over in five minutes and something completely new will be happening! You'll see things like: Colin Mochrie teaming up with the Atlanta Opera to do an improv game, an animated appearance by Meatwad from "Aqua Teen Hunger Force," a performance of "Too Many Cooks: The Musical," improvised songs and dances and a million other fun things.
Then in the second half we just get all of our celebrity improvisers together to jam out (improvise) together. This is the most exciting part of the show for me, because there's a very good chance you'll never see this combination of comedians working together onstage again. We literally have some of the most talented and well-known improvisers in the world coming together, and with those kind of ingredients, anything can happen.
This is a very ambitious initiative! How did this come to pass?
Yes, it is ambitious. We're hoping that Atlanta loves Dad's Garage enough to show up for this event and help us raise enough money to renovate our new theater. It's kind of our "go big or go home" moment.
Who are some of the "name" performers that have emerged from Dad's? And what are they known for outside of the Dad's arena?
Amber Nash and Lucky Yates are known for their voiceover roles on the hit animated series "Archer." Tara Ochs is known for her role in the groundbreaking film "Selma."
How can an actor get more involved with Dad's?
The best way to get involved is to take our improv classes. We're always looking for new talent, but improvisation is the approach that underlies everything we do, so we need folks who can vibe with that. The other thing that actors can do is to hang out and get to know people at Dad's Garage. We're a family as much as we are a theater company, and social connections are a part of how we integrate new members.
How important is improv training for an actor?
If you ask me, it's pretty important. It helps create textured, truthful performances that come alive in the moment.
How has this season been for you and Dad's?
It's been a crazy season, and I mean that literally. It's tested my sanity and that of my co-CEO Lara Smith. So many firsts: first Kickstarter, first time purchasing a building, first time producing an original work of ours at the Alliance Theatre. And we had our biggest Baconfest ever, so I guess you could say it was our first time serving almost 3,000 patrons at Baconfest. And now our first time producing an event at the Fox Theatre.
Yeah, it's been a wild season and it's been a lot of work and worry to try to make all of this stuff successful, but ultimately our mission is to spread laughter, so I really can't complain. I've got the best job in the world.
Inspired by this post? Check out our Atlanta audition listings!