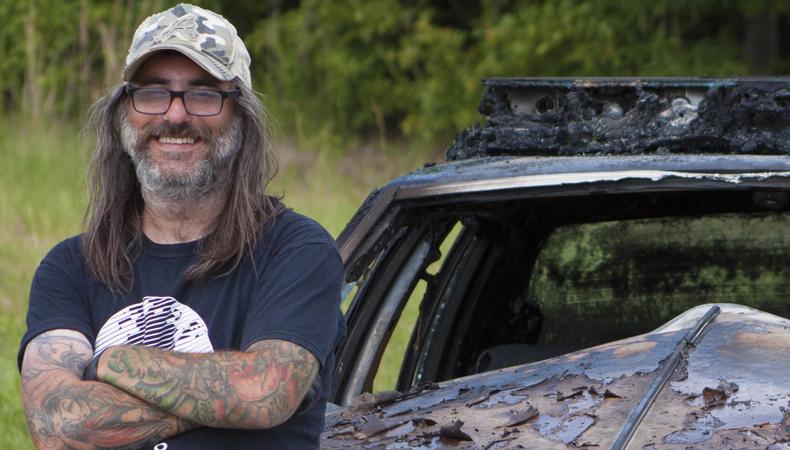 Atlanta writer-director James Bickert took a decidedly retro approach to creating his award-winning indie horror flick "Dear God No!"
Shot on 16mm film, the 2011 movie offers a grindhouse aesthetic while following a marauding band of bikers whose pillaging abruptly ends with the arrival of Bigfoot (played by Jim Stacy of the Cooking Channel's "Offbeat Eats with Jim Stacy").
Reprising his retro filmmaking approach, Bickert is presenting the world premiere of the film's sequel, "Frankenstein Created Bikers," at the Atlanta Film Festival on April 2. As was the case with the first film, much of the cast of "Frankenstein Created Bikers" is comprised of local genre actors including Jett Bryant (a frontman for local bands, including one named Bigfoot), Madeline Brumby (who also served as the film's casting director), Allison Maier, and Jim Sligh. Also along for the ride are genre favorites Laurence Harvey ("The Human Centipede"), scream queen Tristan Risk, and Troma girl Ellie Church, most of whom Bickert met on the horror convention circuit while promoting "Dear God No!"
"I'm always looking for really interesting people to work with," says Bickert. "In the past, I held open auditions. But they can be brutal for everyone involved. Sitting there for hours hearing 20 people read the same passage from 'Erin Brockovich' can drive you nuts, not to mention how awkward it must be for the actors. We had our core group from 'Dear God No!' return. Many are musicians who are no strangers to performing. I discovered Paul McComiskey online. Sligh was hosting trivia night at a bar."
Bickert says some of his biggest discoveries, such as Sarah Beth Moseley and Ben Bladon, came from word-of-mouth recommendations from other local filmmakers and actors. "There are no rules, which is very appealing," he says of his hands-on attitude toward casting. "It's a hand-crafted vibe you just don't experience on most sets. Plus, I'm always doing something crazy, like blowing up a car, or covering an attractive woman wearing a Richard Nixon mask in blood and giving her a machine gun."
So, what inspires Bickert's rebellious and free-spirited approach? The traditions of filmmakers from yesteryear, of course.
"Ever since my mother took me to see the original 'King Kong' when I was probably five years old, I've been obsessed with horror and exploitation films," he says. "I actually started as a photographer. My subject matter kept getting darker and I started printing the photographs in sizes that resembled a CinemaScope aspect ratio. I was coming up with all this bizarre imagery that had the connotations of an undiscovered Tod Browning, Mario Bava, Jess Franco, Russ Meyer, or Herschell Gordon Lewis production. Eventually, I decided to make a film on my own terms and retain all the rights. Since I didn't care about finding a distributor, I could make the film I personally wanted to see. 'Frankenstein Created Bikers' has been the same approach: just making films I'd like to see at a drive-in."
For more information on the 40th annual Atlanta Film Festival, running April 1–10, click here!
Inspired by this post? Check out our Atlanta audition listings!