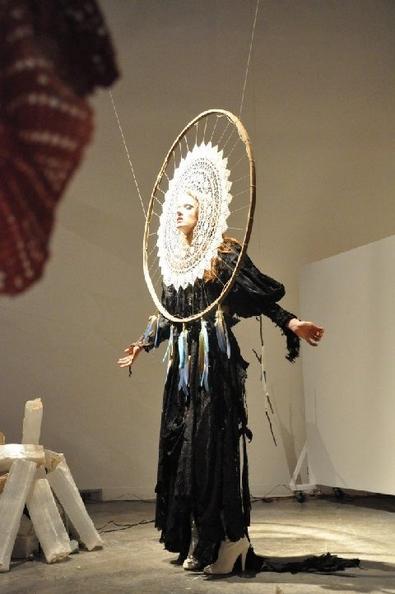 With an impressive track record of more than 80 premieres, landing on every Atlanta-based publication's best plays list and even the Drama League of New York's endorsement as one of 50 excellent theaters nationwide, 7 Stages Theatre's distinct brand of collaborative, often international and mixed-media stagecraft is perched to begin an exhilarating new era.
After 33 years at the helm of this adventurous venue, Del Hamilton (who was named both best director and best actor by Atlanta Magazine) has handed over the role of artistic director to Heidi S. Howard and co-artistic director Michael Haverty and begun a niche role as director of special projects. The two new artistic leaders spell out for Backstage their vision of this revolutionary theater and make a convincing case for why Atlanta thespians should not miss any of their shows this season—starting with "Curious (Literary) Encounters," running Oct. 1–4.
What is your vision for 7 Stages at this juncture and how is it reflected in this season's offerings?
Heidi S. Howard: 7 Stages strives to be a global center for the creation of vital conversations through collaborative performance. This fall alone we have six different countries represented through interns, artistic guests, and collaborators from Serbia, Belgium, Canada, Israel, The Netherlands and Romania. For our recent co-production with Theatre du Reve, we initiated conversation through a Salon Series in private homes. Our staff and guest artists teach classes and workshops at Kennesaw State University. We host international internships, fellowships, and bring students from abroad to take part in our summer Youth Creates program. With programs like Home Brew, we are aiding in the development of new work and supporting local artists.
Take us through each upcoming show in the 37th season.
Michael Haverty: "Curious (Literary) Encounters" [is] our third annual festival of interactive performance [featuring] seven different ensembles or artists from Atlanta.... All are based on classic works of literature and set in unexpected places in our building.
"Krampus Xmas": a rock 'n' roll anti-holiday tradition, but a new show every year. This year expect a horror flick feeling, spookiness, blood, and of course, beer!
"The Missing Generation": contemporary dance meets documentary by San Francisco's premiere transgender choreographer with their installation of pieces of the AIDS Quilt.
"The Revolutionists": Atlanta's favorite playwright Lauren Gunderson, author of last spring's hit "Silent Sky," offers a comedy with hot women assassins, ripped from the pages of the French revolution.
"Inside I" uses cutting-edge live feed video technology mixed with puppets and visual spectacle to tell the story of a boy on the autistic spectrum from birth through 18.
"Home Brew": free admission and local brew for works in progress by local artists who call our space home—Richard Garner, Johnny Drago, Theroun Patterson, Tara Ochs, and others.
What are 7 Stages major accomplishments and how would you define the era of Del Hamilton?
HSH: Coming through a difficult financial crisis stronger than before, our staff is leaders in advocacy and transparency locally, nationally, and internationally. We've premiered playwrights' new work and have seen them get picked up elsewhere, like Topher Payne's "Angry Fags" recently playing at Chicago's Steppenwolf Theatre. Since the beginning, Del and [co-founder] Faye [Allen] have nurtured new playwrights and now we are fostering our own generation of theater makers, which is truly rewarding on many levels. Our students are succeeding as leaders in the arts and elsewhere and we continually hear audience members, artists, and students say that our programming has changed their lives for the better. It is important to note that we are proud that our mission has stayed consistent throughout our long history, and continues to inspire today's programming choices more than ever.
Any surprises in the works to look forward to?
MH: We are inviting the public to submit artistic responses to Ray Bradbury's "Fahrenheit 451" as part of [National Endowment for the Arts program] The Big Read. Come play with fire!