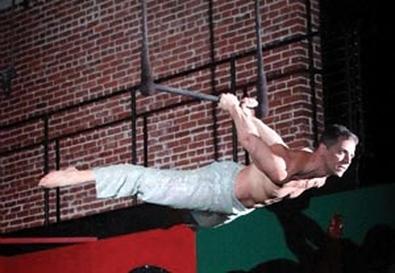 Stefan Haves, whose work in the fields of comedy and clowning range from collaboration with David Shiner and Bill Irwin on "Fool Moon" to designing comedy acts for Cirque du Soleil, brings his unique talents and vision to this marvelously theatrical mélange of music, variety, and clowning—physical theatricality at its best. In this low-budget, stripped-down setting, Haves captures the essential magic of commedia dell'arte and offers a more intimate, more entertaining, and more transcendent experience than the mega-budget Cirque can provide. Haves worked as a juggler and street clown in Paris, and his experience in the streets gave him formidable insight into audiences and physical comedy.
Using live and recorded music as a driving force, Haves takes the thinnest of plots—aliens descending on Las Vegas—to launch a series of skits that combine broad comedy with surrealistic dialogue and images, all designed for the maximum in humor and entertainment value. He throws in very funny juggler Scot Nery, a hilarious standup bit by Kasey Wilson, and a breathtaking aerial display by Eric Newton. All of this is enhanced by fast-paced musical numbers directed by Philip Giffin and brilliantly choreographed by Lindsley Allen.
To call this a captivating evening is an understatement. The result is a rewarding, thought-provoking experience that draws you into Haves' theatrical wonderland. It sets one thinking about all the possibilities for theater that go largely untapped in our emphasis on naturalism and truth. Often truth is elusive and outsize, or grotesque and shadowy, as Haves' whirlwind circus parade demonstrates. Haves has made a singular and important contribution to the theatrical landscape; his latest effort is not to be missed.
Presented by The Actors' Gang at the Ivy Substation, 9070 Venice Blvd., Culver City. Dec. 9-22. Variable schedule. (310) 838-4264. www.theactorsgang.com.