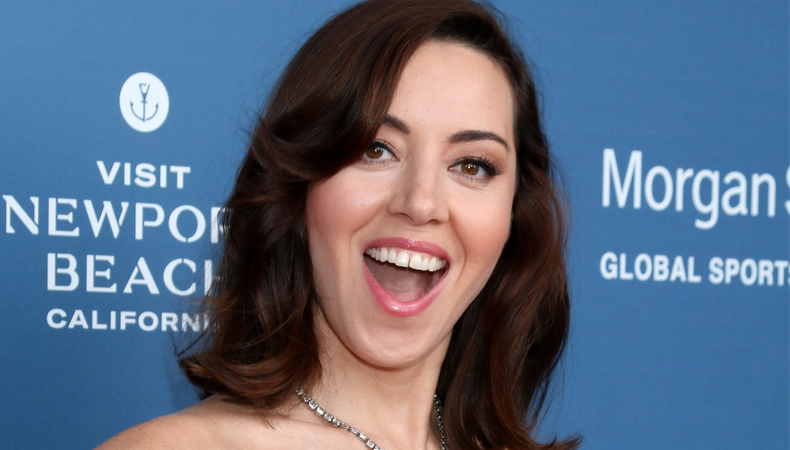 In the Envelope: The Actor's Podcast features in-depth conversations with today's most noteworthy actors and creators. Join host and senior editor Vinnie Mancuso for this guide to living the creative life from those who are doing it every day.
In the years since she wrapped up her time on NBC's "Parks and Recreation," Aubrey Plaza has played a social media–obsessed cyber stalker, a blasphemous 14th-century nun, an all-powerful mutant, and Aaron Burr. This year alone, she turned in a remarkable performance as a credit card scammer in John Patton Ford's "Emily the Criminal" and lived in the lap of Italian luxury on Season 2 of HBO's "The White Lotus." And she's a little tired, understandably, of viewers filing all these characters under the same "deadpan" description.
"Soon, I'm going to get into the world of prosthetics and start doing some Meryl Streep shit where I change my nose and my hair so people can just completely forget that it's me," Plaza says. "I'm always surprised that, when I do something new, there's always that one person who says, 'There she goes, doing the Aubrey Plaza thing again.' I can't change the sound of my voice. I only have my own instrument to work with. Anyway, I sound bitter, but I'm not. But I am always surprised that people use 'deadpan' to describe some things that I've done. It just feels a little reductive. But that's my journey."
On this episode of In the Envelope: The Actor's Podcast, Plaza takes us through that journey, from her creative process for her roles in "Emily the Criminal" and on "The White Lotus" to her upcoming work in Francis Ford Coppola's "Megalopolis" and on the MCU's "Agatha: Coven of Chaos."
As both producer and star of "Emily the Criminal," Plaza embraced every part of the filmmaking process.
"Making movies is an almost spiritual process for me. I can only describe it like: The movie becomes its own living, breathing organism. You have to nurture it and feed it and raise it and get it to the finish line. Producing, for me—it's all the practical, pragmatic stuff, but there's a spiritual element to it that does connect to the acting process. It's about bringing the right energy and the right people into the picture to raise this baby movie. Casting is so important. That, obviously, is really connected to the acting part of it. I want to work with really great people. I want to get people in there that are going to help me with my performance. I want it to feel real. On a deeper level, there's an approach in my head about movies that feels like there's a soul to the process. If you can remember that, and keep your eye on that with all the decisions you're making, it helps the movie be better."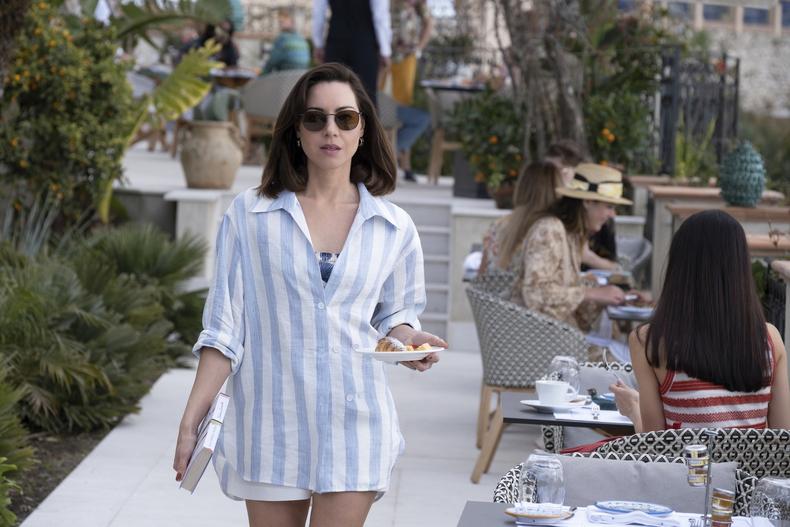 Aubrey Plaza on "The White Lotus." Courtesy Fabio Lovino/HBO
Harper Spiller, her character on Mike White's "The White Lotus," is the most personal role of her career.
"Mike wrote that character for me, so there's a lot of me in that part. It's only been two episodes and everyone's like, 'This woman is kind of an uptight bitch.' Which, maybe I am. But you'll see, as the show goes on, the layers come off; the vulnerability starts to show. You realize there's a reason why she's like this. That part, maybe more than any other part I've played, is really personal to me. That's Mike White. He's a good friend of mine, and he really tapped into something unconsciously about me.
There's a theme [in my career] of being misunderstood and playing characters that feel like the odd woman out. I'm drawn to those characters on a really basic level. I grew up in Delaware. I didn't grow up in Hollywood. I didn't have a direct line to the industry. I was like everybody else who grows up and watches movies and has dreams and fantasies about being an actor. I still can't believe that I'm actually doing that."
Getting cast in "Megalopolis" was a pivotal moment for Plaza.
"For a really long time, I've been manifesting [the idea that I want] to work with a brilliant director. Who [could] be more brilliant than Francis Ford Coppola, one of the greatest living directors? It's really hard to get parts in movies where you're working with directors that have made a lot of films. I don't regret anything I've done. I love working with first-time directors; I'll never stop doing that, because I love it so much. But there's been a part of me for a while that's like, I really want to work with a really seasoned director. I would say Francis Ford Coppola—that guy is seasoned.
I auditioned for him with no expectations to get the part. I was really just like, Man, I just want to meet the guy. Even if I have a five-minute Zoom, that would be enough for me. I love his passion. I feel lucky and completely humbled to be a part of 'Megalopolis.' We start shooting this week, so TBD what's going to go down; but so far, the rehearsal process and the process I've been through is blowing my mind. It's such a reminder that movies can be magical. This guy is really not operating in the Hollywood system at all, and he's making a giant movie. It's just so fucking amazing to be around someone that has a passion for movies like me and feels the same way—that the process of making the movie is just as important as the end result."
She jumped at the chance to work with Kathryn Hahn again on "Agatha: Coven of Chaos.
" 'Agatha: Coven of Chaos'—I haven't talked about it yet. It's a fun character. I'll just say, speaking of manifestations…it's all coming together for me with this part. Kathryn Hahn, she's a friend of mine; I've known her for years. We shared a couple moments onscreen in 'Parks and Recreation' 10 years ago, but I've never gotten to work with her, really. She's one of the most incredible actresses that's working today. She's a friend of mine. She speaks my language. To be able to get onscreen with her and go toe-to-toe with her is what's driving me. I think it's cool that it's Marvel and all that, but I'm really just interested to work with Kathryn Hahn.
Listen and subscribe to In the Envelope to hear our full conversation with Plaza: