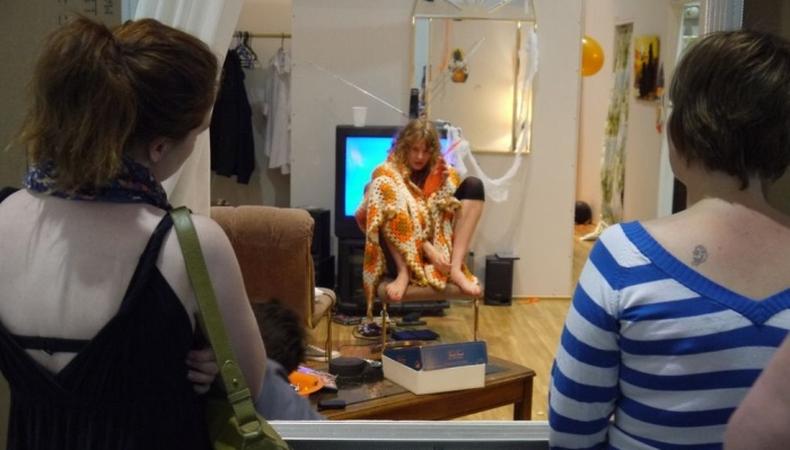 When audiences arrive at the Essex Street Market for Jason Grote's "Habit," they encounter the frame of a one-story house (created by Marsha Ginsberg) that's seemingly been transported—and stripped of its outer finishing—from the 'burbs to this cavernous warehouse on the Lower East Side. Inside, through a bunch of small, glassless windows and a couple of big ones, they'll see a world of sad lower-middle-class squalor inhabited by three aimless souls. It's an invitation to voyeurism of the highest degree, and while Grote's one-act is simply a clichéd mix of sex, drugs, and violence, the opportunity to experience it as a theatrical installation proves utterly fascinating.
Depending on when one arrives (there are no curtain times) and to which window one first moves, Grote's play could begin with an image of drug dealer Doug (Quinlan Corbett) silently contemplating his cell phone in one of two bedrooms, strewn with clothes. Or "Habit" could begin with Doug's aspiring songwriter/poet younger brother Mitchell (Matthew Stadelmann) serenading Viv (Stephanie Wright Thompson), their sexually voracious pal from high school who's unexpectedly returned to their small hometown from college.
Other moments audiences may catch include Viv surreptitiously snorting cocaine from the lockbox Doug keeps next to his bed, or the private sexual moment between Mitchell and one of the jack o'lanterns that he's been carving. What one sees and hears is dependent upon which window one is peering into at any given moment.
How the play is experienced also depends on the dynamics between the performers and their moods and physical needs (the place has fully a fully functioning kitchen and bathroom). The show's director and creator, David Levine, has not staged the show in any traditional sense, and thus, if one stays for a couple of iterations of the play (highly recommended), moments like a bit of roughhousing between the brothers can unfold brutally or gently. It's a herculean endeavor for performers, so it's little wonder that the show's been double cast, with each company taking on the show on alternating days.
While watching the show over the course of three hours at its first performance, the company members' ability to vary their approaches to the material proves consistently impressive. Corbett, Stadelmann, and Thompson convincingly inhabit their roles in both technical and literal senses, and even as Grote's writing reaches unconvincing melodramatic heights, their work has both a freshness and intensity to it that almost makes one forgive the pyrotechnics of the writing.
A few words of advice on attending "Habit": arrive early to avoid crowds or waiting in line (there are only 100 viewers allowed in at any given time) and watch the production as dusk fades into evening. The show actually becomes creepier, and a little more touching, once daylight is no longer streaming through the mammoth skylights above the set, where this ultimately compelling theater piece is unfolding.
Presented by P.S. 122 & FIAF's Crossing the Line festival at Essex Street Market, Building B, 130 Essex St., NYC. Sept. 21–30. 1–9 p.m., daily. www.ps122.org.
CRITIC'S SCORE: B+