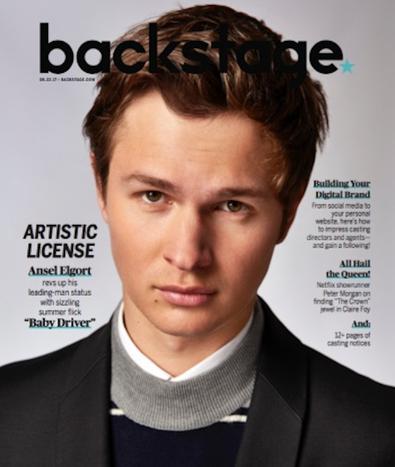 For Ansel Elgort, landing the starring role in Edgar Wright's "Baby Driver" ultimately came down to one thing: song choice. Sure, the buzzy action flick—a critical darling out of this year's South by Southwest festival that's hitting theaters June 28—isn't a musical, per se, but the film's soundtrack ends up playing such a precise role in its pacing and tone (not to mention in the characterization of its titular getaway wunderkind, Baby), that the director fleshed out the audition with a little song-and-dance.
The song? "Easy" by the Commodores, one of Elgort's childhood favorites. The setting? A junkyard where the down-and-out Baby, fresh off a job for Kevin Spacey's menacing crime boss, Doc, is disposing of a car—and a body in the trunk.
Wright knew the scene was pivotal to Baby's development because it showcased his reliance on music in even the most dire situations. You see, the young speed demon has a "hum in the drum" after a childhood accident, and drowns it out with an endless stream of yesteryear earworms by the likes of the Beach Boys, Carla Thomas, the Detroit Emeralds, and, yes, Simon & Garfunkel's "Baby Driver." Like preeminent drag queen RuPaul addressing his contestants on "RuPaul's Drag Race," Wright told Elgort to choose a song for the junkyard cue and metaphorically lip-synch for his life—and, arguably, for the role of his 23-year lifetime.
"Edgar filmed me himself, he had a little camera in his hand," Elgort recalls of the audition, one of several times he met with the "Shaun of the Dead" and "Scott Pilgrim vs. the World" writer-director before securing Baby as his own. "I would, like, hide behind this mirror [and] poke my head out so my head would double. And I knew every word and the guitar solo. [Wright] said that's what won me the role: just seeing me jam out to something while also being freaked out about this dude being dead. There was a lot of time [in the audition] playing around because with this kind of character, you're kind of building [him]. While Edgar knows who he is, the actor has to bring a lot."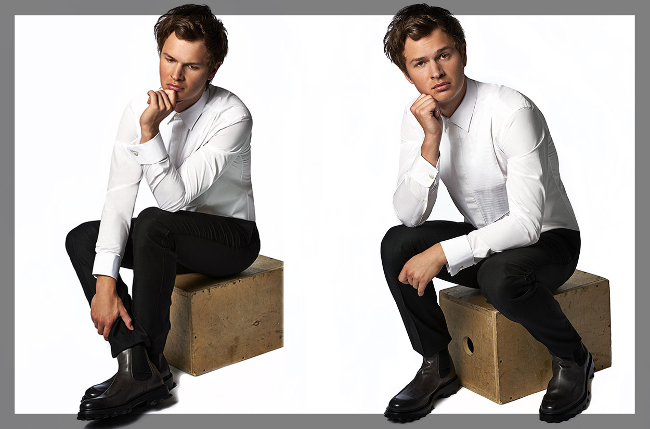 Elgort's rendition of "Easy" ended up making the final cut of "Baby Driver," proving that as early as the audition, strong choices from actors can influence the course of a project.
"It always helped with the [film's] mix of action and movement if the actor had a background in music and dance," Wright says of what he was looking for in his Baby. "Ansel was a perfect candidate for the role. I was surprised and impressed by his connection to some of the music; much of the soundtrack was released before he was born."
While Elgort is best known for starring as Gus in weepy teen romance "The Fault in Our Stars" and as Caleb in the "Divergent" film series, he grew up in New York's dance and musical theater scene. He began taking ballet classes at age 9 and made his Lincoln Center debut in "The Nutcracker" that same year, spending seven summers thereafter at Stagedoor Manor upstate and ultimately attending LaGuardia High School (otherwise known as the "Fame" school). There, he starred in productions of "Guys and Dolls," "Hairspray," and "A Chorus Line" before making his Off-Broadway debut in Matt Charman's play "Regrets" at 18.
"Musical theater was the real deal," Elgort says, "but I really did get into the power of the stillness in a drama. There are moments of silence where you can hear a pin drop. I love being onstage and doing a scene and getting out that one line, that beat, that pause, and all else is quiet, and you can hear the electricity hum. [I learned] you don't need music to move people."
Elgort, who now hones his musical skills by producing original electropop (he expects an album release later this year), remembers Marlon Brando's performance in "On the Waterfront" as one of the first that inspired him to practice dramatic acting in conjunction with musical theater. "That was really powerful," he says. "Even though he wasn't Gene Kelly, [he] was so fascinating to me."
Coincidentally, LaGuardia's "Guys and Dolls" cast him as Sky Masterson, a role made famous onscreen by Brando in 1955. There are even hints of the acting legend in Elgort's Baby. Lines roll out of the actor's mouth with Brando's golden age smolder and Elvis' rock 'n' roll sneer. (Clock that "Thank you very much, ladies and gentlemen" impersonation midway through the film.)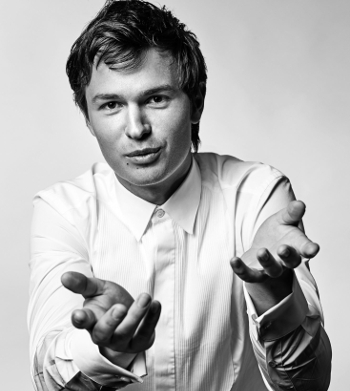 Elgort says these distinct characteristics came to him naturally while reading Wright's script and slapping on a "smooth" Southern accent, and it's not hard to believe. Over the course of our lunch in Brooklyn's Bed-Stuy neighborhood, where he now lives, the actor is nothing if not expressive—gesticulating, putting on voices, and telling stories about his sister's Argentinian Spanish teacher and expensive steak dinners with friends that ultimately have nothing to do with his craft or "Baby Driver," but that amplify how easy he is in no-fuss charm and conversation. He boasts a social skill set required of any movie star on the rise.
Fittingly, Baby marks Elgort's most "movie star" role to date. He's a girls-want-him, guys-want-to-be-him tortured hero with a seamless swagger in each step who anchors a high-octane crime thriller that delivers as much romantic panache for love interest Debora (Lily James) as it does for piles of cash and burning rubber. While it may seem a departure from the young adult fare that made him famous, pursuing "Baby Driver" was less a calculated move than it was Elgort simply seeking work that he hasn't done before and following his gut to avoid the Y.A. pigeonhole. "['Baby Driver'] is definitely different than 'Fault in Our Stars' or 'Divergent,' but it's not like we made a conscious decision [to avoid that]," he says. "The only decision we did make was when we had another offer for a Y.A. kind of thing, it was like, 'Oh, we've already done that. Now I'm gonna do something else.' "
Elgort says, however, that the key for him to succeeding early on was saying "yes" to every opportunity that came his way.
"My goal getting into acting was to be a working actor. At LaGuardia, that's how they teach you. They tell you, 'If you can be a working actor, you made it—congrats!' It was never, like, 'I want to be a movie star,' or whatever," he explains. "So when I got cast in 'Divergent,' it wasn't a question of, 'This is a "young adult" film series. I don't know if this is what I want to do.' It was just, like, 'It's a movie! And they're gonna pay me! And I'm gonna be in Chicago! And I'm gonna be performing! Fuck yeah!' "
And while that brand of film—with the exception of his 2014 dramatic departure in Jason Reitman's "Men, Women & Children"—has become the backbone of Elgort's early days in Hollywood, "Baby Driver" presents an actor redefined, one who is done looking in his rearview mirror.
"It would have to be something amazing if I did anything that was a franchise or a sequel ever again," he says. "I'm done with that. And now I can just do whatever I really want."
---
'You're done if you're holding a Paper'
Elgort doesn't mince words when offering his top audition tip. "Memorize it 100 percent. You can't be holding a fucking paper," he says. "You're done if you're holding a paper. Done. The lines have to be so impulsive that it's the last thing that you're thinking about." Wright concurs: "As a screenwriter, I don't care for people improvising around the lines too much. I like it when people have memorized the lines and then are open to interpretation beyond that," he says.
And don't forget to listen to the other side of that table. "You need to have some choices, but you need to be prepared to throw everything out the window when you're given a direction, the same way when you're going to set," Elgort adds. "Think about when you're going to an audition as like going to set on your first day: You're very prepared, but you don't know what the director is going to tell you. Take notes, like, really fucking take their notes. And if you go overboard with their notes, they'll appreciate that more than you not taking them enough."
Want to star in a feature film this summer? Check out Backstage's film audition listings!
Styling by John Tan. Clothing by Ferragamo.