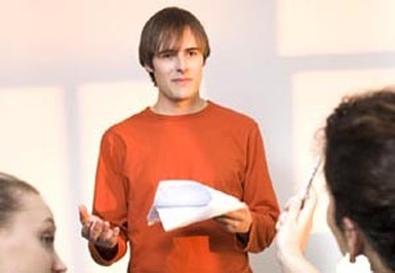 Todd Thaler launched his career as a casting director 25 years ago by overseeing background casting for Woody Allen, a position he held on 14 of Allen's films, starting with "The Purple Rose of Cairo." As head of his own company, Todd Thaler Casting in New York, he has cast principals on films including Todd Field's "Little Children," Sidney Lumet's "Running on Empty," Ed Harris' "Pollock," Barbra Streisand's "The Mirror Has Two Faces," Irwin Winkler's "Tumbleweeds," John Turturro's "Mac," and Wayne Wang's "Maid in Manhattan." Among his TV credits are Peter Berg's "Wonderland" and the NBC series "Ed," which earned him an Emmy Award nomination. For the last 10 years, Thaler has also been teaching at the Atlantic Theater Company's acting school.

Getting in His 'To Meet' File
I look at every cold submission, and if something about the headshot, résumé, or cover letter grabs me, it'll end up in my "T.T. to meet" file. Trying to describe what attracts me in a headshot is like trying to describe a snowflake or a color: It's so impulsive and knee-jerk. It could be the cliché—the eyes being the window of the soul—or something about how a photograph captures a moment that makes me wonder what makes this person tick. My word is "repose." It means waiting. I like a photograph that captures that moment before the reaction, when the actor looks at the camera, listening. That leaves me to decide where the needle should go. If someone sends me a brooding picture, the attitude in the picture might make it hard for me to find that person's funny bone. If the actor is in repose, it opens up a world of possibility.
On the résumé, especially for newcomers, rather than filling up the page with credits like having played Hamlet in summer camp, I'd rather see where the actor has trained and special skills. I know the standard advice on special skills is to say you drive a car or know a second language. I prefer hearing about how an actor can touch his nose with his tongue or cry like a baby on cue. If you can cry like a baby on cue, I might be able to get you some voiceover work. That's also true if you do cartoon voices, and it's the kind of special skill I like to see listed.
Extra work can be mentioned parenthetically. I have respect for actors who are interested in working in their profession, and doing extra work is a great learning and networking experience on the set. But don't say, "I played the head waiter in the 21 Club" to make it seem more relevant than it is. Just say, "Appeared as an extra in several projects including…" and then list those we might have heard of. If you've done extra work in a student film, listing the title won't mean anything to us. But if you've had a featured role in a student film, name the film and let me know if a video is available upon request or accessible on a website. If someone sends me a DVD, I'll probably look at it. I'm always curious to see what actors think is useful. I see the ridiculous and occasionally the sublime. DVDs can include clips from "Law & Order" and also monologues taped in a studio.
As for cover letters, I don't want to see "Enclosed is a picture and résumé for review" or "I would welcome the opportunity to audition for you." That's just redundant. What do they think I'm doing? Don't they think I know they want to audition for me? I like to see cover letters that reveal something honest and personal. But that's not "I'm sick of my survival job and I'm desperate to work as an actor." That's also redundant. I assume you'd prefer to work as an actor rather than a waiter or paralegal. It's challenging to write in a sound bite something real and meaningful. My favorite came from an actor who said, "After completing my last tour of duty in Iraq, I'm now able to continue my acting career." In one sentence he conjured up so much and made me wonder who that person was and what he was about. I like some kind of biographical information—that's not drawn-out life stories—that tells me something more than where the actor studied.

Do Less, But Ask Smart Questions
TV and film work has to be subtle. The old credo "Less is more" couldn't be truer. On camera the smallest physical movement conveys so much. I'm always saying to actors, "When you think you're doing nothing, you're still doing too much." It's typical for actors not familiar with working on TV or film for their adrenaline to get the better of them, for their stage training to get the better of them, and they overdo it. There's a lot of effort in making it seem effortless, but that only comes with repetition.
I like an actor who approaches an audition as a workshop or a rehearsal versus a performance on opening night. Many actors feel the audition is the place for them to act circles around everyone else, but they're there to work toward getting it right.
Actors who come in with smart questions turn me on. If it's a scene between two characters and one is moving out, a smart question would be "How long have they been together?" It's very different if they've been together six weeks as opposed to eight years. If an actor says before the audition, "Is there anything you want to tell me ahead of time?," I'll probably say nothing. But if the actor says, "Is there anything you can tell me about the scene before this scene? Did they have sex?," that begs a response. I also like an actor who says I should feel free to interrupt him with an adjustment.
As for actors coming in costume, I can take it or leave it. For some it's helpful. For TV, where they want camera readiness, it may be more important than for meeting me for a part in a feature film. But generally I don't think it helps. Of course, you can always ask before coming to the audition, "Would you like me to dress as a lawyer?"
Reading the Room and Keeping in Touch
Before and after the actual audition, actors need to be a good judge of the vibe. If I'm welcoming and curious about you, the door is open to have some conversation. But if I'm detached and clinical and strictly business, then you come in, do the audition, and leave. Of course, there are occasions when the actor is too closed down or nervous. I've had actors freak out and become speechless when they've found themselves reading with Robert De Niro or auditioning for Ed Harris, who was directing. That's the time to say, "I'm freaked out and speechless."
After the audition, receiving a thank-you note is delightful. But again, these notes should be heartfelt, earnest, and sincere rather than boilerplate. Follow-up post cards are fine too, but use them sparingly, only to brag about an achievement, such as a recent commercial you booked, a callback, or a showcase you're doing. Don't use it as confetti, when you have nothing to report and are just reminding me that you exist: "I'm available through the holidays." At a certain point it feels like stalking. I have several actors who are regular correspondents and want to remind me they're alive and kicking. It's not that I'll be dissuaded from calling them. But it's a little creepy.
Todd Thaler will take part in the industry panel discussion "Filming in New York: Getting Cast in Gotham" at Actorfest NY on Oct. 24. For more information, go to www.actorfest.com.