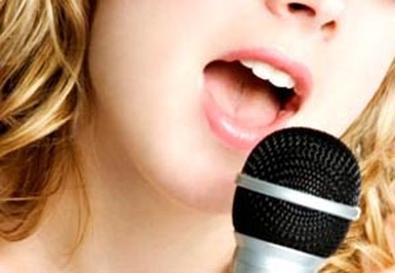 Nancy Mayans, who looks after voice issues at the William Esper Studio in New York and coaches privately, has prepared actors—including herself—for innumerable auditions over the years. So she has given this commonplace, often anxiety-provoking situation much thought. And, shrewd person that she is, she has advice to give.
To begin with, Mayans pictures the typical audition setup, where hopefuls can be kept waiting for hours while having to remain quiet. She pictures the tension that can build as warm-ups done before arriving begin to fade. She thinks about what happens to the body as concern mounts. She even pictures a scenario in which an actor arrives late after a trying cab ride. She worries that the result could be the actor's body tightening before an audition in which he or she has to say something like "I love you" in a convincing way.
Mayans' solution for these circumstances is a series of exercises that can relax the voice without using it. "You can just pant," she says, and she demonstrates by giving it her all. Her heaving looks as if it might not be something actors would want to do in the open. "You can put your hand over your mouth," she adds, "or go into the bathroom."
She kicks a foot in front of her to demonstrate how kicking is another way to keep the body loose and prepared. "You can put your feet on the ground to feel grounded," she says, "and try to feel grounded beneath the ground, rooting yourself to the ground." Then she flexes her back, explaining that the movement is a way to ease tension that may have risen to the shoulders and neck during a long wait.
Mayans' regimen is a substitute for the pre-curtain opportunities you get "when you're doing a play, when you might even get the chance to go on the stage and warm up your voice," she says. They're compensatory techniques—including things like working the tongue. Never shy about demonstrating, she sticks out her tongue, then reinserts it so it touches the roof of her mouth, then rolls it slowly out.
There are other tricks to do with the mouth, and Mayans puts an index finger to each side of hers and pulls, like a child hoping to frighten a younger sibling. "You can pucker," she says. "You can make horse sounds." She blows air out of her lightly closed lips. "It messes up your lipstick," she confesses. "You can even just massage your hands. A massage is always relaxing."
Other ideas she has include renting a studio near the audition location or going up on the roof of a building to work out any kinks that develop. "Although I don't know about that," she says of the last suggestion. "I know one actor who went up to a roof and got locked out."
The Necessity of Fun
Born in Manhattan but brought up in Ohio, Mayans pursued acting and singing at Stanford, where fellow students occasionally consulted her for vocal advice. That's how she got into teaching, although, she says, "I come from a family of teachers." Her mother and two sisters are teachers, and she gives the impression she never expected to escape the calling. Her résumé includes teaching stints at Yale and the American Repertory Theatre, plus a dozen years as an instructor of voice and speech at Rutgers. There have been many years of performing too, though not currently.
"Of course," Mayans stresses, "you do a basic warm-up before you leave the house—stretching, alignment, getting the resonators going." For this prep, she recommends vocal games, which gets to her philosophy that fun is necessary. She's a firm believer that technique has to be allied with some type of amusement. Otherwise, actors lose interest.
Among the drills she's devised are tongue twisters, one of which is based on an English example that begins, "Give me the gift of a grip-top sock" and then goes on for pages. She races through at least a paragraph of it, every word intelligible (but delivered too trippingly on the tongue to be captured verbatim here). She also recommends Stephen Sondheim patter songs such as "Getting Married Today" from "Company" or any up-tempo ditty that W.S. Gilbert and Sir Arthur Sullivan produced.
Mayans has special dictums for plays that call for dialects: "Practice the dialect constantly—in the cab, ordering pizza. It'll drive your friends crazy, but do it." For classical auditions (and that means Shakespeare), she talks about "how to lift phrases, color them. You want to deliver the speeches artfully but never showily." You also need "a love of sound and music." She massages her cheek muscles while making sounds to show how that frees the sound and expands range.
"Have fun warming up," Mayans says, "and then you'll do well. I think that's my message."