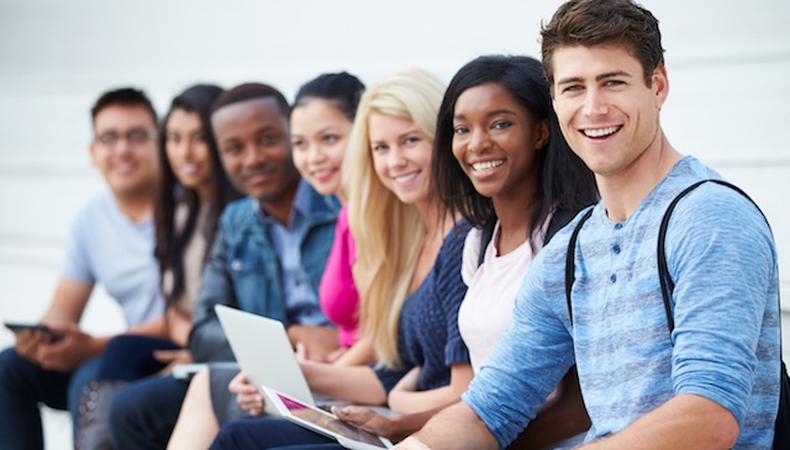 Are you a college graduate actor looking to continue your studies and perfect your craft with graduate school and an M.F.A in acting? You've come to the right place! The application process and audition process for any M.F.A. program is pretty arduous, but it is as sure-fire a bet as any to set you on the path to success in the field. Below, Backstage has rounded up how to apply and audition for four of the nation's top M.F.A programs for actors, including the Yale School of Drama, DePaul University, UC San Diego, and The Juilliard School. Deadlines for initial applications for the incoming graduate class of 2017 are coming up this fall and winter—so get ready, and good luck!
DePaul University
The main draw of DePaul? Well, besides being a lauded M.F.A. program in the bustling, theater-thriving city of Chicago, the university's graduate classes are small, intimate, and hands-on. Not only that, but students are even taught by guest lecturers like David Mamet and John Malkovich! Online applications for 2017's incoming pool of graduates will be available Oct. 1, 2016, and they are due either two weeks before a student's in-person audition or Jan. 15, whichever comes first. Said applications involve submitting a headshot and résumé, three letters of recommendation, and official transcripts. Auditions are then scheduled for either on campus or regionally in Los Angeles, New York City, Atlanta, Houston, and San Francisco. The audition asks for one classical and one contemporary monologue. Prospective students are then divided up into small groups with a school faculty member to run through brief group improvisation, movement, vocal expression, and scene partner work. Comfortable clothing is encouraged!
READ: "How to Choose Your Performing Arts College"
The Juilliard School
Only two groups of eight to 10 students within Juilliard's Actor Training Program are chosen each year for the school's lauded four-year B.F.A. and M.F.A. programs. Requirements to apply for either degree are the same—other than, of course, a Bachelor's degree is needed to pursue the Master's. This year's prerequisite online application, which includes a supplementary essay portion, is due no later than Dec. 1. Essays should detail your personal artistic goals and how you see your craft interplaying with the greater world; they should be no more than two pages, double-spaced, and written in a 12-point font. From there, U.S. applicants are invited to self-schedule their audition online. Auditions call for four monologues of "contrasting nature"—two classical (one Shakespeare) and two contemporary running no more than two minutes each. Those auditioning should also prepare 16 bars of any song to be sung a cappella, only by request. A letter of recommendation from an acting teacher, director, or coach is due two week's before that in-person audition. Auditions will be held this year in New York City, Chicago, and San Francisco, January through February 2017; final callbacks in NYC are currently scheduled for March 10–12.
READ: "Top M.F.A. Programs for Actors in NYC"
UC San Diego
UC San Diego is often cited as the premiere MFA acting program on the West Coast—just ask Tony favorite Danny Burstein! Priding itself on nurturing the "innate talent" of its students and the "strengthening and tuning of that instrument," the program's partnership with Tony-winning regional theater La Jolla Playhouse even promises an enticing post-grad professional residency. Deadline for applicants' initial online application is coming up Dec. 7; required materials include academic transcripts from all post-secondary institutions, a statement of purpose not unlike that required of Juilliard, Yale, and others, a professional headshot with a résumé printed on the other side, and at least three letters of recommendation. An additional hard copy of one's headshot and résumé must be mailed to school by Dec. 7. Auditions are then held January and February in San Francisco, Chicago, and NYC, where prospective parties have seven minutes to present two monologues, again no longer than two minutes, one classical and one contemporary with contrasting themes, to show range. One monologue should also be age specific and appropriate. Callbacks are held later that day, where a third monologue may be requested.
READ: "The Inside Scoop on Yale's Acting MFA"
Yale School of Drama
To join the ranks of Meryl Streep, Paul Giamatti, and Lupita Nyong'o as a graduate of the Yale School of Drama's acting program, prospective talent are up against 1,000 of their acting peers for the coveted 15–17 spots. The stakes are high: Yale's widely regarded as an education unparalleled and unlike any other. The first step toward acceptance into the school begins with an online application—the 2017 deadline for which is coming up Jan. 3. The application calls for an up-to-date résumé and headshot along with an academic transcript for those pursuing an M.F.A., a statement of purpose running no more than three pages in length, and three letters of recommendation; one must be from a former director. That's followed by a mandatory in-person audition, where the applicant will have five minutes to present one Shakespearean monologue in verse and another contemporary monologue. A third should also be ready in the actor's arsenal in case it is requested of him. From there, callbacks take place over two days with a select 30 performers; decisions will be made this year after the final callbacks Feb. 17–19, 2017. Check out drama.yale.edu for further deadlines and audition dates in New Haven, Chicago, and San Francisco.
Inspired? Check out our theater audition listings!
For more acting advice, visit Backstage's YouTube channel!