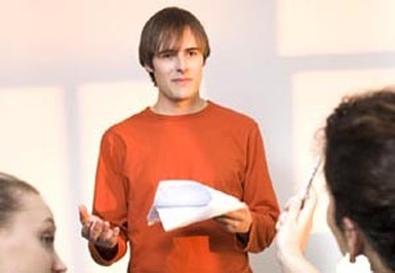 Veteran casting director Fern Champion launched her career more than 30 years ago in New York, casting for Sidney Lumet, John Badham, Alan Pakula, and Herbert Ross. When producer Robert Stigwood asked her to cast "Sgt. Pepper's Lonely Hearts Club Band," she relocated to Los Angeles. Since that time her credits have grown to include "The Naked Gun," "Police Academy," and "The Mask." On television she cast the epic miniseries "War and Remembrance," "Beverly Hills, 90210," "The Highlander," and "Babylon 5," in addition to features for Lifetime and Hallmark. In the past year, she has cast several soon-to-be-released films, including a remake of Stephen King's "Children of the Corn," "The Kings of Appletown," "Tekken," and "The Awakening of Spring." For the past five years, she has worked with casting director Paul Ruddy.
Submissions That Stand Out
I absolutely look at the pictures and résumés of actors who don't have representation. If an actor is submitting for a specific role, I like to get the 8-by-10 shot and résumé. If it's a general submission, a post card is sufficient. Headshots—full-blown or on post cards—must look like the actor. No retouching or brush-ups. We know. And please, if you have long hair in your headshot and have since cut it, let me know. If you've changed your hair color, let me know that too. You can attach a small card to your picture informing me of the change in hairstyle. I like face-front headshots where the actor is looking directly at me. I don't want to see dogs or children or trees in the headshot.
On the résumé, I like to see that the actor has trained in a good school and/or with reputable teachers. I also like an actor who has appeared in productions in good theaters, such as the Old Globe or Geffen. Generally, I'm more impressed if he has been featured in new works as opposed to revivals. If an actor has done background work or been in student films, I have no problem with seeing those credits on a résumé. On the contrary, it shows that the actor is eager to be on a set and learn his craft. Still, on the résumé just list the better-known projects in which you've done background work. What turns me off on a résumé are unique skills, such as birdcalls. And if you tell me you can do birdcalls—or cry on cue or speak in a French dialect—make sure you can do it and do it well, because I will ask you to show me how well you can do it.
In the cover letter, please don't address me as "Sir" or "Madam." I like "Dear Fern." I also like it if the actor has taken the time to find out what I have cast and says something about my work, such as "I loved '90210' and I'd love to meet you." Tell me something about yourself, like "I have just signed with a new agent" or "I've just come to town and joined the Groundlings."
I look at reels, but please don't send me one that features you doing background work, even if you're playing a waiter who is serving Dustin Hoffman. If you don't have any professional credits, I have no problem with monologues or scenes. However, reels must be shot professionally. I won't look at it if it's shot in your basement, the dog is barking, and it's poorly lit.
Preparation, Preparation
Preparation is the key to a good audition. If the script is available—and it usually is—actors must make it their business to get a copy and read it before the audition, especially if they're up for a lead. It's also useful to find out ahead of time if the other characters in the scene have been cast. If not, get familiar with them and be prepared to read for them. You never know when I may ask you to read for another role. In the pre-read, be familiar with your material, but never be off-book. If you memorize the script, you'll be caught in a rhythm and I won't be able to adjust you. For the callback, lines should be memorized.
At the audition, I encourage actors to ask sensible and relevant questions. However, I don't like the question "Is there anything you want to tell me about the character?" I'll say no. Just do it the way you prepared it and then we'll talk about it.
It is important to remember it is your audition. If you feel your read has begun poorly, stop immediately and say you want to start again. An actor usually knows by the second line that it's not going well. Costumes are not necessary at an audition. However, if you want to look the part, okay, but be subtle. If it's overdone, it's distracting. Wardrobe can be a little more pronounced at the callback, but please leave all props at home.
For auditions—and especially callbacks, which are usually taped—be camera-ready. Don't look as if you just rolled out of bed. Dress the way you would for a job interview. You're selling the whole package.
One of the most common mistakes an actor makes at an audition is going around shaking everyone's hand, which can create an awkward situation. There are germophobes out there, and it can become jolting if a director, for example, says, "I don't shake hands." The universal "Hello" to everyone as you enter the room is all you need.
After the audition, a thank-you note is nice, but don't send gifts. The note should be short and sweet. The same is true for follow-up post cards. When you send a post card, use my name and have something to tell me, such as you've booked a commercial or you're in a play.
Fearlessness
I very often find talent in the workshops I offer. I like comedy and am generally turned on to actors who have comic talent. I especially like beautiful women who can make light of themselves and have fun, like Julia Roberts or Cameron Diaz. I discovered Cameron Diaz when she walked in to audition for "The Mask." I liked her. She looked directly at me and said, "I don't know if I can do this, but I'll try." She had a personality, a smile, and was not afraid of the process. Mickey Rourke, who I cast in the cult classic "Fade to Black," was electric before he even opened his mouth. He had an intensity that brought to mind Robert De Niro. He was sexy, focused, and unafraid.
I don't know how to tell actors not to be frightened. They come in that way, and if they don't get the role, they often think it's because they did something wrong. There can be any number of reasons why they didn't get the role, many of which have nothing to do at all with the actor's performance. As long as you are always prepared and not afraid to take a chance, there will always be other parts that are right for you.
Fern Champion will lead a Focus Session at Actorfest LA on Nov. 14. For more information, go to Actorfest.com.