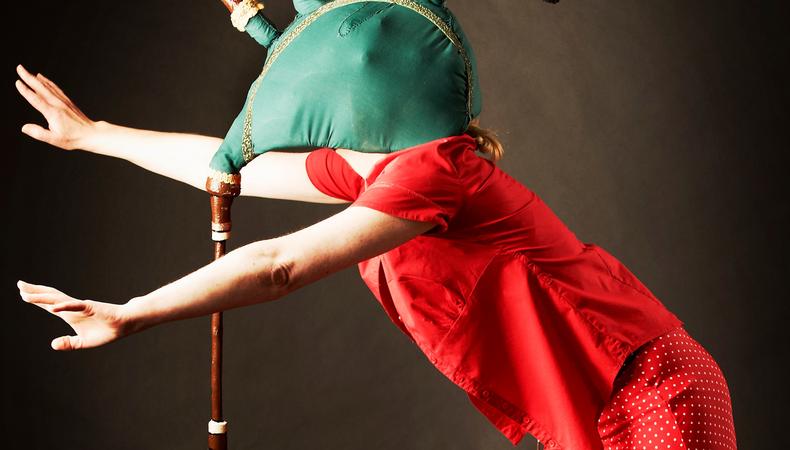 Written and performed by New York–based Irish playwright-actor Suzanna Geraghty, "Auditions, Zoe's Auditions Part 2" amusingly conveys the desperation of an aspiring actor who wants nothing more than a chance to perform. The cleverly written one-woman show is a winning vehicle for her strangely quiet style of farcical comedy. Geraghty combines exemplary vocal and physical clowning skills with a gentle yet penetrating focus, soft emotionality, and an economic use of energy. The result is pleasantly tickling, though not as hilarious as the quirky show might be in the hands of a bolder comedian.
Surprisingly, for such a blatantly comedic production, the funny parts are less successful than the poignant drama that comes at the end. Geraghty spends the first act establishing the character of Zoe Brown, a weird, accident-prone young woman who dreams of being an actor. By night Zoe works as an assistant stage manager on a tired production of "A Christmas Carol," where she must contend with the divalike personalities of over-the-hill, contentious, and drunken actors. By day she attends auditions for every kind of show imaginable, from Chekhov to "Hamlet," nouveau cirque, "Riverdance," and "Spider-Man: Turn Off the Dark." Zoe meets with one rejection after another and is ultimately dropped by her agent.
Full of references that are sure to amuse entertainment-industry insiders, Zoe's audition sequences benefit from smartly understated staging by consultant director and movement coach Andy Crook. Rather than replicate detailed dance steps, Geraghty draws broad physical strokes that suggest the signature kinetics of the different dance and performance styles she is spoofing. Ultimately, though, Zoe's character lacks the oomph that could elicit more laughter as well as our sympathies. Zoe is so intent on pleasing the powers that be that she adopts an obsequiousness that makes us want to slap her rather than cheer her on.
In the show's potent second act, however, accidental events lead to Zoe's realization of her own self-worth and give Geraghty the chance to display her exquisite dramatic talents when depicting the ghosts of Christmas past, present, and future. While the show's two halves don't neatly cohere, by the end we are so moved by the meaningfulness of Zoe's transformation that it doesn't matter.
Employing an arsenal of props and costume pieces that she acquires from behind a scrim and dons with amazing speed, Geraghty is aided immeasurably by her quick-change dresser Ivory Aquino as well as members of the audience, all of whom are called upon to participate in the show. While some are simply asked to join in group singing, if you are a muscular young male sitting in the front row, be warned: You may be required to not only hoist Zoe up in the air but also to carry her all around the stage.
Presented by the Be You, All Others Are Taken Company, in association with the Drilling Company Theater, as part of the 1st Irish Festival at the Drilling Company Theater,236 W. 78th St., NYC. Sept. 5–22. Wed.–Sat., 8 p.m.; Sun., 3 p.m. (212) 868-4444 or www.smarttix.com.
Critic's Score: B+