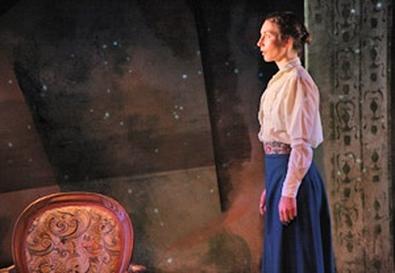 "Spine-tingling" is an adjective I rarely use when describing an evening of theatre, sadly, but as the lights rose on Here's production of "Aunt Leaf" and three ghostlike performers emerged from the creepy haunted house of a set, I felt genuine chills. Even more impressive, playwright Barbara Wiechmann and director Jeffrey Mousseau maintain that deliciously eerie atmosphere for the play's 45-minute duration. The first resident-artist production in Here's series for children and families, StartHere: Innovative Theater for Young People, "Aunt Leaf" is designed for ages 9 and up. Nevertheless, adults will find plenty to relish in it as well.
Wiechmann has based her play on two poems by Mary Oliver and set it in the year 1910, in the same craggy Hudson River Valley region that inspired Washington Irving. It tells the story of Annabelle Wood, an 11-year-old girl who doesn't talk, and how her life changes when her aged Aunt Leaf comes to live with Annabelle's family. A relationship develops between Annabelle and her aunt after Aunt Leaf says that she heard her dead husband chopping wood outside one night. Each night thereafter, Aunt Leaf sends Annabelle outside to look for him. Eventually, Annabelle begins to make up stories about what she sees and hears in the night; before long the line between her stories and the real world blurs. Then, when an inexplicable incident occurs, Annabelle finds her voice.
Wiechmann chooses to tell her story without traditional characters or scenes, as "Aunt Leaf" is partially an exploration of different modes of storytelling. Instead, she and Mousseau call on the play's three performers—Alan Benditt, Pal Bernstein, and Rachel Richman—to narrate the story, each taking turns portraying Annabelle, Aunt Leaf, and the other family members. It's a technique that could reek of a classroom exercise, and once or twice it does become a bit heavy-handed, but Wiechmann, Mousseau, and their able cast never sacrifice clarity of narrative for arbitrary innovation.
Sarah Edkins' simple but flexible set, Ayumu "Poe" Saegusa's suggestive lights, Amelia Dombrowski's period costumes, and J Hagenbuckle's spare but haunting sound design are a collective example of technical excellence: simple, elegant, and highly effective. Special note must be made of Robert Flynt's projections. The blurry photographs of leaves and the mysterious 19th-century portraits he splashes on the walls of the set register as mysterious dreams and moonlit visions, greatly adding to the show's strange spell.
I wish as many 9-year-olds as possible could see "Aunt Leaf," for then they would learn how a well-told tale and one's own imagination are all that are required to chill the blood and fire the mind. That would truly be educational.
Presented by and at HERE Arts Center as part of StartHere: Innovative Theater for Young People, 145 Sixth Ave., NYC. Jan. 10–24. Thu.–Sat., 7 p.m.; Sat. and Sun., 2 p.m. (212) 352-3101, (866) 811-4111, www.theatermania.com, or www.here.org.