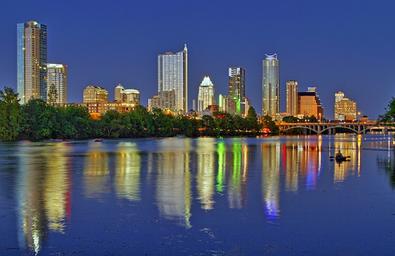 Brad Burton and Kimberly Williams Burton on the Austin Community
Originally hailing from Chicago, Brad Burton and his wife, Kimberly Williams Burton, (both CSA members) have cast 1,500-plus commercials over their 20-year career.
When it came time to move from Chicago—"We were just so over the winter, to be honest," says Williams Burton—the two knew immediately that Austin was the place for them. "We narrowed it down to cities we knew we could work in as far as a production community, and we came to see Austin first and it kind of sealed the deal," Burton says.
Williams Burton adds that, aside from the beautiful, green landscape filled with rivers and lakes, the production community in Austin is very much like a family. "Everybody is kind of an artist here, which is wonderful, and everyone works really hard to make really good products," she says.
After starting Burton Casting about two and a half years ago, the Burtons have cast everything from films to industrials, print jobs to voiceover gigs, Web series, TV, commercials, and beyond. Recently Burton Casting had a Chevy commercial run during the Super Bowl and an AT&T commercial that called for a statewide search.
Because AT&T was looking for people recognizable in the Austin community, Burton says, "Part of the audition process was finding out what they love about Austin, and it was great to see so many people who just love living where they're living. Nobody wants to leave unless they have to."
Diana Guthrie on the Talent in Austin
An Artios Award winner for "Mud," CSA member Diana Guthrie might not be a native Texan, but you'd never be able to tell by the fondness with which she talks about Austin.
"Texas in particular is really being recognized for its talent now," she says. When she was seeking talent for the Disney Channel show "As the Bell Rings" in 2007, Guthrie says they had her search Chicago, Atlanta, and Miami. "And I said, 'You're gonna search Texas, right?' and they were like, 'Uh, do you think we should?' "
Guthrie found six of the seven series regulars for the show in Texas, including now-superstar Demi Lovato.
"There's a great pool here and it's a very small community and everybody knows everybody. Everyone's very friendly, you know? It's not a grotesquely competitive market," she says.
Since she's been there, Guthrie says Austin has "grown leaps and bounds. I mean, it's still growing.
They can't even keep up with how many people are coming here. It's a real destination on the map now when people are thinking of where to shoot. People are reaching out to other environments like Austin because it's so pleasant. You've got tons of talent here!"
Karen Hallford on How to Treat Your Austin Career
Casting director Karen Hallford of Casting Works LA took over the company in 2007, and at the time did mostly commercials. But Hallford admits that "independent, heartfelt films" are her biggest joy, noting the 2013 family film she worked on, "My Dog the Champion," which she describes as "kind of like the 'Cool Runnings' of Texas. It's a Texas movie."
As someone who calls the Lone Star State her home base, Hallford is brimming with advice for those thinking of starting a career in Austin.
Though it might not be fast-paced L.A. or New York, Hallford says actors still need to be just as experienced. "It is different; it's a lot slower-paced," she says. "Now, that doesn't mean going to auditions unprepared. That doesn't mean not to expect a call on a Friday afternoon to need to go on tape or need to be in an audition in a day or so."
Hallford adds that it's also important to not push as hard. "This is Texas; it is a little more laid-back," she explains. "The work is here, but you form relationships and those relationships are what will help you."
Inspired by this post? Check out our Austin audition listings!