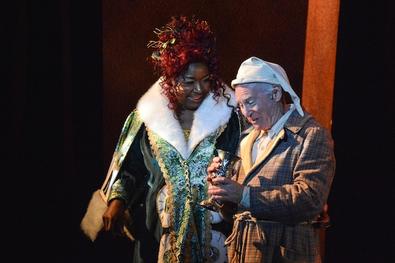 The Zachary Scott Theatre in Austin—familiarly called the ZACH by its fans—has been producing theater since the 1930s. And for almost a quarter of a century, Dave Steakley has been its artistic director. Now in his 25th year of employment with the company, Steakley has martialed the theater through some exciting developments.
We spoke with him about his history with the ZACH and working with the singular talent pool Austin has to offer.
Your programming is a mix of tours, home-grown originals, and world premieres. How do you balance new or more challenging work with popular audience standbys?
Each season is about creating a meaningful dialogue with our audience on topics which are resonant in our region. It's a highly educated populace and the median age is 32, so it pulses with a vibrancy and what I think of as a Peter Pan syndrome—a city that doesn't want to grow up and works hard to maintain a perpetual partying adolescence. Consequently, different kinds of plays and musicals work in Austin than work in most of my colleagues' theaters across the country; that can be a blessing and very tricky.
In our new, larger theater I find it [challenging] to select plays that will work for Austin—recent Broadway hits or plays that work very successfully in other communities seldom work in Austin to the same level of success.
Austin is also a political think-tank. Having the state capitol here, which has vaulted several politicians into the national spotlight over the years, the conservatism of the state and its legislators lives in opposition to the blue, progressive vibe of Austin. So our audience gravitates to stories like "All the Way" about civil rights during LBJ's presidency; "Red Hot Patriot," about political writer Molly Ivins; and [the upcoming] "Ann," about Governor Ann Richards.
Austin is a mid-sized city; what's your secret to casting shows with the available talent pool?
Austin and Central Texas have an extraordinary group of artists living here. The live music scene has attracted great singers and musicians to our region, and the growing profile of Austin's reputation nationally has been a magnet to draw really wonderful actors to our region. We do cast some principal roles in NYC, but 95 percent of the artists in our productions are from Austin. When I first started at ZACH a producer from another theater told me I'd never be able to pull off a show with an all-black cast for a litany of reasons. Those kinds of conversations turn into action for me, because I want to prove the person wrong. Inclusivity was a part of ZACH's casting process when I arrived 25 years ago thanks to then-artistic director Alice Wilson, who understood that there must be diverse representation on stage in order to have it in your audience, so it has always been the way we make work at ZACH.
You're now in your 25th year officially at the ZACH, but what was your first experience with the theater?
When I was a student at the University of Texas, I needed to attend live arts events and write reviews for my classes. I often selected ZACH Theatre's plays and musicals because I loved theater and it made for a good date night off-campus. During my junior year, I began creating nostalgic musical revues for an Austin nightclub, and I often rented costumes from ZACH's costume shop. After college, I moved to NYC for five years, then returned to take the job of ZACH's managing director. After five years, I transitioned to become the artistic and managing director for almost three years, and then we hired a new managing director and I became the producing artistic director from that point forward.
Do you have a favorite show you've mounted during your tenure?
My dear friend Suzan-Lori Parks has been an instrumental force in my personal artistic development, and directing her astonishing "The America Play" was an early turning point in my young career as a director. She writes and thinks like no one I know, and I am deeply moved by her work and the way it resonates over time with me, spilling out with concentric circles of revelation that make life and my personal creativity process more meaningful.
Inspired by this post? Check out our Texas audition listings!