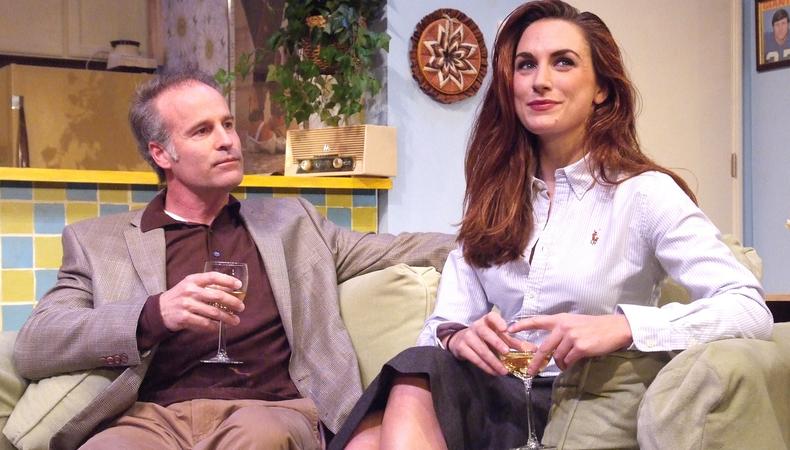 Neil Simon has always admittedly drawn from people, events, and experiences in his life in crafting his plays but never more so than in his 1976 opus "Chapter Two." The sensitive, old-fashioned, and recently widowed novelist George Schneider is obviously Simon's alter ego, just as the beautiful, vivacious Jennifer Malone represents actor Marsha Mason.
As both characters are practical, intelligent, and sick of being set up on blind dates, it's inevitable that they'll wind up together. Their "meet cute" has George repeatedly phoning Jennie, each time explaining the purpose of the previous call. Whether you buy into their story depends on how well you're able to relate to the 1970s sensibilities that permeate the script and whether you find plausible the fact that all four characters either repeatedly fire off clever quips and zingers or bare their souls in showy monologues—hallmarks of Simon's patented writing style.
In the Laguna Playhouse's respectable, often-winning staging, director Andrew Barnicle and his cast and production team have taken obvious pains to gloss over as many of these Simonisms as possible while trying to shape the material into something to which we can relate. Through their efforts, the conspicuous artifice of the dialogue is tamped down, allowing the less frequent but more genuinely well-crafted lines to shine through.
Just as Simon was crushed when his first wife, Joan, was taken by cancer, George has been devastated by the untimely death of his spouse, Barbara. Though almost instantly smitten with Jennie, George refuses to allow himself to move on, wracked with guilt over betraying his first wife's memory. In a superbly modulated performance, Geoffrey Lower uses George's fussiness and fumbling ways with women as his character's basis rather than George's depression and fatalism. Even when dispensing glib wit and charm, Lower employs a realistic approach that trades in his character's wry, self-deprecating manner. As Jennie, Caroline Kinsolving strikes the right balance between strong-willed self-sufficiency and being so supportive and nurturing of George's hang-ups that he feels even more guilt. When Jennie finally pushes back, Kinsolving delivers the play's most impassioned—and memorable—speech. Even as the couple displays acrimony throughout Act 2, the basic sweetness and affection George and Jennie feel is always credibly communicated.
The play's chief flaws can be found in how George's animated younger brother, Leo, and Jennie's chipper best friend, Faye, pressure and hound George and Jennie to meet and date, envy their newfound happiness, and then, enduring rough patches in their marriages, start an affair that quickly fizzles. Kevin Ashworth and Leslie Stevens transmute these thankless, cliché-ridden roles into gold through their characters' no-nonsense acceptance of their faults. Like Kinsolving, Ashworth handles a compelling monologue by balancing emotionalism with cold objectivity.
Bruce Goodrich's clean, bright, attractive two-in-one set (George's and Jennie's apartments) is convincingly detailed and well-lit by Donald Guy. Goodrich's scenic and costume designs feature timeless styles, wisely avoiding period stereotypes, which goes a long way toward redeeming material so clearly of the '70s.
Presented by and at the Laguna Playhouse, 606 Laguna Canyon Rd., Laguna Beach. Jan. 12–Feb. 3. (949) 497-2787 or www.lagunaplayhouse.com. Casting by Wally Ziegler.
Critic's Score: B