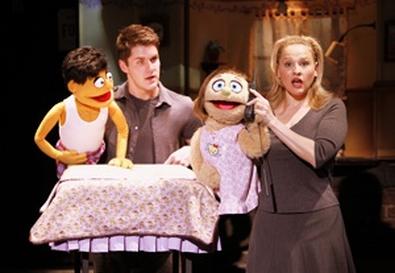 When it first opened in 2003 at the Vineyard Theatre, "Avenue Q" seemed perfectly suited for Off-Broadway. The edgy humor and references to "Sesame Street" were ideal for the younger, hipper crowds that traditionally flock beyond the Main Stem. But economics dictated a Broadway run as more feasible and potentially profitable. Winning Tonys in 2004 for best musical, score, and book in an upset over "Wicked" gave the little show a shot of adrenaline, which propelled it to 2,534 performances. Now the satire is returning to its roots with a new Off-Broadway engagement at New World Stages.
This development is a good sign that intimate, book-oriented productions have a chance at long runs. In recent years, most successful Off-Broadway commercial ventures have been specialty shows like "Stomp" and "Fuerza Bruta." Another encouraging development is the preponderance of theatergoers in their 20s and 30s at the performance attended.
Six years after the show's opening, the hilarious book by Jeff Whitty and equally funny songs by Robert Lopez and Jeff Marx have retained their snap. The concept of puppets (operated by actors in full view of the audience) having romantic problems and bills to pay just like people not made of felt still raises guffaws. The new cast doesn't have quite the same degree of polish as the original, but it does put across Jason Moore's solid staging with professionalism and verve.
Seth Rettberg has boyish charm as the puppet protagonist Princeton and endearing fussiness as Rod, the closeted investment banker. Anika Larsen displays a supple, powerful voice as well as impressive comic timing as Kate Monster, Princeton's girlfriend, and Lucy the Slut, the vampish skank who turns his head—and a few other body parts. Sala Iwamatsu lands most of Christmas Eve's sarcastic quips, but her character's Japanese accent is so thick at times that the punch lines get lost. As her comedian-wannabe husband, Brian, Nicholas Kohn has the least showy role, but he holds his own in a cast of puppets and furry monsters. Danielle K. Thomas makes a delightfully nasty Gary Coleman, the former child star turned janitor. Cullen R. Titmas and Maggie Lakis endow a variety of characters, including the cute and destructive Bad News Bears, with puckish personality.
Though it's moved five blocks to a smaller stage, "Avenue Q" is still one of the hippest theatrical destinations in New York.
Presented by Kevin McCollum, Robyn Goodman, Jeffrey Seller, Vineyard Theatre, and the New Group at New World Stages, 340 W. 50th St., NYC. Opened Oct. 21 for an open run. Mon., Wed.–Fri., 8 p.m.; Sat., 2 and 8 p.m.; Sun., 3 and 7:30 p.m. (212) 239-6200, (800) 432-7250, or www.telecharge.com. Casting by Cindy Tolan.