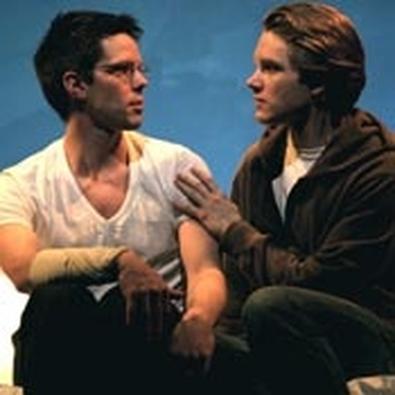 In Avow, originally produced commercially Off-Broadway in 2000 and here presented in a newly revised version, playwright Bill C. Davis is again, Martin Luther–like, nailing challenges to the door of the Roman Catholic Church. He did this with great success way back in 1981 with his play Mass Appeal; now he has a whole new set of contemporary topics with which to contest church orthodoxy. He wields a strong hammer, but it's very much to Davis' credit that he gives the church an equally strong door and allows the conflicting arguments equal time. This appeal concerns gay marriage, celibacy for both priest and layman (no pun intended), and the battle between vows made to institutions and those made to loved ones. While the plot lines lend themselves to soap opera, happily Davis is averse to suds and skillful enough to wrap all the conflicts in an entertaining package: a mostly insightful meditation on matters of moment tied with a ribbon of leavening humor.
Brian (Timothy Sekk) and Tom (Jaron Farnham) are in love and naively ask their liberal parish priest, Father Raymond (Jeremiah Wiggins), to bless their vows. Brian describes himself and Tom as "salad bar Catholics," selecting those things that nourish them and leaving the rest. When the priest stresses that to be part of the church the pair must live in celibacy, Brian is outraged, while Tom takes the warning to heart. Brian's sister, Irene (Kate Middleton), a concert pianist about to become a single mother, goes to Father Raymond to mediate for her brother. (You might recall Shakespeare using this device some time ago in Measure for Measure.) Irene finds herself attracted to the priest and surprised when she realizes the attraction is mutual. Witnessing all this is Rose (Joy Franz), mother of Brian and Irene, a conventional Catholic trying to adjust to her children and spilling the beans to her confessor, Father Nash (Christopher Graham), who also just happens to be Father Raymond's confessor. (Confession, while traditionally good for the soul, is also very handy for plotting.)
Of these two entwined story strands, one has a happy ending -- a resolution that seems too suddenly sunny after the preceding storm. Davis uses the mother to carry his most satiric points against the church, and Franz, with professional skill, takes this ball of humor and runs with it, repeatedly scoring touchdowns. (One of her approving comments to God: "You get better with age.") The rest of the first-class cast, under Jerry Less' direction and Davis' production supervision, have the harder task of delivering the conflict but do so with conviction. While Sekk and Farnham are touching in their youthful passion, it is Wiggins and Middleton who carry the play, each especially strong when trying to rationalize emotions in light of vows already made.
Also, in this economic climate, at $18 this is one of the best theatrical bargains in town.
Presented by the Cardinal Group
at the 45th Street Theatre, 354 W. 45th St., NYC.Feb. 25–March 8. Wed.–Sat., 8 p.m.; Sun., 2 p.m. (Additional performance Sat., March 7, 2 p.m.)(212) 868-4444 or Smart Tix.