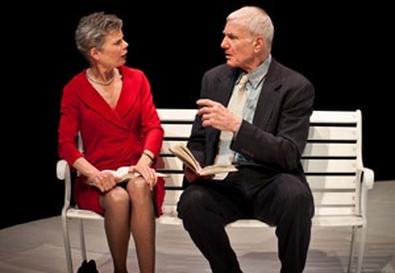 If Edward Albee, Eugene Ionesco, and Groucho Marx found themselves at an underground-movement camp with only Tolstoy galleys and year-end spreadsheets for diversion, the results might resemble Raymond J. Barry's dark absurdist comedy. Although sometimes outlandish in how it delivers its message, this cracked polemic's originality and full-throttle attack are unmistakable.
Set in an abstract white-on-white urban park, the action begins with affluent married pair Erica and Paul (Tacey Adams and Joseph Culp), whose zigzagging colloquy gradually reveals a deep schism over their son's military fate. As they snipe at each other, an impish head peeks around the corner. This is executive drone Edward (Barry), whose entrance following Paul's outraged exit ignites a quasi-romantic triangle that buttresses an ornately demented lecture on corporatism, military-industrial power, and economic inequity—i.e., America today.
No director credit in the program leads one to presume that author Barry is responsible for the determined lunacy of the performances. Many passages of contrapuntal verbiage have the technical virtuosity of a Stephen Sondheim group number, although it's in the pauses and sudden non sequiturs that Barry makes his strongest arguments.
It doesn't hurt that the actors devour the material with equal discipline and abandon in a marvelous ensemble effort. Barry has written himself a whopping role, one in which manic energy and eloquent physicality serve as a kind of Everyman's template, at once hilarious and arresting. Culp exhibits exceptional slow-burn chops as a conservative archetype who comprehends more than his position allows. Caught between these poles, Adams, whose quality lands directly between the emerging Betsy Palmer and mid-period Judi Dench, is spot-on in control, delivery, and person.
There are technical caveats, notably the lack of sound effects for the bombs (and other noises) that at various points stop all three in their tracks. Moreover, the message isn't always as subtle as the narrative method by which Barry explores it, not least in the situation with Paul and Erica's son, which might be better revealed later in the action. Still, if the choir Barry narrowly avoids preaching to seems most likely to embrace this quirky, ambitious work, populist progress has to begin somewhere. "Awake" represents an impressive step in a topical direction that our modern scribes ought to consider.
Presented by and at the Electric Lodge, 1416 Electric Ave., Venice. Jan. 7–Feb. 25. Fri. and Sat., 8 p.m.; Sun., 2 p.m. (800) 838-3006 or www.brownpapertickets.com.