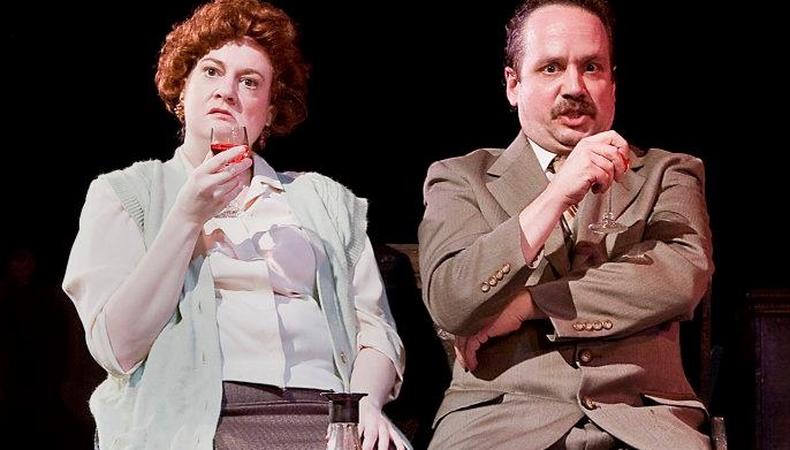 Hundreds were in attendance when the 2012 New York Innovative Theater Awards took over the Kaye Playhouse at Hunter College on Monday night. The IT Awards, now in their eighth year, were created in 2005 to celebrate New York City's Off-Off-Broadway theater community.
Performer Sky Seals kicked off the show with a humorous opening number that poked fun at the un-glamorous – yet still loveable – Off-Off-Broadway lifestyle. Audience members laughed as Seals reminded them of planning 57 light cues for a production with seven working lights.
Comedian Harrison Greenbaum, deemed the "hardest-working man in comedy" by the New York Daily News, hosted the event.
"This is my second year doing it," Greenbaum said in regards to hosting the IT Awards. "I love it. I love the indie theater community, and the fact that you get to honor these people. It's wonderful."
Big wins this year went to Renee Claire Bergeron and Greg Horton (pictured), who respectively won Outstanding Actress and Outstanding Actor in a Lead Role, both for their performances in "A Man of No Importance." Outstanding Ensemble went to "Conni's Avant Garde Restaurant Returns in: The Mothership, Landing," and Outstanding Director went to Joe Osheroff for "Homunculus: Reloaded."
In total, the 2012 IT Awards honored 137 artists, 52 productions, and 57 Off-Off-Broadway theater companies. Presenters, including NY1's Roma Torre, Tony Award winning actor Tova Felshuh, and "Sesame Street" puppeteer Rick Lyon.
Shay Gines, one of the three co-founders of the IT Awards, explained why the Awards are so valuable to New York's Off-Off Broadway community.
"It's 40,000 people who work with Off-Off-Broadway every single year, and for a long time, they were very disparate; they didn't really connect with one another," said Gines. "Through our organization, and other organizations, these people are starting to find each other. They're being able to support each other, not only emotionally, but sometimes financially and creatively. They can share spaces; they can share resources."
A list of 2012 New York Innovative Theatre Award winners is below.
Outstanding Actress in a Featured Role: Celeste Arias, "Demon Dreams (Oni No Yume)", Magic Futurebox
Outstanding Actor in a Featured Role: Stephen Alan Wilson, "The Last Days of Judas Iscariot," T. Schreiber Studio
The 2012 Ellen Stewart Award: Presented to the Theatre Development Fund (TDF)
Outstanding Original Full-length Script: Melanie Jones, "Endure: A Run Woman Show," Collision Productions
Outstanding Original Short Script: Chisa Hutchinson, "This is Not the Play," Mad Dog Theatre Company
Outstanding Stage Manager Award: Katie Kavett
Outstanding Original Music: Jeff Raab, "12th Night," Libra Theater Company
Outstanding Solo Performance: Melanie Jones, "Endure: A Run Woman Show," Collision Productions
The 2012 Artistic Achievement Award: The Five Lesbian Brothers
Outstanding Innovative Design: Joe Osheroff, Mask Design, "Homunculus: Reloaded," Homunculus Mask Theater
Outstanding Costume Design: Sidney Fortner, "The House of Mirth," Metropolitan Playhouse
Outstanding Set Design: Kevin Judge, "LoveSick (or Things That Don't Happen)," Project Y Theatre Company
Outstanding Lighting Design: David A. Sexton, "The Spring Fling: My Best/Worst Date Ever," F*It Club
The 2012 Doric Wilson Independent Playwright Award: Donnetta Lavinia Grays
Outstanding Actor in a Lead Role: Greg Horton, "A Man of No Importance," The Gallery Players
Outstanding Actress in a Lead Role: Renee Claire Bergeron, "A Man of No Importance," The Gallery Players
Outstanding Choreography/Movement: Joe Osheroff & Evan Zes, "Homunculus: Reloaded," Homunculus Mask Theater
Outstanding Director: Joe Osheroff, "Homunculus: Reloaded," Homunculus Mask Theater
The 2012 Caffe Cino Fellowship Award: Presented to the Astoria Performing Arts Center
Outstanding Ensemble: "Conni's Avant Garde Restaurant Returns in: The Mothership Landing," Justin Badger, David M. Barber, Melody Bates, Stephanie Dodd, Jeffrey Fracé, Connie Hall, Kelly Hayes, Jerusha Klemperer, Peter Lettre, Rachel Murdy, Melody Bates, Peter Richards, Conni's Avant Garde Restaurant in association with the Irondale Center
Outstanding Performance Art Production: "Conni's Avant Garde Restaurant Returns in: The Mothership Landing," Conni's Avant Garde Restaurant in association with the Irondale Center
Outstanding Production of a Musical: "Miranda," MirandaCo
Outstanding Revival of a Play: "Ajax in Flux," Flux Theatre Ensemble
Outstanding Premiere Production of a Play: "Advance Man," Gideon Productions