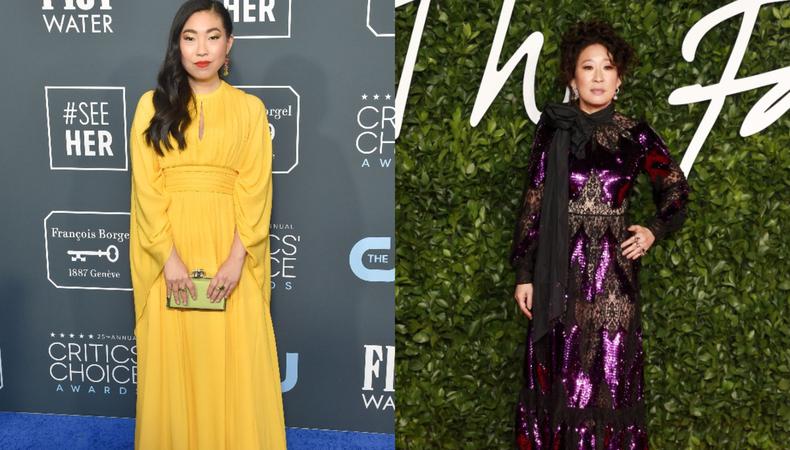 Greenlit means a project is officially a go, so all you have to do is follow these leads to stay up to date. You never know where you'll find an opportunity to land an audition!
Awkwafina-Sandra Oh Comedy
Netflix is about to give viewers the comedy they never realized they wanted. Awkwafina and Sandra Oh will star in the untitled project written by Jen D'Angelo. The two will play sisters in the story that follows "a lonely recluse [who] has her life upended when her trainwreck of a sister vows to mend their relationship by helping her fulfill her lifelong dream: to be a contestant on her favorite game show." Awkwafina and Oh will also produce alongside Jessica Elbaum and Will Ferrell. No additional casting has been announced.
"Colin in Black & White"
After staging a casting search on Backstage for the role, Ava DuVernay and Colin Kaepernick have found their star for the upcoming Netflix limited series "Colin in Black & White." Jaden Michael will portray the younger version of the San Francisco 49ers quarterback-turned-activist in the six-episode series. Focusing on Kapernick's adolescence and early sports career, the series will "put specific emphasis on the influences and circumstances that developed the social and cultural conscience of the young man adopted by a white family." The real-life Kaepernick will narrate the project, and DuVernay will direct the first episode.
"The Spaceman of Bohemia"
Adam Sandler is lining up his next potentially award-worthy role with Netflix. The actor has signed on to star in an untitled drama based on Jaroslav Kalfar's novel "The Spaceman of Bohemia." Adapted by Colby Day and directed by "Chernobyl" helmer Johan Renck, the story follows an astronaut (played by Sandler) sent to the edge of the galaxy to collect mysterious ancient dust while his earthly life falls to pieces. Channing Tatum, Reid Carolin, Peter Kiernan, and Michael Parets will produce the project. This will be the latest in a five-year relationship between Sandler and Netflix, starting with his major multi-picture deal in 2015. Next up, he will be filming the sports comedy "Hustle" for the platform.
"Platonic"
Six years after getting together in the hit comedy "Neighbors," Rose Byrne and Seth Rogen are reuniting. The stars will lead the upcoming Apple TV+ half-hour comedy series "Platonic." Written by husband-and-wife Nicholas Stoller and Francesca Delbanco and directed by Stoller, who also directed "Neighbors," the series will explore the inner workings of platonic friendship with each 10-episode season focusing on a new couple. Byrne and Rogen will play former best friends who met in their youth who reconnect as adults and try to mend the rift that led to their falling out. No casting team has been announced, but Stoller and Delbanco previously worked together on the Netflix series "Friends from College," which used casting team McCarthy/Abellera, and Stoller worked with Francine Maisler on "Neighbors," so either could be a viable option.
"In Treatment"
A hit HBO series is coming back from a long hiatus and has found the right actor to lead it into this new era. The cabler has greenlit a fourth season of the award-winning drama series "In Treatment" and has cast Uzo Aduba ("Orange Is The New Black") in the starring role. The reimagined series will focus on a diverse trio of patients in session with Dr. Brooke Lawrence (Aduba) while she wrestles with her own issues. The original series starred Gabriel Byrne and Dianne Wiest and ran from 2008–2010, receiving seven Emmy nominations and two wins during its run. Jennifer Schuur and Joshua Allen will serve as co-showrunners on the series. Production is set to begin soon under COVID-19 guidelines with the show slated to debut in 2021. Lowry-Johnson/Goldstein was the original casting team.
"Call Jane"
An all-star cast is coming together for a timely feature on women's rights. Elizabeth Banks, Sigourney Weaver, Kate Mara, and Rupert Friend are set to join the cast of the upcoming "Call Jane." Directed by "Carol" writer Phyllis Nagy, the film will follow the Janes, an underground abortion movement led by Virginia (Weaver) that saves a traditional 1960s housewife's (Banks) life and gives her a sense of purpose. Elisabeth Moss and Susan Sarandon were formerly aboard but have had to depart due to scheduling conflicts. Hayley Schore and Roshan Sethi ("The Resident") will write and serve as executive producers. Sheila Jaffe is the film's casting director.
"Revolver"
A real-life father-daughter duo will come on the big screen as Ethan and Maye Hawke will lead the upcoming coming-of-age comedy "Revolver." The younger Hawke will star as Jane, a resident of 1960s Anchorage, Alaska, who devises a plan to lose her virginity to The Beatles' George Harrison after a flight to Japan carrying the iconic band is forced to make an unexpected stop. Andrew Stanton ("Finding Dory," "Tales from the Loop") will direct from a script by Kate Trefry ("Stranger Things," "Fear Street"). No further casting, including George Harrison or any of the other Beatles, has been announced.
"Good in Bed"
Mindy Kaling will reportedly lead the upcoming feature film adaptation of Jennifer Weiner's bestseller "Good in Bed" at HBO Max, according to Variety. The multihyphenate will star in the film and produce under her Kaling International banner with Jessica Kumai Scott. Screenwriter Liz Sarnoff is adapting the story, which tells of a journalist "grappling with shaky self-esteem, a fresh-out-of-the-closet mom, an absent father, and the guy who broke her heart" and who finds the help of a fairy godmother. No director, further casting, nor production timeline has been announced.
Looking for remote work? Backstage has got you covered! Click here for auditions you can do from home!