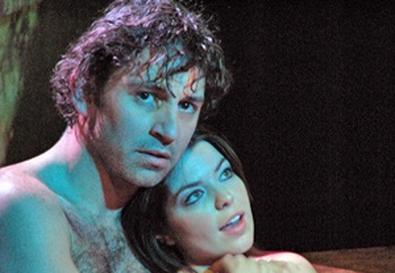 In his youth, German poet-playwright Bertolt Brecht was fascinated by the Semitic/Phoenician/Babylonian deity Baal: god of fertility and sexual excess. In this play, Brecht took the name Baal for his anti-hero: a poet-singer for whom nothing is sacred. Baal (Gregory Sims) is a sex magnet, a sexual predator, and a fierce iconoclast, who respects nothing he can't experience in his own flesh. He routinely seduces his friends' wives and girlfriends, and sneers at success and ambition. When his naive friend Joe (Marcus McGee) introduces his prim, virginal, 17-year-old girlfriend, Johanna (Megan Rosati), the poet immediately seduces her away from him.
Subsequently, the traumatized girl drowns herself in the river, but Baal seems to have no conscience pangs, though he's haunted by the image of her body floating out to the sea. Later he takes up with Sophie (Alexis Wolfe), whom he seems to love, but he abandons her when she becomes pregnant. When the women who pursue him are no longer enough to feed his insatiable lust for experience, Baal transfers his love to his male comrade Ekhart (Donal Thoms-Cappello), and the two embark on a reckless vagabond life.
Though the play was written in 1918, its hero seems remarkably modern, particularly in this colloquial, free translation by Peter Mellencamp. Director Ben Rock gives the piece a bold but faithful production, finely assisted by his leading man. Sims offers a wonderfully rich, volatile performance as the Dionysian Baal, touching all his contradictory bases: poet, beast, child, and monster. Sims also wields enough charisma and animal magnetism to make Baal's sexual prowess credible. (Audible responses from the women in the audience testify to the potency of his ruthlessness and charm.) He receives admirable support from Rosati, Wolfe, and Jaime Andrews as the women in Baal's life. And a versatile quartet of character actors—Jay Bogdanowitsch, Alyssa Preston, Paul Plunkett, and Marz Richards—play multiple roles as the colorful lowlifes, bums, sycophants, and antagonists Baal encounters. Designers Jennifer Fulmer and David Knutson provide the handsome, flexible set, and Kevin Ackerman supplies the appropriately chic or seedy costumes.
Brecht's play is provocative and less pedantic than his later work. It's hard to pin down its precise meaning, but that's as it should be. As one of the characters observes, "Stories that we understand are just badly told."

Presented by and at Sacred Fools Theater, 660 N. Heliotrope, Hollywood. Jan. 14–Feb. 20. Fri.–Sat., 8 p.m. (Also Thu., 8 p.m., Jan. 28.) (310) 281-8337. www.sacredfools.org.