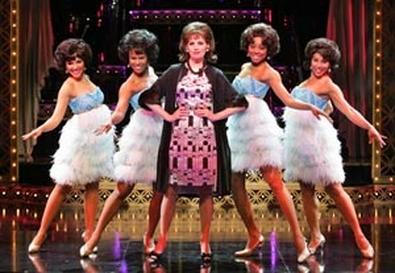 If your show is in trouble, be sure to get Beth Leavel in your cast. A Tony winner for "The Drowsy Chaperone," she was one of the bright lights of the abysmal "Elf" earlier this season, and now she is the best reason to see "Baby It's You!," the latest in a long line of jukebox musicals besetting Broadway. With subtle humor, expert timing, and knockout pipes, Leavel strives mightily to bring this mishmash of a rock tuner up to her level, but she can't perform miracles.
Conceived by Floyd Mutrux, the man behind "Million Dollar Quartet," "Baby" tells the real-life story of Florence Greenberg, a New Jersey housewife who left her 1950s kitchen-bound lifestyle to start her own record label. Her biggest discovery was the Shirelles, a female quartet of African-American teenagers whose rough yet sensuous vocals topped the charts with hits like "I Met Him on a Sunday," "Tonight's the Night," "Soldier Boy," and "Dedicated to the One I Love." Unlike "Quartet," which brings together four rock icons for a single recording jam session, "Baby" sprawls across several years and crams in as many topics as songs. Mutrux and Colin Escott's book covers the payola scandals, changes in social mores and musical tastes from the '50s to the '60s, the fickleness of the record biz, Greenberg's soap-operatic breakup with her husband, her interracial romance with African-American songwriter Luther Dixon, and her complicated relationships with her estranged daughter and blind songwriter son. Like a VH1 "Behind the Music" documentary, the script lightly touches on each subject and then moves on to the next number.
Aside from their first names and ages, we learn very little about the Shirelles themselves, and we don't glean much more than a lot of facts about Greenberg. Mutrux and Escott have written reed-thin clichés rather than fleshed-out characters. Theirs is the kind of script in which all the Jewish characters say "Oy" a lot and the passage of time is indicated by lines like "The world is changing." But the dialogue is basically an excuse to fit in as many pop hits from the era as possible, even when they are only tangentially related to the Shirelles' career. One notable omission is the group's biggest hit, Gerry Goffin and Carole King's "Will You Love Me Tomorrow?" Perhaps they couldn't get the rights.
The direction by Mutrux and Sheldon Epps is as unfocused as the book, but fortunately the rock-solid Leavel, as Greenberg, and a strong-voiced cast put across the numerous songs—I counted 33—with verve and punch. Allan Louis is a sexy and charismatic Luther Dixon, while Geno Henderson's resonant bass caresses every note in multiple roles. Christina Sajous, Erica Ash, Kyra Da Costa, and Crystal Starr Knighton soulfully warble the Shirelles' hits and those of others, including the Chiffons, the Isleys, and Dionne Warwick. Too bad that interminable book gets in the way.
Lizz Wolf's colorful costumes perfectly capture the period, and Anna Louizos' snazzy set, brightly lit by Howell Binkley, resembles a high-tech version of those PBS doo-wop fundraiser specials. "Baby" is closer to that kind of nostalgic production—complete with video images of the top movies, TV shows, and news stories of the years covered—than a fully realized musical. There is an audience for this kind of show—witness the success of Mutrux's "Quartet"—but if you crave a well-written story with your nostalgic score, walk on by.
Presented by Warner Bros. Theatre Ventures and American Pop Anthology, in association with Universal Music Group and Pasadena Playhouse, at the Broadhurst Theatre, 235 W. 44th St., NYC. Opened April 27 for an open run. Tue., 7 p.m.; Wed.–Sat., 8 p.m.; Wed. and Sat., 2 p.m.; Sun., 3 p.m. (Matinee performance Sun., May 1, 2 p.m.; additional performance Sun., May 1, 7 p.m.) (212) 239-6200, (800) 432-7250, or www.telecharge.org. Casting by Telsey + Company.