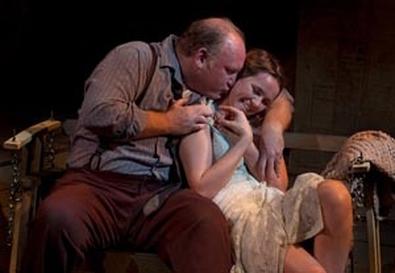 Elia Kazan's classic film "Baby Doll" elicited a firestorm of controversy when it was released in 1956—condemned by the Catholic Legion of Decency and pulled from many theaters. It's seldom presented in a stage version. Director-designer Joel Daavid's staging of the Tennessee Williams screenplay eschews the film's gritty black-and-white realism for a more stylized interpretation, highlighted by stunning choreographic movement by associate director Adam Haas Hunter and Daavid's imaginative multilevel set. The sultry narrative is relatively tame by today's standards, yet the timeless human drama about lust, revenge, sexual politics, and prejudice is eloquently served in Daavid's evocative conception.
Basing the screenplay on his one-act play "27 Wagons Full of Cotton," Williams reportedly lost interest in the project when Marilyn Monroe was bypassed for the title role of a coquettish 19-year-old bride who sleeps in a crib in a short nightgown, sucking her thumb. Then-unknown Carroll Baker, co-starring opposite Karl Malden and Eli Wallach, took the role, earning an Oscar nomination.
Daavid has assembled a worthy ensemble cast to bring Williams' indelible characters to life. Lulu Brud plays the seductive Baby Doll, imbuing the characterization with an inspired mix of innocence, sensuality, and opportunism. Married to blustery gin-mill operator Archie (the superb Tony Gatto) under her father's stipulation that the marriage won't be consummated until her 20th birthday, the young woman becomes a trump card in a vicious vendetta. Struggling financially, the desperate Archie burns down the gin mill of his neighboring competitor, the locally derided "wop" Silva Vacarro (Ronnie Marmo). Certain who has committed the arson, Vacarro plans to seduce Baby Doll and obtain a written statement from her to prove Archie's guilt.
Marmo gives a smartly layered performance, deftly conveying his character's seductiveness and ruthless determination as he orchestrates Archie's downfall. Jacque Lynn Colton elicits laughs in the small role of Baby Doll's dotty, hymn-crooning Aunt Rose Comfort.
Hunter's choreographed interludes, in which a large supporting cast serves as a Greek chorus of sorts, add a lyrical grace to the proceedings, creating a flavorsome depiction of rural Mississippi in the 1950s.
Presented by Double A Productions in association with the Elephant Theatre Company at the Lillian Theatre, 1076 N. Lillian Way, Hollywood. Nov. 11-Dec. 18. Fri.-Sat., 8 p.m.; Sun., 7 p.m. (323) 960-4420. www.elephantheatrecompany.com.