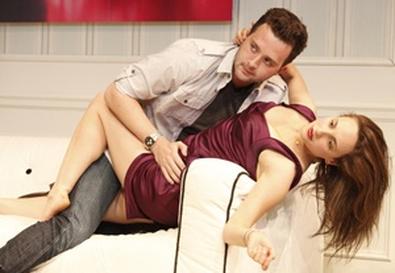 According to a New York Times profile, 29-year-old playwright Leslye Headland posts on Twitter under the moniker "Molotovcocktail." That seems appropriate, as her new bite-size comedy "Bachelorette," about three young women behaving very badly, prizes shock over substance and judgment over character. Though Second Stage Theatre Uptown has given it a first-class production, with astute direction from the talented Trip Cullman and sharp performances from a six-person cast, all the queen's horses can't disguise the depressing shallowness of the proceedings.

Maid of honor Regan has invited chums Katie and Gena to party with her in best friend Becky's luxury hotel suite the night before Becky's wedding, despite the bride's express desire that the two women be excluded. Katie and Gena think Becky has relented at the last minute and returned them to her inner circle. Regan thinks Becky will be spending her nuptial eve in her fiancé's suite. Rivers of champagne, snowdrifts of cocaine, and showers of prescription pills are consumed as the three get wasted while wasting each other and a litany of friends and enemies in nasty repartee. Eventually added to the mix are two guys Regan has picked up, as much for their supply of pot as for their promise of casual sex. At the height of the mayhem, of course, Becky arrives.

Headland makes the occasional feint at individual backstories that might illuminate why these women behave in such laceratingly self-destructive ways, but she's much more interested in cataloging behavior than exploring it. Her actors, however, know they must locate their characters' humanity, and each finds something to fill in the blanks. Celia Keenan-Bolger, as Katie, projects a desperately contained bewilderment at her life's decline after her reign as prom queen. Katherine Waterston's whip-smart Gena is achingly aware that she's squandering her potential even as she lustily goes about it. As the aptly named Regan, Tracee Chimo roots the manipulative character's bottomless self-loathing in her despair that she's not as pretty as she needs to be. Eddie Kaye Thomas is smarmily effective as Jeff, a young man who likes to mess with a girl's mind before he screws her. As his stoner sidekick Joe, Fran Kranz contrasts the character's inherent decency with his pervasive hopelessness. The choices work, even if the writing is unsurprising. Only Carmen M. Herlihy, as Becky, gets a character we don't totally expect, with the result that Herlihy dominates from the moment Becky finally shows up.

Andromache Chalfant provides the perfect environment with her glossily soulless overdesigned-hotel-suite set, lit suitably clinically by Ben Stanton. Emily Rebholz's keenly observed costumes instantly communicate how much these women define themselves by their surfaces.

Headland's play is one of a series she's writing based on the seven deadly sins, with gluttony the subject here. I can't say I'm anxious to sin again. The flashy but empty writing did generate a good deal of raucous laughter from a number of younger people in the audience. But the laughter felt more contemptuous than empathetic, smugly asserting superiority to what was unfolding on stage. Perhaps that's what Headland is after. If so, count me out.


Presented by Second Stage Theatre Uptown at the McGinn/Cazale Theatre, 2162 Broadway, NYC. July 26–Aug. 28. Mon.–Sat., 7:30 p.m.; Wed. and Sat., 2 p.m. (212) 246-4422 or www.2st.com. Casting by MelCap Casting.