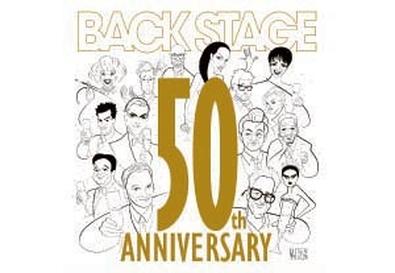 Thank You, Readers
"I hope Back Stage remains a relevant resource for you for as long as you're pursuing your craft. Here's to another 50 years!" - Jamie Young, editor-in-chief
Anecdotes from Back Stage Staff and Contributors
"At the risk of sounding like Elaine Paige in the current revival of "Follies," I started working at Back Stage in the early 1980s and I'm still here." - David Sheward, executive editor
The Actor's Bible Celebrates a Half-Century of Service
What began in a 9-by-12-foot furnished office on West 46th Street in Manhattan has become an institution for actors. Back Stage has met each challenge, has adapted to unexpected situations, and continues to grow.
50th-Anniversary Timeline
Here's a timeline of the performing arts industry from "Back Stage's" beginnings in 1960 to present day.
Collaborators Discuss Their Craft
Great conversations and insights are a key component of what makes Back Stage's content stand out. In honor of our 50th anniversary, Back Stage paired artists to talk about their craft.

George Clooney: 'I Learned A Lot From TV' (Video)
While George Clooney is an Oscar-nominated director, screenwriter and actor, he learned a lot about acting from working in television.
How I Got My SAG Card (Video)
Connie Britton, Joshua Leonard, Margo Martindale, Jesse Tyler Fergusen, Vera Farmiga, and Chris Colfer talk about getting their SAG cards.
The Art of Discovery
Back Stage asked a variety of artists to write about discoveries they made over the course of their work. Here's what industry notables observed when they opened their minds to the world around them.
In Their Own Words
We asked some of our favorite actors about getting their SAG cards, audition horror stories, and other aspects of their careers.
Actors Share Insight Over the Years
"I mean, it's easy to say this now, but things happen for a reason. I look back on the movies I didn't get, and it never would've made sense for me to be in them."—Julia Stiles, Nov. 10, 2010
What the Industry Has to Say About Back Stage Turning 50
"Back Stage was my bible during my acting days from 1960 to 1970. It has been my studio's bible since the inception of the T. Schreiber Studio in 1969." —Terry Schreiber, acting teacher, T. Schreiber Studio and Theatre, New York
Testimonials From Famed Artists
"Back Stage? I am standing here now because of Back Stage!"—Sandra Bullock ("The Blind Side," "The Proposal," "Crash," "Miss Congeniality")
Readers Share Their 'Back Stage' Stories
Thanks, Back Stage readers, for your kind words in celebration of our 50th anniversary. We couldn't have come this far without you. Here's to the next 50 years!
Watch a slide show of Back Stage's covers through the years below.