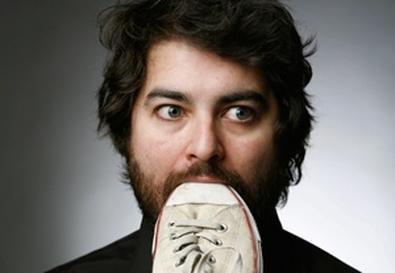 Megan Amram
What's in a tweet? "I owe everything to Twitter," says Megan Amram, who started using the social media site a few years ago to amuse her friends and was hired as a writer for last year's Academy Awards as a result. "Not only has Twitter made me a better writer -- it has accelerated my trajectory. I feel like it's a new way of showing a portfolio or spec script." The Harvard grad's surreal and sometimes twisted 140-character jokes have attracted nearly 250,000 followers, including fans such as Patton Oswalt and Rob Delaney. (Sample tweet: "My dad is in such a food coma after he ate all that Drano.") Amram landed her dream job this summer when she joined the writing staff of "Parks and Recreation." But aside from wanting a Nobel Prize for comedy, Amram's next goal may surprise you. "My dream of dreams is to write Broadway musicals," she says.


Megan Amram
Jerrod Carmichael
The road less traveled: Jerrod Carmichael says he chose to start his comedy career in L.A. because "it seemed like more of a challenge." (He already had family and friends in New York but had never seen the City of Angels before moving there.) He's spent the last few years honing his act at clubs such as the Laugh Factory, the Comedy Store, the Improv, and Meltdown Comics yet says, "I have to get back to New York soon. The Comedy Cellar is my happy place." He challenges himself further by always performing new material, much of which is improvised onstage in a stream-of-consciousness style. The industry has taken notice -- Carmichael was selected as one of the "New Faces" at last year's Montreal Just for Laughs Festival and now has a supporting role on Fox's new mid-season comedy "The Goodwin Games," from "How I Met Your Mother" creators Carter Bays and Craig Thomas. "I had a fun meeting with the creators of the show, and they were nice enough to fit me into their vision," he says. "I never really auditioned. That could've ruined everything."


Jerrod Carmichael
Ilana Glazer
"Broad" appeal: This New Yorker can brag that Amy Poehler is a fan. The "Parks and Recreation" star and Upright Citizens Brigade co-founder is now executive producer of Ilana Glazer's upcoming FX series "Broad City." Glazer and her comedy partner Abbi Jacobson began the show as a web series -- it featured Poehler and Kristen Schaal in an episode -- then sold it to FX and produced a pilot earlier this year. Ironically, Glazer and Jacobson met because they couldn't find a place on any of the UCB house teams after taking improv classes there. "We were inspired to create material for ourselves," Glazer says. "We found our dynamic entertaining to us and hoped others might feel the same way. But you can't know until you put it out there." In addition to the new TV project, Glazer performs standup and hosts shows across the city. She is also writing scripts for an animated pilot and a live-action feature.


Ilana Glazer
Lauren Lapkus
Career counselor? The college admissions process was a little unorthodox for Lauren Lapkus, who began training at iO in Chicago as a high school senior. "I stayed in Chicago for college mainly to continue doing improv," she says, "which was an awesome decision for me." Lapkus later moved to New York to take classes at UCB and join Story Pirates, and when she eventually moved to L.A., she was welcomed by its West Coast counterparts. "I was so happy to have a community in L.A. right away, which wouldn't have been as easy if I hadn't put in the work in other cities," she says. An appearance in an improvised sketch with Ryan Reynolds on "Jimmy Kimmel Live!" was one of her first gigs in L.A., followed by the NBC sitcom "Are You There, Chelsea?" as recurring character Dee Dee. "Getting to be the 'weird roommate' on a sitcom was a dream come true," Lapkus says. She just finished filming a part in "You Are Here," the upcoming feature film from writer-director Matthew Weiner ("Mad Men").


Lauren Lapkus
Joe Mande
JK LOL: After seven years, Joe Mande recently moved to L.A. from New York, where he was recognized as one of the city's best comics and hosted the long-running show "Totally J/K" with Noah Garfinkle. "I wanted to get good at standup and promised myself that I would never move to Los Angeles," he says. "And I just moved to Los Angeles." But hey, he has a good reason: Mande has been hired as a writer for NBC's "Parks and Recreation." "All the other writers have resigned in protest of my hiring, so I have a lot of work ahead of me," he says. "But I'm excited for the opportunity!" He'll have at least one friend on set, having served as the opening act for "Parks and Rec" star Aziz Ansari on his recent standup tour. Mande's own half-hour standup special recently premiered on Comedy Central, and he will be in Montreal this month for the 30th anniversary of the Just for Laughs festival.


Joe Mande
Arthur Meyer
All in the family: As children, Arthur Meyer and his two sisters performed a sketch comedy show called "Meyer Kids' Night" every Saturday for their parents. The show started at 8:31, he says, "because that's funnier than 8:30." In 2006, he followed the other members of his Boston University sketch troupe Slow Children at Play to New York City and formed a new group there called Pangea 3000. Since then, Meyer has been a fixture of the city's sketch and improv scene, performing at UCB, the PIT, and the Magnet as well as in cities nationwide. Audiences should look for Meyer's frequent appearances on "Late Night With Jimmy Fallon," where he sometimes performs with John Haskell as the sketch duo "Two Fun Men." He also stars in the feature-length comedy "We Made This Movie," which will be released later this year.


Arthur Meyer
Sean Patton
Wishful drinking: There wasn't much of a comedy scene in New Orleans when Sean Patton and his fellow fledgling comics started producing their own shows in local bars and coffee shops. But the DIY experience prepared him for his future career moves. "I learned how to perform in New Orleans," Patton says. "I learned how to write in L.A. and NYC." He's been touring to clubs and festivals around the country ever since, and was featured as one of the "New Faces" at the 2008 Montreal Just for Laughs Festival. "I don't believe there's such a thing as a big break anymore," he says. "Nowadays you keep making smaller breaks until the wall that divides you and success finally crumbles. I've made quite a few smaller breaks, and I've got quite a few more to make." Patton's next break is coming soon; he plans to release a comedy album in September.


Sean Patton (Seth Olenick)

Rebecca Delgado Smith
Sail away: While studying at the Atlantic Acting School at NYU, Rebecca Delgado Smith became friends with a few other aspiring actors and co-founded the Harvard Sailing Team sketch comedy group. "I started pursuing comedy after college because it was the most accessible to me," Smith says. "I was intent on starting my own theater company, but renting a theater and putting up Off-Off-Broadway productions can be extremely costly." So the group wrote its own material and performed in New York comedy clubs and alternative venues for free instead. Having since performed across the country and won multiple awards, its members are beginning to achieve individual success. HST continues to tour, and Smith also performs with her husband, Chris Smith, as the sketch comedy duo the New York Smiths. Their new show, "Speed Dating," begins July 26 at the UCB Theatre in L.A.


Rebecca Delgado Smith
Betsy Sodaro
"Animal" instincts: Over the past six years, Betsy Sodaro has been honing her sketch and improv skills in L.A., where she performs in teams at UCB, iO West, Second City, and more. This fall Sodaro will be a regular on NBC's new comedy series "Animal Practice." Before stealing the show in black-box theaters, Sodaro got her first taste of the spotlight at age 3 as an audience member watching her actor mother perform onstage. "My mom was screaming at a fake spider -- all part of the play -- and I just walked out onstage with a rock and smashed the spider. People started laughing and cheering, while I started bawling and running offstage. Over time, I realized I could make people laugh, and I thought, 'I'm going to try and do this for a living!' "


Betsy Sodaro
Sheng Wang
Two-drink minimum: Wang, who was born in Taipei and raised in Houston, began his comedy career in the San Francisco Bay Area about nine years ago after graduating with a degree in business from UC Berkeley. "At the time, my impression of standup comedy was largely based on having seen 'Def Comedy Jam' VHS infomercials," he says. He made it his career because "it's creatively engaging, mixes well with alcohol, and doesn't require changing my wardrobe." Wang was featured at the Montreal Just for Laughs Festival in 2007 and taped a half-hour special for Comedy Central in 2011. The same year he earned a one-year holding deal from NBC Universal after winning the company's annual "Stand-Up for Diversity" comedy search. Next, watch him steal the show on the new season of "John Oliver's New York Stand-Up Show," which premieres in July on Comedy Central.


Sheng Wang

Daniel Lehman is a staff writer at Back Stage. Follow him on Twitter: @byDanLehman