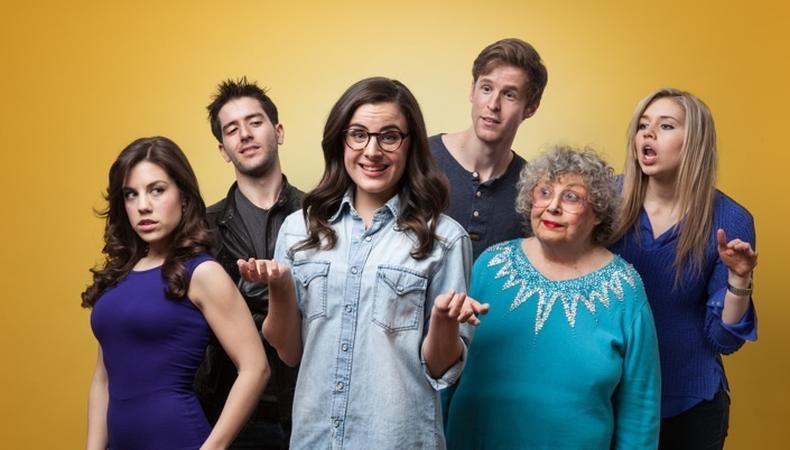 It's my job to read and edit every piece of content on Backstage.com. After spending every day reading articles written industry experts and actors alike encouraging our members to take control of their career and make their own content, I couldn't help but wonder, why wasn't I taking their advice too?
Now, I'm a writer, not an actor, but the advice to "take control" applies to anyone, anywhere. And by making the decision to do it yourself, you create opportunities not just for you, but also for aspiring directors, actors, cinematographers, and even casting directors!
The first step is actually coming up with the idea, and they say to "write what you know," so I did! When I graduated from college, I lived with my grandpa upstate New York and interned in the city for a few months. (Fun fact: We shot the upstate scenes in the series in my grandpa's house!) After I had officially moved to the city and started working, I would visit occasionally, and on one particular visit, my grandpa's niece was staying with him. She was looking for a job, and had found one for an online dating ghostwriter on Craigslist. She thought it sounded creepy; I thought it sounded hilarious, and thus, the idea for "Rom.Dot.Com" was born. A broke, unemployed, single, 20-something journalist living in her grandmother's basement must take a job ghostwriting online dating profiles. (It's not autobiographical! I didn't actually live in the basement and I've never worked as an online dating ghostwriter…)
Once I had an idea, I needed to find a director and some actors because while I desperately wanted to make a web series, I don't even know how to turn on a camera. I wrote an article for Backstage about two years ago about acting students, and I met Mikaela Feely-Lehmann, one of the students who I spoke to over the phone for the piece, a year later when I was working on another story for Backstage at the Williamstown Theater Festival. We hit it off, and over lunch one day at Grey Dog in Union Square, we decided we wanted to team up for the series. The only problem? She doesn't know how to turn a camera on either. We needed a director.
Then I remembered meeting a friend's roommate, who was a young filmmaker, many months before, and I threw a Hail Mary pass—err…text message—to said friend and one thing led to another, and our wonderful Molly McGaughey met for the first time on Nov. 26, 2012. We had a team. Now we needed a cast.
Even though I work at Backstage, I'm ashamed to say I was not very familiar with the casting product. As an editor, I interact mainly with the advice and interview articles and not the casting side, but when I started writing a web series and needed to cast it, I knew the only place to turn was Backstage.
We posted the notice for the five series regulars and the seven major supporting players and received more than 500 wonderful submissions. I was extremely impressed with the professionalism and quality of the submissions, and we narrowed down the pool to about 200 people for two days of auditions at Shetler Studios. One of the great parts about doing a web series is you get to give a lot of people—not just actors—their first chance to do what they love. One of my dear friends Amanda Sales is an aspiring casting director, and if you're not following her #dreamcast on Twitter, you're missing out. We brought her on to cast "Rom.Dot.Com" and gave her her first official casting credit!
We cast everyone in the show from the auditions, except Mikaela, but our favorite role to cast was Granny. None of us knew any 80-year-old actors, and when Elaine Barrow entered the room, we knew we had found the perfect person. Her off-kilter spunk and sass made her a great fit for this uncensored grandmother, and we even worked some of the things she said in her audition into the final script! Another great audition came from Keith Rubin, who plays Lester in the series. Lester is the male lead, but we didn't have a very clear idea of who this person is until Keith walked in the room. It was one of those great moments where the actor really made the character.
Ultimately, it became showcase for everyone's talents. I now have my first official credit as a screenwriter. Molly directed her first web series. Amanda cast her first project. And Mikaela, who is already a star in every right having appeared on Broadway in "Cyrano" and most recently in "Stay" as part of the Hilltown plays at Rattlestick Playwrights Theater, got one of her first major roles on screen. It's a win for everyone, and if it weren't for Backstage I would have never met Mikaela or met all of the wonderful actors who we cast through auditions.
Our season 1 finale just aired on YouTube on Nov. 25, 2013 – exactly one year from Molly and my first meeting about the series. It's been a crazy year, but I wouldn't trade one second of it!
Check out season 1 on YouTube at www.youtube.com/romdotcomseries. Visit www.romdotcomseries.com for more information, and follow us on Facebook and Twitter @Rom_Dot_Com! Also, watch the pilot below!