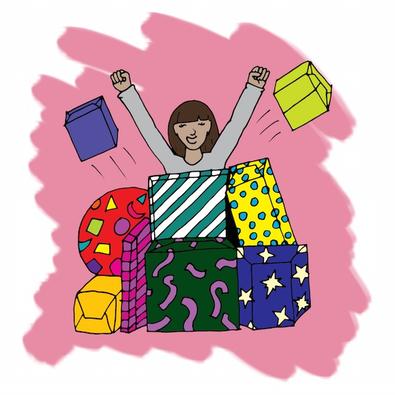 Though the weather is unseasonably warm, it's the holiday season! As industry professionals spanning various areas of the business, our Backstage Experts are casting directors, acting teachers, coaches, and beyond, and they know what tools actors need to succeed. That's why we knew they'd be the perfect group to ask the following question:
What is one product actors should ask for this holiday season?
Here are 15 stocking stuffers that will enhance your career!
(And if you missed the last installment of this column, check out "14 Harsh Truths All Actors Will Face Throughout Their Careers" and see how to get your acting questions answered at the bottom of this article!)
Paul Barry, L.A.-based acting teacher and founder of Acting 4 Camera
"Give a man a fish, and you feed him for a day. Teach a man how to fish, and you feed him for a lifetime." If you are on the receiving end of any gift at this time of year, request a fishing rod. Depending on your grocery bills, your interpretation of this advice may be figurative or entirely literal.
Unless you are very comfortable financially, ensure that gifts and purchases are investments and not just a passing fancy. Smartphones and new clothes are all potential investments if used to generate career momentum, but the latest iPhone is no more likely to transform your career than the last model.
Investment in gym memberships, dialect classes, and books are all good investments, but remember, like a puppy, they also require commitment. Many people subscribe to a theater, join a gym, or buy good books, but they sit untouched months later. For a mix of education and fun, a MoviePass subscription would be a handy investment in seeing great films, not just the latest Avengers movie 26 times.
Mary Anna Dennard, founder of College Audition Coach
Whether you are a graduating high school thespian senior, college BFA grad, or a professional actor:
1.The gift that keeps on giving is an online consultation with Tony Howell, founder of Creative Social Media. Jump start your online presence across all social media platforms. It is crucial that your "brand" be consistent, professional, effective, and a reflection of your true self. Learn the social no-no's as well as proper protocol for networking with industry professionals. Never was this more important. You are an independent entrepreneur living in a world of social media.
2. Less serious, but equally groovy are PhotoStamps gifts. Put your headshot on real stamps. Perfect for those oh-so-impressive handwritten thank you notes after auditions! College auditors, agents, and casting directors will remember your face and be impressed with your manners. All can be done in minutes online. Easy and impactful.
David Patrick Green, founder of Hack Hollywood
I suggest every actor pick up a copy of "The Success Principles" by Jack Canfield. It will remind them that anything they want in life is possible if they believe in themselves. They need to remember that no one has the answers but them, everything is up to them, and the only rules is "do what works." It's just a very inspirational and realistic read that should revive anyone's flagging belief that they can do this!
Jamison Haase, founder of L.A. On-Camera Training Center
Any actor looking to get into film and television needs to have one thing: an HD camera. It doesn't need to break the bank, but it does need to be a good camera. There are two reasons. First, actors can use it for rehearsing and working on auditions. (It's the first thing I use in creating my own auditions.) And second, actors can use it for their self-taped auditions. Don't settle for you iPhone, get something that looks good and helps you book!
Cathryn Hartt, founder of Hartt and Soul Studio
If you don't already have it, a good camera for your self-tapes. But of course, remember the greatest gift of all is love. Give and receive plenty of that. Everything else is just stuff to put away.
Tony Howell, founder of Creative Social Media
I'd really recommend you ask Santa for more photographs. Beyond great headshots (which are crucial...and make great profile pictures), make sure you have plenty of landscape images where you're more left or right justified. These types of photographs are great for business cards, postcards, cabaret posters, social cover photos, and website banner images—because you can layer text over them! If you need suggestions for photographers, here are some recommendations in New York, Los Angeles, and Chicago. Happy Holidays!
Kate McClanaghan, L.A.-based casting director
Private coaching. Every talent needs a tune-up every couple of months, regardless of the experience level. And not simply a single coaching session or two that only offers random motion and you're out the door. You need training that honestly raises your game and challenges your comfort zone. You need technique training that will allow you to offer the most dynamic performance options, ignite your imagination, build your stamina, and effectively self-direct (especially when so many auditions are done from home or are self-taped). This is an essential part of being a reliable professional. If you're not working your performance muscle it will atrophy. A proper coach will give you the tools and encouragement to continue. Certainly your objective is to become self-reliant as a talent, but we all need a little assistance every now and then in order to effectively raise our game, rather than remain complacent. If you're in your first five years as a professional talent, it's imperative you continually train. You're a work in progress. Get to work!
Joseph Pearlman, L.A.-based acting coach
One thing all actors should ask for this holiday season is a subscription to an online streaming service (Netflix, Amazon, etc.).
This is a golden age of television! Far too many actors who say they're serious about wanting to launch a career in this industry, do not watch television, and they're missing a major opportunity to familiarize and immerse themselves in the business they claim they want to be a part of. It's like saying you want to be a member of the Los Angeles Philharmonic, yet you've never listened to Bach's Cello Suites. (Yo Yo Ma's version is simply sublime.) Being intimately familiar with what's on TV (and in the theaters) is imperative to scouting out the directors, writers, and producers you want to work with and build relationships with.
And while you're at it, I would advise every actor to do something kind for yourself. Many people eat, breathe, and sleep acting. Put it down for a second and get a massage. Take care of yourself and relax!
Jackie Reid, manager, and owner of L'il Angels Unlimited
A must-have for any actor this Holiday season is a tripod! Requests for self-tapes are abundant. It's the worst when the person filming your audition is holding the camera in their shaky hands. Don't be the worst! No one wants to get seasick while watching your tape. This is a nominal cost that will pay off with big dividends.
Mae Ross, founder of 3-2-1- Acting Studios
For all actors, the demo reel is paramount to obtaining work in the entertainment industry. Of all the things actors need most, an agent and a demo reel, If I had to choose, I would go with a demo reel. Why? Well, if you are not represented, a good demo reel will help you secure an agent, and if you are represented a great demo reel will help your agent get you seen and called in for auditions.
So the one gift you want for the holidays is a professionally filmed, high-quality demo reel which will showcase your talent, range, castability, and distinguish you from the herd. Actors if you need footage for as little as $375 including custom writing, directing, shooting, editing, and delivery you can get a great reel. In Los Angeles, I recommend lareels.com and creatyourreel.com Happy filming and happy holidays from 3-2-1- Acting Studios!
Erika Shannon, founder of Don't Dodge the Dance Call
How about asking for some balls? No seriously, these balls. Deep tissue massage balls that come with a little carry bag and an instruction booklet. Not only are they small enough to fit in your stocking, but they're great to have in your self-care arsenal. Use them for trigger point therapy at the back of your neck and shoulder blades, or roll your feet on them for myofascial release after a long day of auditioning. Remember, our bodies can really hold us back when they're not well, so these little tools can be essential to staying healthy, flexible, aligned, and relaxed. Along the same lines, these My-O-Balls are totally awesome to roll on your ankles, calves, shoulders, arms, etc. Self care in '16, people!
Denise Simon, NYC-based acting coach
Many actors may have a good quality video camera but it is in the lighting where you can look your best.
Lights on either side to eliminate shadows with a soft white light will make your self-tapes look professional. Here is a beginner lighting kit that is pretty easy to set up and won't break the bank. Make sure you are taping in front of a solid, clean wall and that you are always prepared and memorized when you are ready to make your tape. Have fun with your new equipment and happy holidays to all.
Ilene Starger, casting director
Every actor should read Elia Kazan's "A Life," his educational, blunt, novelistic, and riveting autobiography. He had an unparalleled career in the theater and in film; he worked with giants such as Arthur Miller, Tennessee Williams, Marlon Brando, Jessica Tandy, Gregory Peck, Montgomery Clift, etc. The book also is a kind of microcosm of America during those decades: a contradictory mixture of innocence, hope, and cynicism. Kazan's work remains stunningly adult, raw, and powerful, and has influenced innumerable actors and directors. Perhaps companion gifts to this book would be DVDs of "On the Waterfront," "A Streetcar Named Desire," and "A Face in the Crowd," to name just three of his brilliantly realized films.
Ben Whitehair, L.A.-based actor
My 12-year-old cousin just taught me to ride one of those hover board things and they're awesome.
Beyond that, I would create an awesome self-tape setup in your abode. Along with my iPhone 6, here's what I use:
Tripod ($25+)
I use a normal tripod I got years ago. This one on Amazon looks like a great deal.
Glif ($30)
I use a glif on the tripod to hold my iPhone.
External Mic ($30–$70)
It is super important to have an external mic, otherwise the reader's voice will be louder than yours. I use a mic that isn't sold anymore, but this Ampridge mic looks like a good option.
Light Kit ($110)
The lights make all the difference. I set up these lights when I tape at my house.
A Wall
I have a painted wall in my apartment that I use. Basically you just need a solid background. If you need a stand with muslin you could use this or this.
Ryan R. Williams, L.A.-based on-camera coach, founder of Screen Actors System
The finest product of the holiday season, I find, is time. The business in Hollywood basically shuts down for weeks. So use this time, this gift. You can get together with filmmaker friends who also have spare time this season and create a Web series. Shot a short. Hell, shoot an entire feature in 12 days. It can be done. I am filming a couple of projects like this with my students over the holidays. Why not? All year long I am too busy doing the paid filmmaking projects to do something for the love. It's great to have time just to shoot something small and make it great. A lot of gear is just sitting around this time of year. Find some filmmakers and get out there and use it! This is the best time of the year for filmmakers to make projects with friends. If you don't know any filmmakers, the Christmas party season has begun. Get out there. Production companies big and small all have Christmas parties. Tap into that scene and make some filmmaking friends. This season seems to celebrate laziness. I say go the other way!
Have a question? Message us on Facebook or tweet @Backstage.
Want to be more involved in the Backstage community? Become a subscriber here!

The views expressed in this article are solely that of the individual(s) providing them,
and do not necessarily reflect the opinions of Backstage or its staff.