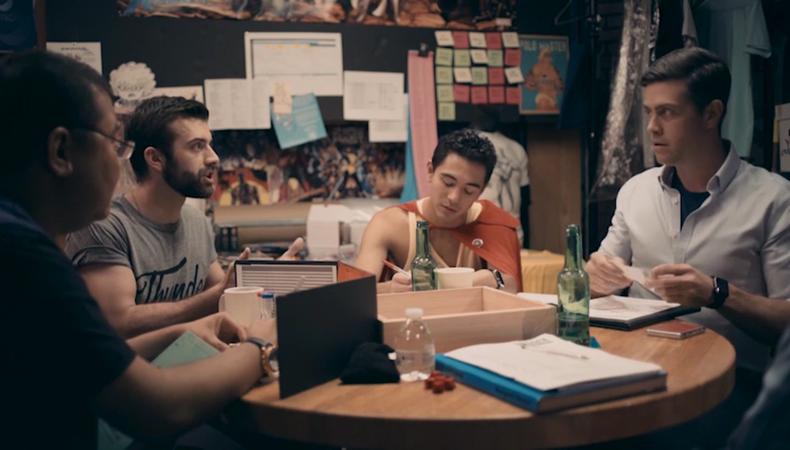 If you had told Nickelodeon cartoonist-turned-indie writer-director C. Edwards that his passion project web series, The Invincible Bunch, would be getting off the ground with a pilot episode and fan-funded Kickstarter campaign a year and a half ago, he would have "probably laughed in your face." Fortunately, he didn't put money on it. Heading into the final 24 hours of his fundraising window, The Invincible Bunch is edging closer to becoming a reality.
The LGBTQ web series follows a group of five gay men who are about as different as could be save for one thing: They meet once a week in the back of their local comic book shop to play a beloved role-playing board game. To paraphrase Edwards, it's a comedic closer look at a sub-group of the sub-group of the sub-group. In creating the series, he wanted to highlight a variety of underrepresented voices in LGBTQ media by sitting them around a table and having them talk about what's happening in the world—"social things, culture, basically just [to] bounce off each other and find common ground while also [being] in a situation where they kind of have to work together," he explains. "So it's built on this idea of they're not necessarily friends, but they can relate to each other in very different ways, and the reason that they're together is because they're just trying to solve this one problem while playing the game."
In casting the project, he turned to Backstage. We caught up with Edwards in the final days of his campaign—it's not too late to donate here!—to discuss his casting process, what made his actors' profiles stand out from the pack, and what advice he has for other aspiring creatives who want to deep dive into a passion project.
'Let's make it as diverse as possible.'
"For me, [casting] was more of, if this is an opportunity to create a diverse group, then let's create a diverse group. Let's make it as diverse as possible when it comes to ethnicity. Let's make it as diverse as possible when it comes to age. I feel an intergenerational aspect of diversity among especially gay men does not seem to be very strong anywhere…. When we were putting it together, a big push of it was to try and create something that's as diverse as possible."
He was recommended Backstage by a friend.
"We actually did three casting listings on Backstage. The first one was in 2015. It was recommended to me when I used to work at a restaurant. I, of course, knew a lot of actors, so [they were] the first people I went to to find out, 'Hey, what's the best way to look for the people that we're looking for?' And pretty much all of them said, 'Just go to Backstage.' "
His background as a cartoonist gave him specific visions of his characters.
"When I started the process, I had to change some of my expectations because ultimately, I'm looking closely for a 'look,' and I'm used to being able to kind of create the look by drawing a character, so my first thing I did was I would look at everyone who was applying and then try to see if this person was what I was looking for, or if I could see this person playing this character. Can this person bring a really unique perspective? That was a very different thing for me."
CDs using Backstage want photos to choose from.
"I didn't necessarily care that much about headshots, but pictures were very important, of course. Some people just seemed to have a lot of the same photo over and over again or, like, different versions of that. It's kind of like looking at a dating profile, right? Like, you see the photo and then when you meet the person, it's not what you're looking for."
So many actors apply for new work on Backstage—find your own way to give CDs what they need.
"Since this is a project where the characters are all kind of sitting around and talking to each other, I was really looking for actors who actually had examples of working with other people. A lot of videos I was getting and finding were monologues, which is fine, and I feel like a lot of the monologues I saw, some of the ones I was attracted to, I was interested in those guys, too. But ultimately, I was getting so many people applying, I had to start putting some criteria on everything, and one thing was if they didn't have any examples of performing against another person, then I generally would move on. That was something that I was specifically looking for."
Tackling a passion project? Just keep at it. You'll surprise yourself.
"Every step of the way from the casting to buying costumes to [cinematography] to building the set—every single step of the way all the way up to ending it, I was surprised by how far it had gotten. And that all came about just with me telling myself, 'I'm just gonna take this as far as I can get it and then just see what happens.' That's kind of what got me through it."
Ready for the small screen? Check out Backstage's TV audition listings!