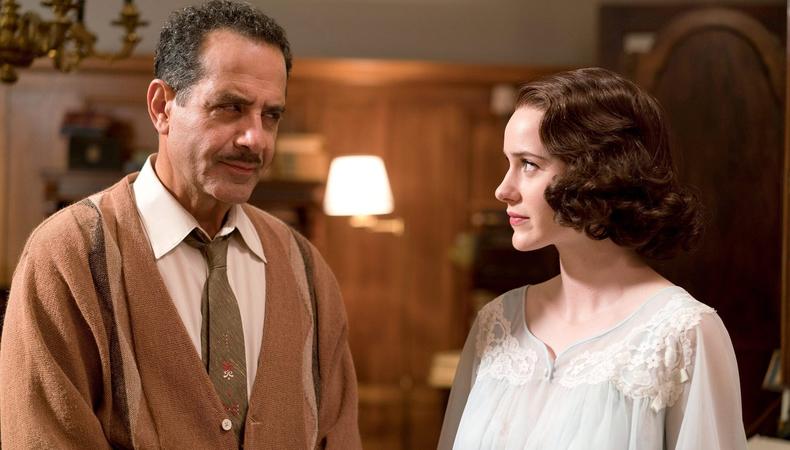 Nominees for television's biggest honor will be announced tomorrow! Presented by Samira Wiley and Ryan Eggold, the 70th annual Emmy Award nominations will crown the actors, writers, directors, and craftspeople who are thriving in this golden age of TV. Is it too much to hope that the below contenders hear their names read? Backstage has rounded up our favorite aspects of the 2017–18 TV season and why they're worthy of Emmy love.
READ: Your Official 2018 Emmy Awards Calendar
Aidy Bryant, "Saturday Night Live" (NBC)
There are dream Emmy nominations; this is a DREAM dream nomination. Bryant should win every award there is for every minute she spends on camera in NBC's "Saturday Night Live." Because truly everything she does is incredible. (And as much as I like two-time Emmy winner Kate McKinnon, it's time to give Bryant credit.) —Allie White
DeRon Horton, "Dear White People" (Netflix)
Horton stole his way onto my TV screen and then he stole my heart. Justin Simien's clever, outraged, certifiably woke exploration of race in a fictional Ivy League world features a cast of uniformly compelling characters: Logan Browning's fabulously furious Sam, Marque Richardson's scarred Reggie, Antoinette Robertson's thorny conformist Coco. But it's Horton as Lionel, the awkward journalist coming out as both gay and a burgeoning rebel, who can steal whole scenes—whole episodes—with a silent look or gesture. His wordless acting and comic timing are unrivaled. I am smitten. —Jack Smart
Jenifer Lewis, "Black-ish" (ABC)
When Lewis shows off her dramatic chops on "Black-ish"—and, to be clear, it happens infrequently enough to be a shock—there's this thought that crosses my mind: How dare you? How dare you, Jenifer Lewis, keep us in stitches with the antics of the grandest grandma Ruby Johnson, only to pull the rug out from under us with moments of devastating sincerity? She'll drop the hilarious histrionics and level a stare at a co-star, full of love for Ruby's grandchildren or rare repentance toward her daughter-in-law (Tracee Ellis Ross), and in the middle of what's supposed to be a silly sitcom, we're suddenly in tears. Give. This woman. An Emmy. —JS
Gina Rodriguez, "Jane the Virgin" (The CW)
It is, frankly, an outrage that "Jane the Virgin"—starring the deft, joyful Rodriguez—has not received any Emmy love, aside from two (deserved!) nods for narrator extraordinaire Anthony Mendez. Rodriguez's high-wire performance anchors a show that takes the elastic malleability of telenovela tropes and then throws everything—love, politics, race, class, trauma, grief, family, friendship, drug lords—into the mix. It should be a mess, but, four seasons in and heading for the fifth and final, it is the best show on TV and deserves all the awards we can give it—if not for Rodriguez, certainly for scene-stealer Jaime Camil, who plays her larger-than-life soap star father, Rogelio. —Rawaan Alkhatib
'In the Envelope' Podcast: Gina Rodriguez Talks Patience, Perseverance, Latina Representation
Amanda Seales, "Insecure" (HBO)
As one of Issa's periphery friends Tiffany, Seales embodies that boujee friend we all have, the one who's liable to book you in for a $300 massage for a girls' day and wonder why you're balking at the bill. But you love her regardless because she's just trying to make you live your best life, hunny! Credit card debt be damned! Seales brings her particular brand of comedy to a character who couldn't be more different than who she is in real life. Catch her on Instagram or in any of her comedy shows ("Smart, Funny, and Black" is touring, y'all!) for a taste of how much acting she's really doing to make Tiffany believable. And damn, do we love her for it. —Briana Rodriguez
Tony Shalhoub, "The Marvelous Mrs. Maisel" (Amazon)
You cannot stop the Shalhoubissance—but then, why would you want to? Thankfully, after his three-time-Emmy-winning performance as the eponymous "Monk" concluded nearly a decade ago, Shalhoub has returned to the small screen's graces in "The Marvelous Mrs. Maisel," and he is in top (neurotic) form. As father to the titular housewife (Rachel Brosnahan), Shalhoub provides the freshman series' most sincere laugh-out-loud moments (his repeated line delivery of "I need the room" shall be studied); he certainly deserves an Emmy nomination and, preferably, the statue itself, which would perfectly complement his 2018 Tony Award. The Shalhoubissance, baby! —Casey Mink
Amy Sherman-Palladino, "The Marvelous Mrs. Maisel" (Amazon)
The beloved "Gilmore Girls" mastermind is coming for her long overdue Emmy! In another female-fronted series that features her notoriously fast-paced dialogue, Sherman-Palladino proves she's as sharp as ever. Don't let the time period fool you—Rachel Brosnahan's depiction of a scorned housewife and burgeoning standup comedian feels completely modern. Even more impressive: the show isn't perpetually compared to "Mad Men" like so many recent mid-century–set series. The stellar cast, fresh story, and signature witty dialogue paired with the expertly tailored costumes and production design of 1950 New York City transport viewers to yet another slightly fantastical, addictive reality that Sherman-Palladino is so known for creating. —Elyse Roth
Check out Backstage's TV audition listings!