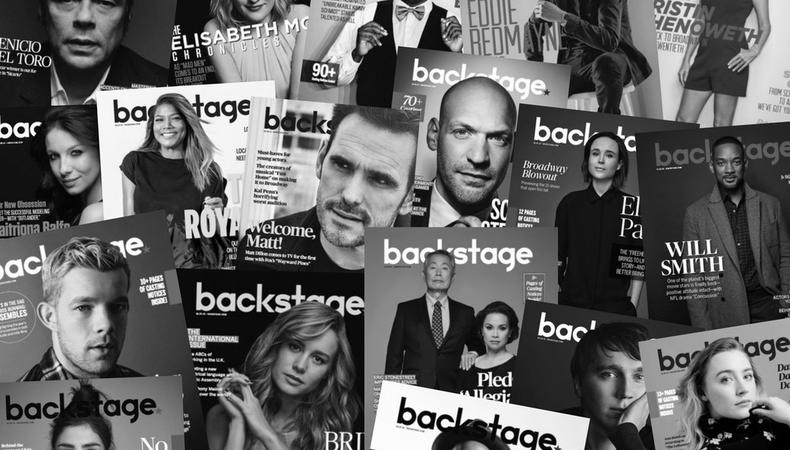 Eddie Redmayne, Kristin Chenoweth, Jennifer Hudson, Charlie Day—those are some pretty talented actors! It's been an incredible year for Backstage. See who else has graced our 51 covers in 2015!
Eddie Redmayne
After winning an Oscar earlier this year, Eddie Redmayne became one of the most sought-after actors in the business. He sat down with Backstage for our first cover of the year to discuss the intense preparation that went into his role as Stephen Hawking in "The Theory of Everything." Will he achieve Academy Award greatness again this awards season for "The Danish Girl"? We'll find out soon enough! Read the full cover story here.
David Oyelowo
"Selma" star David Oyelowo talked to Backstage about playing Martin Luther King Jr., a role he was initially rejected for before building his now-impressive film résumé. Read the full story here.

Charlie Day
The "It's Always Sunny in Philadelphia" star covered Backstage at the start of the year, discussing the benefits of remaining out of the critical spotlight, as well as becoming comfortable in front of the camera as a young actor. Read the full story here—and get ready for Season 11 of "Always Sunny," returning January 2016!
Matthew Rhys
Matthew Rhys discussed the balance between tapping into both sensitivity and cruelty on FX's hit drama "The Americans," and the unlikely way in which he landed his role as a Russian spy. Read the full story here.
Busy Philipps
Mother of two Busy Philipps reflected on her time as Laurie Keller on the hit sitcom "Cougar Town," and spoke about her uncertainty and excitement for the future. Read the full story here.
Randall Park
Despite gaining attention for his controversial role as North Korean dictator Kim Jong-un in "The Interview," Randall Park talked to Backstage about his fun-loving comedic role on ABC's breakout series "Fresh Off the Boat." Read the full story here.

Jeremy Jordan
A veteran of both stage and screen, Jeremy Jordan discussed the connection between the two realms, and his role in the film "The Last Five Years," an adaption of Jason Robert Brown's hit Off-Broadway musical. Read the full story here.
Jason Isaacs
Jason Issacs covered Backstage in February, speaking about USA's "Dig," and his ability to take on almost any accent. Read the full story here.
Matthew Morrison
Matthew Morrison talked to Backstage about his return to the stage in Broadway's "Finding Neverland" after six "gleeful" years on the small screen. Read the full story here.
Kristin Chenoweth
Broadway powerhouse Kristin Chenoweth sat down to discuss her unique beginnings in the industry, and landing her dream role as Lily Garland in "On the Twentieth Century" (which she starred opposite Andy Karl). Read the full story here.

Elisabeth Moss
After making her mark as Peggy Olson on "Mad Men," Elisabeth Moss graced our cover to discuss her move to Broadway, and getting to know her character in "The Heidi Chronicles." Read the full story here.
Ken Watanabe
Film star Ken Watanabe chatted with Backstage in March about his role in Rodgers & Hammerstein's "The King and I," and the differences between English and Japanese theater. Read the full story here.
Caitriona Balfe
It was a busy year for "Outlander" star Caitriona Balfe, who spoke about her modeling career, constantly being on the move, and the role that changed her life. Read the full story here, and check out the first trailer for "Outlander" Season 2.
Chris Messina
Best known for his time on "The Mindy Project," Messina talked to Backstage about his very different role as the director (and star) of indie film "Alex of Venice." Read the full story here.

Joel Kinnaman
Joel Kinnaman's year was full of variety. The actor spoke about his range of roles in 2015, including playing Liam Neeson's son in "Run All Night," and a sociopath in "Child 44." Read the full story here.
Kathryn Hahn
Comedic actor Kathryn Hahn radiated positivity as she talked to Backstage in April about her role on Showtime's dark comedy "Happyish." Read the full story here.
Matt Dillon
Film actor Matt Dillon spoke about the importance of protecting his characters, and finally finding the right project to make his jump to TV in Fox's 10-episode series "Wayward Pines." Read the full story here.
Queen Latifah
A film 20 years in the making, Queen Latifah opened up to Backstage about playing jazz singer Bessie Smith in HBO's "Bessie," and how her start as a hip-hop artist prepared her for the versatile career she has today. Read the full story here.

Paul Dano
With a successful career under his belt, it's hard to imagine that Paul Dano almost decided to quit acting altogether! Dano spoke to Backstage in May about his need to be challenged and preparing to play one of music's most prominent figures, Beach Boys frontman Brian Wilson, in "Love & Mercy." Read the full story here.
Vanessa Hudgens
The former Disney starlet graced our cover in May, speaking about her leap to the Broadway stage as "Gigi," and the importance of vocal preparation and remaining present during performances. Read the full story here.
Hugh Dancy
Starring on a show unlike any other on television, Hugh Dancy talked about his similarly unique preparation for his role on Season 3 of NBC's dramatic thriller "Hannibal." Read the full story here.
Pablo Schreiber
After a series of dark roles, Pablo Schreiber expressed his excitement at being able to play comedic roles on "Orange Is the New Black" and HBO's political satire "The Brink." The actor also offered his tips on having a long and successful acting career. Read the full story here.

Jason O'Mara
After landing roles on every major television network, Jason O'Mara spoke about his new home on USA's "Complications" and the overwhelming passion he has for his craft. Read the full story here.
Natasha Leggero
Natasha Leggero chatted with Backstage about being a working actor as a child, her tumultuous rise in the business, and her graceful ascent to comedy star in her Comedy Central series "Another Period." Read the full story here.
Michael Urie
A full-circle experience for the "Ugly Betty" star, Michael Urie discussed his return to the New York City stage opposite Patti LuPone in "Shows for Days." Read the full story here.
Corey Stoll
Corey Stoll's authentic, simplistic and engaging style of acting has earned him praise from co-stars like Michael Douglas. This year, Stoll sat down to talk with Backstage about his role in Marvel's "Ant-Man," and the FX drama "The Strain." Read the full story here.

Nat Wolff
After captivating audiences with a supporting role in the 2014 film "The Fault in Our Stars," Nat Wolff became a leading man in his own right, starring in "Paper Towns" earlier this year. The former "Naked Brothers Band" star spoke with Backstage about his immersion in his role, and approaching each character in a new way. Read the full story here.
Mamie Gummer
Mamie Gummer covered the July 29 issue of Backstage, talking about her role in "Ricki and the Flash" alongside her real-life mother Meryl Streep, and treating every audition as an opportunity. Read the full story here.
Tituss Burgess
Peeno noir, cover star. Breakout actor of 2015 Tituss Burgess sat down with Backstage to talk about his self-influenced "Unbreakable Kimmy Schmidt" character, which earned him his first Emmy nomination. Read the full story here.
Imogen Poots
Imogen Poots spoke to Backstage about her role in "She's Funny That Way," her love of auditioning, and the importance of being patient. Read the full story here.

Edward Burns
After spending years trying to perfect scripts about the lives of Irish-American cops and gangsters, Edward Burns finally brought his dream to life in the form of TNT police drama "Public Morals." Read the full story here.
D.J. Cotrona
"From Dusk Till Dawn" star D.J. Cotrona chatted with Backstage in August about the ups and downs of his career, and his desire to explore other aspects of filmmaking. Read the full story here.
Alison Brie
After spending six seasons on "Community," the talented Alison Brie expressed excitement at being free to pursue film projects. Read the full story here.
Benicio Del Toro
Backstage sat down with Academy Award winner Benicio Del Toro to talk about his mostly silent role in "Sicario," and why he cut 90 percent of his dialogue from the film. Read the full story here.

Stark Sands
From Broadway powerhouse to television's newest leading man, Stark Sands showed a different side to his acting this year. He sat down with Backstage to discuss leaving the stage behind for his role as Dash on Fox's "Minority Report." Read the full story here.
Nina Arianda
Tony winner Nina Arianda chatted with Backstage about her "relentless" performance in Broadway's "Fool for Love," and the passion she brings to every role. Read the full story here.
Ellen Page
Academy Award nominee Ellen Page discussed her powerful and personal role in "Freeheld," and why the movie being pushed back was a blessing in disguise. Read the full story here.
Sarah Silverman
A big step from Sarah Silverman's traditionally comic roles, she spoke with us about her dramatic film "I Smile Back," and her advice for aspiring actors. Read the full story here.

André Holland
André Holland chatted with Backstage about how both his background in theater and a semester abroad helped to prepare him for his role as Dr. Algernon Edwards on the Cinemax drama "The Knick." Read the full story here.
Brie Larson
After captivating audiences with her film "Room," Brie Larson discussed preparing for the emotional role, and the reason acting is a lot like scuba diving. Read the full story here.
Saoirse Ronan
Irish actor Saoirse Ronan covered Backstage in October, and chatted with us about playing a character whose experience so closely mirrored her own in the coming-of-age drama "Brooklyn." Read the full story here.
George Takei and Lea Salonga
Industry legends and stars of the "groundbreaking" new Broadway musical "Allegiance," George Takei and Lea Salonga opened up about the power of social media, and the advice they have for aspiring actors. Read the full story here.

John Benjamin Hickey
Star of both the stage and screen, character actor John Benjamin Hickey discussed his versatile roles in "Dada Woof Papa Hot" and "Manhattan." Read the full story here.
Russell Tovey
It's been a busy year for Russell Tovey, who made his Broadway return in "A View From the Bridge." But lucky for us, he also took time to chat with Backstage about his role, and why he was nervous about joining the hit show. Read the full story here.
Will Smith
After taking a break from the industry for a few years, the ever charismatic Will Smith talked about his triumphant return to acting, and his film "Concussion." Read the full story here.
Nick Cannon
Known for being a writer, host, entertainer, and actor, Nick Cannon graced our Dec. 3 cover to discuss his unconventional career path, and his role in Spike Lee's newest film "Chi-Raq." Read the full story here.

Jennifer Hudson
The stunning Jennifer Hudson appeared on our Dec. 10 cover to discuss the Broadway revival of "The Color Purple." Will she take home a Tony for her incredible performance? We'll have to wait and see! Read the full story here.
John Boyega
One of the biggest breakout stars of the year graced on of our last covers of 2015! "Star Wars Episode VII: The Force Awakens" actor Boyega discussed how he got cast in one of the biggest films of all time. Read the full story here.
Patrick J. Adams
Rounding out an incredible year of covers is "Suits" star Patrick J. Adams, who chats with us about his five seasons of playing Mike Ross and his character's brand new storyline! Read the full story here.
Here's to an even more exciting 2016!
Want even more Backstage? Check out our 2014 year in covers!