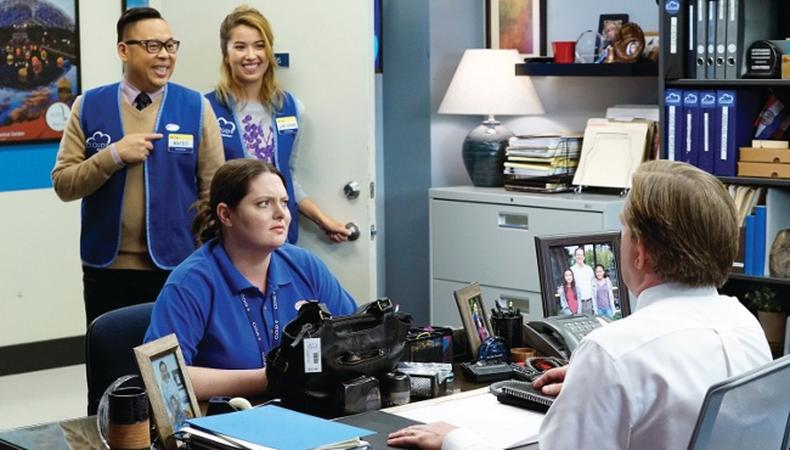 This year in TV proved monumental for new voices and faces, but it also further proved why some familiar series are here to stay. Another four seasons of any of these 10 shows would be a blessing.
"Atlanta" (FX)
If FX prides itself on creating fearless content, the network should consider "Atlanta" its pride and joy. From the mind of actor-musician-showrunner Donald Glover, the series follows rapper Alfred "Paper Boi" Miles (Brian Tyree Henry) of the Peach State's capital city after one of his singles unexpectedly takes off. Glover plays his cousin Earn, a down-on-his-luck Princeton dropout and father trying to weasel his way into managing Paper Boi's music career, which presents itself like a get-out-of-poverty-free card. With crisp, languid scripts that are unafraid to take their time in portraying a distinct and unexpected slice of life—plus an assortment of supporting roles (as Glover's girlfriend and mother of his child, Zazie Beetz walks away with one of the series' most affecting episodes)—"Atlanta" not only marks the arrival of an exciting new creative voice in Glover, but one of the best ensemble comedies on TV. —Benjamin Lindsay
"Black-ish" (ABC)
Few TV series are sillier than Kenya Barris' "Black-ish." After all, its second season included Anthony Anderson's Dre shrieking as he tried and failed to prove he could swim, Tracee Ellis Ross' Bow botching a school auction, the kids beating up their cousins in slow motion, and, of course, a "Good Times"–esque flashback complete with laugh track. But even when putting its spin on tried-and-true sitcom tropes, throughout it all the hit ABC comedy features the most tightly knit family on the small screen. The Johnsons may be goofy, or even chaotic, but no more or less so than any other American family trying to make it work in the 21st century; Anderson, Ross, and the other actors portraying them are clearly a loving family, too. —Jack Smart
READ: "Why Tracee Ellis Ross Loves Auditioning"
"Bob's Burgers" (Fox)
Though it was once an arena dominated by the Norman Lears of the world, would you believe that TV's best family sitcom is a Fox cartoon? Now in its seventh season, "Bob's Burgers" has established itself as an animated series with the staying power of only "The Simpsons" and "Family Guy" before it. Loren Bouchard's greatest skill is his ability to ground the show's humor in heart without losing its silliness and wit. And as the creator told us in September, this cast of voice actors is "irreproducible." H. Jon Benjamin as Bob, John Roberts as Linda, Dan Mintz as Tina, Eugene Mirman as Gene, and Kristen Schaal as Louise have such an apparent skill and devotion to what they do that the series can truly be unhinged and fearless in its scripts. We're fortunate enough to be along for the ride. —BL
READ: "What It's Like Being a Voice Actor on 'Bob's Burgers' "
"Getting On" (HBO)
Comedic performances don't get much greater than Laurie Metcalf as director of medicine Dr. Jenna James on HBO's acclaimed (and dearly departed) workplace comedy "Getting On." Set in the extended-care medical ward of a hapless Long Beach, California, hospital, the series tracked the humdrum day-to-day of Dr. James and her three-person nursing staff caring for the ward's aging clientele. Metcalf took a character who was by all accounts ruthlessly self-centered and socially inept and managed to make us care, playing her as a walking tragedy and a victim of circumstance. Co-stars Alex Borstein, Mel Rodriguez, and especially Niecy Nash met her mark for mark, and together, they ended the series on a high note. —BL
"High Maintenance" (HBO)
For anyone who had reservations about this award-winning web series' move over to HBO, you can relax! Hitting the network big time hasn't done a thing to dull the sharp-tongued wit of the show's writers, nor has the rotating cast shied away from the all-too-often underexplored elements (gender-bending, religious defiance, frenemy dynamics, full-frontal male nudity) that made the show so refreshing. Actor Ben Sinclair and casting director Katja Blichfeld, the show's co-creators, have continued to bring audiences stories that manage to both represent quintessential New York and maintain a universal appeal grounded in our desire to connect to one another. It's a beautiful balance we can't wait to see more of. —Briana Rodriguez
READ: "The Infinite Reasons to Watch 'High Maintenance' "
"Jane The Virgin" (The CW)
We've come so far since Jane Villanueva was accidentally artificially inseminated on her gynecologist's examination table. Two seasons, a Golden Globe win, and a baby later, and "Jane The Virgin" is still going strong as it enters its third installment. The series' ensemble members—led by Gina Rodriguez and including her onscreen husband, Brett Dier, "babydaddy" Justin Baldoni, Jaime Camil, Yael Grobglas, Andrea Navedo, and Ivonne Coll—have demonstrated their ability to move seamlessly as a unit while retaining each character's standalone appeal. From Grobglas' double duty as twin sisters Petra and Anezka to Camil's unwavering commitment to the endearing caricature that is Jane's father, Rogelio De La Vega, and, of course, Rodriguez as the titular virgin with your heartstrings wrapped around her fingers, "Jane The Virgin" remains a pure delight. —BR
"Orange Is the New Black" (Netflix)
In order to pass the Bechdel test, developed by cartoonist Alison Bechdel, a film or show must include at least two women who talk to each other about something other than a man. Does "Orange Is the New Black," Jenji Kohan's juggernaut of a Netflix series, qualify? Girl, please—it's passed with flying colors for four seasons. The actors portraying the complicated inmates at Litchfield women's prison were in top form in 2016, returning to the honest and compelling storylines that sometimes felt missing from Season 3. The dramedy's deep bench of eclectic jailbirds gave its central question—do actions or moral character determine criminality?—unexpected layers of depth both quirky and brutal, particularly in a shattering season finale from which we're still recovering. —JS
"The Real O'Neals" (ABC)
The O'Neals have a lot working against them. Since an opening episode in which all of their deepest secrets were laid bare to their Chicago Catholic community, they've had to reconcile inner truths with what is expected of them. This remains particularly true for the children, Kenny (Noah Galvin), Jimmy (Matthew Shively), and Shannon (Bebe Wood), who have to answer to overbearing mother Eileen (Martha Plimpton), all while she deals with divorcing their father, Pat (Jay R. Ferguson). Yet despite each kid's differences—what family can't relate?—they know they have to stick together. The cast of "The Real O'Neals" does the same in their performances, sharing the laughs while proving that chaos can lead to closeness. —JS
"Superstore" (NBC)
In all honesty, the success of "Superstore" was a bit of a surprise. The pilot was rough, but going into Season 2, the NBC series has figured out what it's selling—and we're buying. Set in the retail hell of the Walmart-esque Cloud 9, audiences get a peek into the employee break room, where the staff's idiosyncrasies shine brightest. Starring America Ferrera as Amy, Ben Feldman as her workplace crush Jonah, Lauren Ash as the overbearing head of loss prevention Dina, plus Nico Santos, Nichole Bloom, Colton Dunn, Kaliko Kauahi, and Mark McKinney as the rest of the Cloud 9 staff, the show is a testament not only to how far ahead of the curve television continues to be on the inclusion front, but how some series can still prove you wrong. —BR
"Transparent" (Amazon)
The Pfefferman kids of "Transparent" Season 3 continue to be emotionally adrift narcissists, but that doesn't mean the performances from Amy Landecker, Gaby Hoffmann, and Jay Duplass get any weaker. Same goes for Jeffrey Tambor's lauded take on their transgender mother, Maura. But it seems to us this season belonged to the one and only Judith Light and her Shelly. For two seasons she has borne witness to her ex-husband reclaiming his identity as a trans woman and her three children grappling with their own sexual identities, but she herself has always been most comfortable in the service of others. Season 3 saw her begin to break down those self-imposed limits, call it like she sees it, and live for herself. "To Shell and Back" is one of the series' most emotionally gratifying moments to date—and on a series like "Transparent," that's saying a lot. —BL
Inspired to act on the small screen? Check out our TV audition listings!