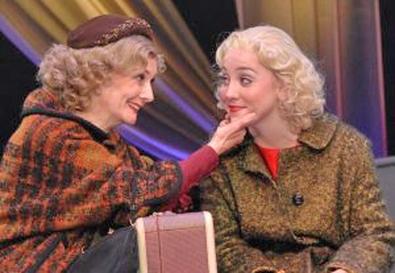 This enchanting new bio-musical about film star Ginger Rogers (1911–95), conceived by Lynnette Barkley and Christopher McGovern, is like a time-capsule trip to movie musicals of the 1930s and '40s. The ICT production follows a recent lavish staging of this show by FCLO Music Theatre in Fullerton, and this far more intimate rendition—using a unit set and a cast of six—proves there's more than one way to bring good material to life.
Emphasizing exuberant song-and-dance sequences, the show is more concerned with vibrant entertainment than incisive biography, covering a relatively brief period in Rogers' life and career. Yet the warmth of the characterizations lends depth to the proceedings, particularly that of radiant Anna Aimee White in the title role and galvanic Heather Lee as her loving but overbearing stage mother. McGovern's book generates an intoxicating showbiz atmosphere, and his scenes are smoothly integrated into the musical segments. The score includes unforgettable classics by the likes of the Gershwins ('I Got Rhythm,' 'Fascinating Rhythm') and Irving Berlin ('Let's Face the Music and Dance'), as well as a handful of original McGovern songs, highlighted by Ginger's stunning 11 o'clock ballad, 'What…Then?'
The four versatile supporting performers smoothly slide in and out of multiple roles. Matt Bauer's juiciest role is Fred Astaire, Ginger's famous dance partner in 11 films. Bauer expertly captures the suave sophistication of the legendary movie star, while convincingly channeling Astaire's legendary dance style, in collaboration with the graceful White. Jeff Payton is likewise superb in several key roles—including Ginger's boozing first husband, Jack Culpepper; actor Jimmy Stewart; and fey choreographer Hermes Pan. Robin De Lano aces a huge range of characterizations: a belting Ethel Merman, a bitchy Katharine Hepburn, an aloof Bette Davis, and (in drag) Ginger's fourth husband, Jacques Bergerac. Playing diverse characters—including husband No. 2, Lew Ayres—Christopher Carothers sings and dances with aplomb.
Music director Darryl Archibald leads a splendid five-member combo, and choreographer Melissa Giattino yields stellar results. The handsome visual elements evoke the spirit of old Hollywood. Director Caryn Desai's production is joyous; you'll have to resist the temptation to dance in the aisles.

Presented by and at International City Theatre, Long Beach Performing Arts Center, 300 E. Ocean Blvd., Long Beach. Feb. 26–March 21. Thu.–Sat., 8 p.m.; Sun., 2 p.m. (562) 436-4610. www.internationalcitytheatre.org.