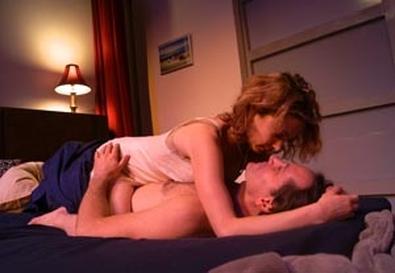 Grieve for the unfulfilled residents of Long Island! From Fitzgerald's "The Great Gatsby" to Terrence McNally's brilliant "Lips Together, Teeth Apart," the area's unhappy rich can't seem to catch a break. Terry Quinn takes the troubles of the elite a step further in "Bad Evidence," a world premiere at the Cell, with characters so miserable one wonders how they ever got together in the first place.
"Bad Evidence" plays in repertory with "A Midsummer Night's Dream" as part of the Cell and the Hive's "Summer of Lust." Both plays feature two couples whose relationships present more trouble than they appear to be worth. But unlike Shakespeare's lovers, whose romantic troubles worsen with attempts to conceal the truth, Quinn's couples—the Chases and the Stewarts—are undone when they choose to expose the truth, with its prodigious power to hurt.
The play is sharply divided into two acts, the first of which observes Richard and Leah Chase, a tenured professor and a U.N. translator who have buried founts of resentment under their perfectly manicured facades. All this bitterness is unleashed when they decide to play an ill-fated and macabre role-playing game: What secrets would you tell your partner if he or she were about to die?
Quinn's premise unfortunately devolves into a volley of abuses and calculated insults, with little to suggest how the couple made it so long without doing each other in. What's more, even for a couple with Nietzsche on the bedside table, Quinn's dialogue is impossibly stilted; too often they sound like a Noel Coward couple played seriously. As Richard and Leah, Armand Anthony and Carmit Levité do little to work against the script's melodrama. When admitting her marriage is falling apart, Levité solemnly intones, with her hand on her heart, "I've known for a long time. In my blood."
As if Quinn and director Kira Simring realized this problem halfway through, the second act plays more like a farce than a drama, an abrupt but not unwelcome change. This time the focus is on Kevin and Danielle Stewart, whose ambiguously open marriage extends far beyond what they admit to each other. Ryan Lee and Ana Grosse bring a twisted delight to the roles, their pointed barbs hanging in the air as they sip their vodka on the rocks. And as Danielle's lover caught in the middle, Gary Lee Mahmoud makes the conflict more fun, desperately searching for a way out of the line of fire but ultimately entering the fray himself.
When the Chases and the Stewarts come together toward the end, the play is caught between their conflicting moods and slowly unravels. Charlie (Len Rella), a mutual friend of both families, is introduced to enliven the atmosphere, but his bombastic presence is puzzling in this world of pursed lips and tight smiles. As the couples go their separate ways, after a long evening of biting remarks, they leave behind the lovely set designed by Samantha Shoffner and Justin Couchara, who build on the Cell's beautiful townhouse charm to create the illusion of an expansive Long Island home. If you didn't know better, it looks like someone could be very happy there.
Presented by the Cell and the Hive at the Cell, 338 W. 23rd St., NYC. July 9–31. Schedule varies. (800) 838-3006 or www.brownpapertickets.com. Casting by Jason Najjoum.