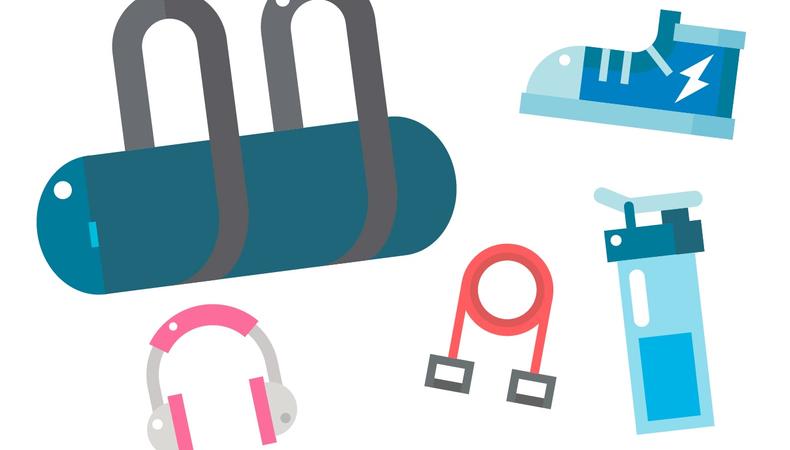 All dancers have one thing in common: They need a fully stocked dance bag for their everyday tasks and unexpected situations. In addition to the standard necessities of wallet, cellphone (plus charger!), and keys, here are some other essentials.
HAIR KIT
If you prefer hair down during your hip-hop class but know it must be up for ballet, having hair ties, bobby pins, hairspray, a brush or comb, and bun nets will help make a smooth transition between classrooms.
ANTI-BLISTER STICK
Be aware of the places on your feet where you frequently blister and help prevent them with a quick application from an anti-blister stick—especially when breaking in new shoes!
BAND-AIDS
For the blisters and injuries that sneak up on you, having Band-Aids on hand will help ease discomfort during class. Toe tape is also great!
WATER BOTTLE
Reusable water bottles will save a fortune over time. Pick one up that includes a fruit infuser for a hint of strawberry, lime, or whatever flavor you'd like!
DEODORANT
Work hard and sweat it out! Just make sure classmates don't have to smell your efforts.
VARIOUS SHOES
If you know your dance class schedule for the day, the required footwear is a no-brainer. But when attending an open call for a cruise line or musical theater show, you never know what casting directors are going to want. Character shoes, ballet flats, jazz shoes or sneakers, tap shoes, and foot thongs can all come in handy when it comes to a specific type of dance and choreography.
SNACKS
Keep yourself going without feeling lethargic. Having a bag of nuts, fresh fruit, or a health bar on hand will do wonders for energy levels.
HEADPHONES
If you have a routine you've been working on in class, listening to the song en route can help refresh the choreography. Headphones are also useful for drowning out any background noise while trying to focus before an audition!
TENNIS BALL OR FOAM ROLLER
For tense muscles, keep a portable foam roller or a tennis ball in your bag to relieve built-up tension.
PLASTIC BAG
Keeping one on hand is helpful for wet clothes, towels, and tights.
SWEAT TOWEL
For those especially hard classes that threaten to drip sweat in your eyes!
LEGGINGS/SWEATS
Keep baggy pants to throw on over your dance clothes, both for warmth and to make getting out of the studio quickly a breeze.
CLEAR NAIL POLISH
If you don't have a spare pair of tights, clear nail polish is the next best solution for a run. Dab some at the top of the tear to keep it from getting worse throughout class.
A SMALL RESIN BOX
For extra shoe grip.
SOCKS/LEG WARMERS
When you're on your feet all day, an extra pair of socks works wonders. Leg warmers keep you cozy for barre warm-ups.
RESISTANCE BAND
To get that deep stretch.
---
Keep your phone as well-stocked as your bag with apps to learn new movements, create and improve choreography, and keep track of upcoming auditions. Here are five to try.
AuditionCal
This app is great for keeping track of all your upcoming auditions. In addition to being able to search auditions by role, a casting director's name, or any other keyword, AuditionCal also has features for photo uploading, notifications and reminders for important upcoming dates, as well as calendar view and email export options.
Coach's Eye
The ability to slow down a performance can help break down new choreography as well as analyze performances from dancers to determine mistakes. Coach's Eye makes rehearsals efficient and productive.
Ballet Lite
The dictionary for ballet terms, this app breaks down steps by name and shows proper technique.
Notetracks
Become your own teacher with Notetracks. The app allows dancers and choreographers to take notes on audio tracks for later reference while rehearsing new material.
SeeDance
Craving some dance in an unfamiliar city? This app allows you to search for dance performances nearby, in addition to shops, schools, and anything else dance-related.
Inspired by this post? Check out our dance audition listings!