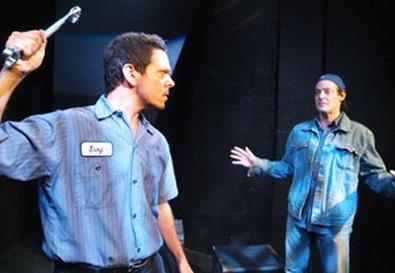 Renato Biribin Jr.'s new dramedy features seven quirky characters whose lives crisscross in unexpected ways. The playwright intelligently explores the challenges of finding emotional fulfillment in a volatile society where the rules of conduct aren't always clear-cut. Differing views on sexual freedom, committed relationships, religious beliefs, and tolerance toward other cultures put Biribin's motley group of high-strung souls through myriad conflicts. The thematic intricacies of the episodic script don't always cohere, and a few plot developments feel contrived, but Biribin offers much food for thought, and some scenes are quite touching. The efforts of director Joshua Fardon and a talented ensemble help to ensure a rewarding ride.
In the fictional New Jersey suburb of Hadley, auto-shop owner Joe (Biribin) is surprised to learn that his best friend, Ray (Scott Alan Hislop), was arrested after being caught performing a sex act in public with another man, though Ray denies that he's gay. We soon discover that the manipulative Ray is carrying on an affair with a local African-American minister (Terrance Jones), whose white wife (Amy Motta) has histories with Ray and Joe. Joe's troubled marriage to Sherry (Carisa Engle) is also affected by the unfolding web of involvements and betrayals.
Biribin, who has fashioned an intriguing role for himself, deftly anchors the complex story, earning our empathy in his well-rounded portrait of a fallible human trying to cope with a social milieu that's bewildering to him. There's also excellent work from Hislop, as a mixed-up individual causing damage to others in several ways, and Jones as an egotistical hypocrite who becomes the catalyst for the play's intense climax. Engle and Motta lend solid support as neglected wives in problematic marriages. In small but finely written roles, Gary Wolf and Emilio McPherson are superb as Joe's blue-collar employees. With this imperfect but inventive seriocomedy, Biribin shows promise as a spot-on observer of contemporary urban angst, recalling the incisively sardonic works of Jules Feiffer.
Presented by Harley Marley Productions at the Hudson Guild Theatre, 6539 Santa Monica Blvd., Hollywood. Sept. 3–Oct. 10. Thu.–Sat., 8 p.m.; Sun., 7 p.m. (323) 960-7745. www.plays411.com/bailmeout.