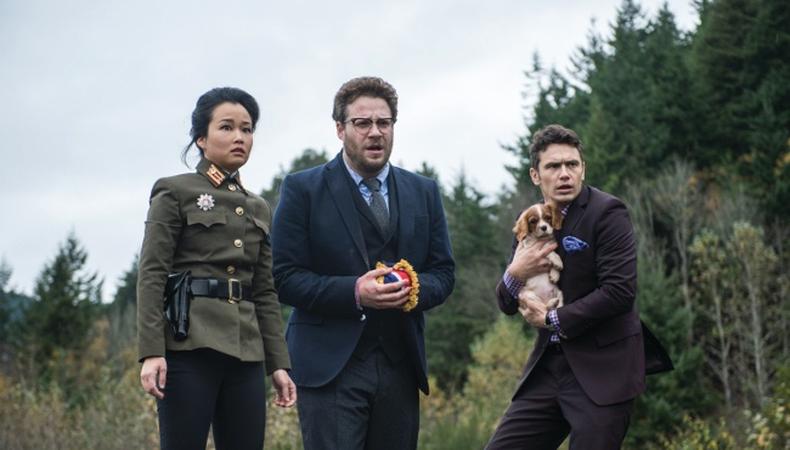 "I love dick and fart humor," says Dan Sterling, "but I also can get a little highfalutin in some of my dialogue, especially around political stuff."
Sterling, the screenwriter and executive producer of the new James Franco– and Seth Rogen–starring "The Interview," was tasked with balancing politics and toilet humor throughout the production of his first feature-length film. Centered on a dopey talk show host who is recruited by the CIA after scoring a live interview with North Korean dictator Kim Jong-un, "The Interview" was developed after Rogen started spitballing with Sterling: What if you interviewed Osama bin Laden, and would you be tempted to kill him?
"We'd been kicking around that question and how it could be sort of a 'Frost/Nixon' thing," remembers Sterling, who cut his teeth writing for "The Daily Show With Jon Stewart" and "The Office." "We knew we didn't want to do anything about Middle Eastern tyrants because Sacha Baron Cohen was getting ready to shoot 'The Dictator.' It just seemed he pretty much owned all jokes about Middle Eastern tyrants." Director-producers Rogen and Evan Goldberg were intrigued, however, with a North Korea angle. "They're kind of obsessed with that country."
Considering the mysterious and peculiar tyrant that is Kim Jong-un, who wouldn't be? Kim's seclusion and ineffectual hostility toward the United States make him an ideal target for lampooning; on "30 Rock," Margaret Cho's portrayal of both the dictator and his father earned her an Emmy nomination for less than 60 seconds of screen time. Although he knew "The Interview" would ruffle feathers—North Korean officials have called it a blatant act of terrorism—Sterling had no problem criticizing the widespread deprivation facing civilians under the current regime. "Pretty much all Americans, if not the Western Hemisphere, can get together on this issue: that North Korea is a pretty horrible place up to some pretty horrible things. In a way it's not very controversial."
It was dicey, though, trying to write a rip-roaring comedy while treating the country's victims with sensitivity. "You don't want to target them or make light of the real suffering going on," says Sterling. His solution, focusing on Kim himself and his oppressive yet bizarre excesses, allowed the assassination attempts to play as both deliberately ridiculous and morally justified.
As portrayed by Korean-American comedian Randall Park, the dictator is very much the butt of every joke, but not, as Sterling points out, "just a two-dimensional, mustache-twirling Bond villain guy." Park's audition is the stuff of casting legend: He was the first actor to take a stab at the role and within five minutes Rogen and Sterling knew they didn't need to see anyone else. "I adjusted the whole script and character," says Sterling. "[Park] made him much more awkward and nervous and self-deprecating. It was hilarious."
Their commitment to racially sensitive casting led them to other actors of Korean descent, such as breakout star Diana Bang, who wowed the team with her ability to ad lib endlessly. Although Sterling wrote Rogen's part with the actor in mind from the beginning, the casting of his longtime co-star Franco was a later addition. Now, he says, "I can't imagine who else we would've cast." And as a blunt CIA agent, Lizzy Caplan maximized the comedic potential of a relatively straightforward role: "She made it funnier than it was on paper." The final product of a movie like "The Interview" consists of written lines, actors' improvisations, and some combination of the two. "If they're riffing on set, I'll sometimes whisper jokes in their ear and have them try stuff," says Sterling.
Of course, sometimes when his words are passed over for an ostensibly funnier riff, he must bid a precious joke farewell. "These guys have a very good instinct for and understanding of their audience.... They reported seeing me look heartbroken on set sometimes," says Sterling, chuckling.
Inspired by this post? Check out our film audition listings!