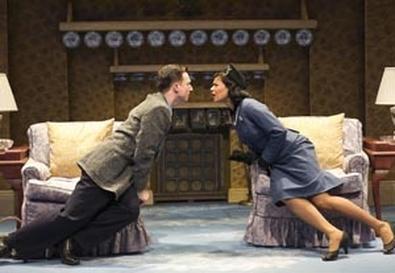 Eugene Ionesco's "The Bald Soprano" was one of those seminal developmental moments for me. At 13, I was the sound crew for my high school production of the show, which meant I sat in the wings and periodically banged on a set of tubular bells borrowed from the school orchestra to simulate the chiming of a clock. I marveled as the show (and my clock) got huge laughs at every performance, and I came to realize that theater could be more than just "Inherit the Wind" and "Arsenic and Old Lace." Somehow, though, I've never seen a professional production of this 65-minute one-act until now. And even if the Pearl Theatre Company doesn't quite sound all the notes of this "anti-play" (as the author subtitled it) that laments the limits of language, I'm grateful for the chance to re-encounter this thought-provoking, richly entertaining work.

Plot is not the thing in this case. We begin with Mr. and Mrs. Smith sharing an evening in the parlor of their bourgeois suburban London home. Mr. and Mrs. Martin arrive late for dinner. The Smiths' maid returns home after her day off. And a fire chief shows up unannounced "on official business." The show is full of reversals of logic, conversations devoid of meaning, off-center aphorisms, and a plethora of words detached from their definitions. There's also that clock, which chimes in lunatic ways with a mind of its own.

The play is constructed like a piece of music. There are duets, such as Mr. and Mrs. Martin, left alone, forgetting that they know each other and becoming reacquainted. There are arias, such as the fire chief's story about a head cold. The maid serves as percussive punctuation. And, of course, there's a concerted finale, when the two couples go at each other as sentences devolve into words, words into letters, and letters into sounds. Ionesco was experimenting, yes, but when push came to shove, he was still bound by Aristotle.

Director Hal Brooks clearly loves the piece, but right now there's a blurriness to the proceedings, as well as insufficient menace. As Mrs. Smith, Rachel Botchan seems to be channeling Deborah Kerr and needs to make lightning switches of mood with stronger definition and precision, while that peculiar essence of self-satisfied middle-class British stolidity is not quite jelling for Bradford Cover as her husband. Brad Heberlee and Jolly Abraham fare better as the Martins, particularly in their reacquaintance scene, which is a comic highlight. Robin Leslie Brown is fine but perhaps a shade too cute as that ornery maid, while Dan Daily's overly genial fire chief is not enough of a disruption.

Scenic designer Harry Feiner's intensely symmetrical parlor, with an upside-down back wall sporting rows of blue-and-white porcelain and a painted floor of pale blue sky and gauzy white clouds, is quite right, as are Barbara A. Bell's complementing costumes, Stephen Petrilli's bright lighting, and M.L. Dogg's appropriately anarchic sound (I loved that burst of "Rule, Britannia" up top). Even functioning at less than full volume, the production garners numerous and sizable laughs, and it's well worth your time and attention.

Presented by the Pearl Theatre Company at New York City Center Stage II, 131 W. 55th St., NYC. Sept. 25–Oct. 23. Tue., Thu.–Sat., 7:30 p.m.; Wed., Sat., and Sun., 2:30 p.m. (212) 581-1212 or www.nycitycenter.org.