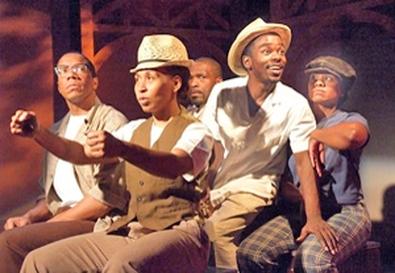 Emmett Louis Till, known to his friends as Bobo, was a 14-year-old black boy from Chicago who was visiting relatives in Money, Miss., when he was brutally murdered by a couple of white men as punishment for the supposed crime of whistling at a white woman. All-white juries twice refused to convict the killers, but the boy's murder became a rallying cry in the nascent civil rights movement, and it has inspired numerous artists, black and white—including Rod Serling, Toni Morrison, Bob Dylan, Langston Hughes, Gwendolyn Brooks, and Audre Lorde, as well as Ifa Bayeza, author of this play.
In the hands of Bayeza and actor Lorenz Arnell, young Emmett emerges as good-humored, brash, sassy, irrepressible, and funny. He preens himself happily over his panama hat with its green feathers, his white bucks, and the ring that belonged to his father. In short, he has all the qualities that, in the eyes of Southern whites in 1955, were condemned as "uppity" and deeply resented. Bayeza's script employs a chorus of four able actors—Bernard Addison, Karen Malina White, Rico E. Anderson, and Adenrele Ojo—to play multiple roles as Emmett's family, friends, and, finally, his killers. The funny and lighthearted early scenes are doubly effective because they're foreshadowed by our knowledge of the story's terrible end. We see the looming danger, even if Emmett does not.
Director Shirley Jo Finney elicits fine performances from her actors and crafts a brisk and lively production. Addison displays great dignity as Emmett's preacher uncle Moe, who must watch helplessly as the boy is kidnapped from his house. White plays Emmett's mother, who warned him about the racist attitudes in the South, and the white woman he supposedly whistled at. Ojo eloquently captures the anguish of the Mississippi aunt who's unable to save her nephew. And Anderson scores in a number of smaller roles.
Bayeza clearly knows her material well and manages to incorporate most of the known facts about Emmett and his painfully short life. Naila Aladdin-Sanders' costumes lend period and regional flavors, and Scott Siedman's set makes effective use of trunks and suitcases to suggest a variety of locales.
This production commemorates two deaths: that of young Emmett Till but also that of the production's original director, Ben Bradley, whose life was cruelly taken away during the rehearsal period.
Presented by and at the Fountain Theatre, 5060 Fountain Ave., L.A. Feb. 20–March 20. Thu.–Sat., 8 p.m.; Sun., 2 p.m. (323) 663-1525. www.fountaintheatre.com.